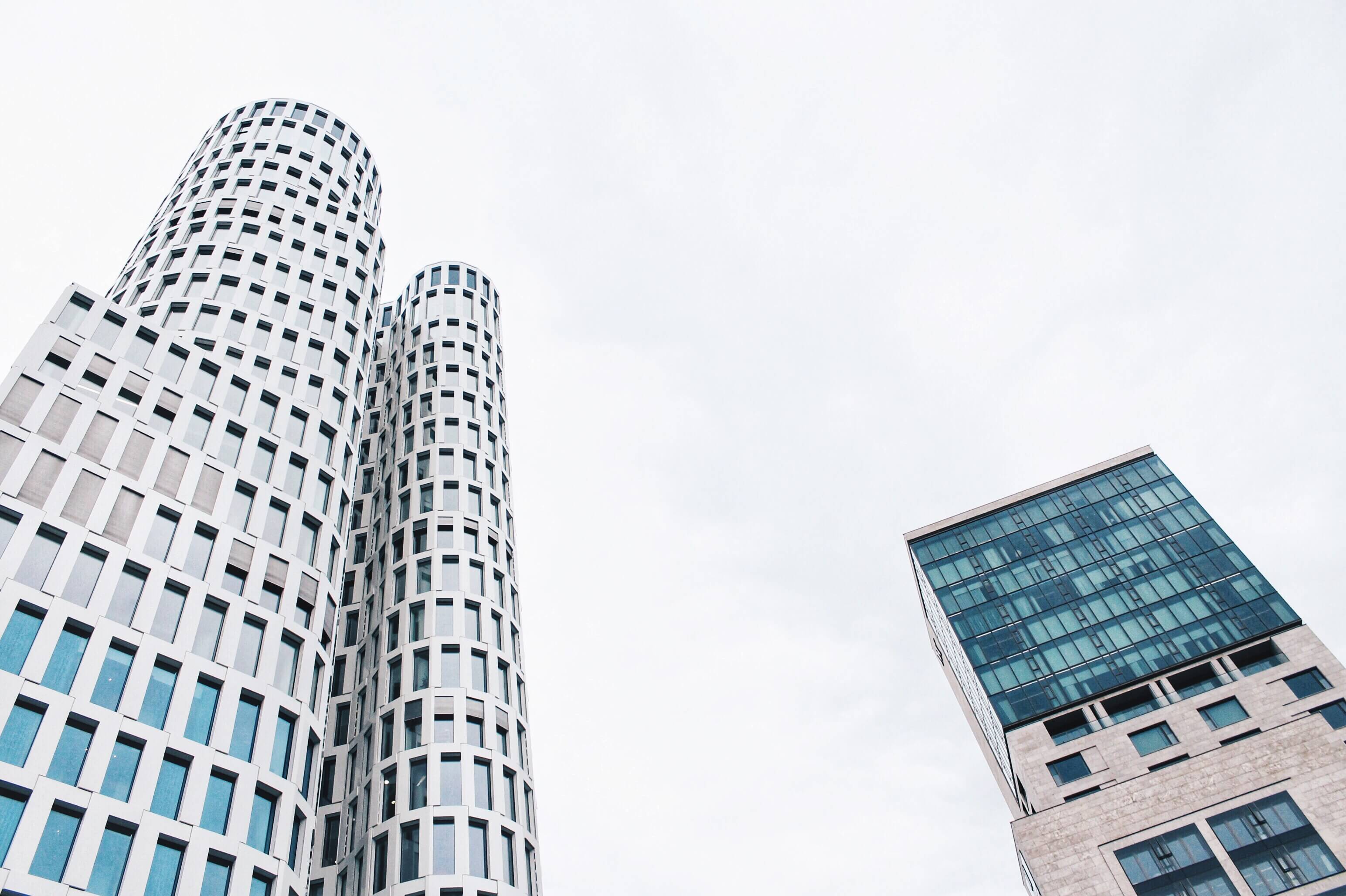 Berlin – die Stadt der Künstler und Hipster, der Investoren, der Gefundenen und Verlorenen
The first leaves are already turning red and yellow, the air is getting fresh, the light is very soft and golden. Slowly, almost cautiously, the time of the readers begins behind the café window panes, with books about cake and tea, with the first cool wind on their necks and a kaleidoscope of memories in their luggage. The last days of summer weren't that long ago. Not long ago I was in the middle of summer and in the middle of Berlin. The city, which I regularly visit from time to time, is worth a visit at any time of the year, but in summer Berlin is actually just wonderful.
*Press trip
Although I always feel like a foreign body in the familiar anonymity and grandeur of Berlin, although the city takes me in for a brief moment only to spit me out again, Berlin shows a different side with every visit. I think you have to get really creative to get bored in Berlin. Because there really isn't anything here that doesn't exist. Berlin has many faces and such a wide range of possibilities that you can quickly get dizzy. The city of artists and hipsters, of investors, of those found and lost, the city of night people and "real" Berliners, who sometimes can no longer recognize their own homeland, the cityscape and attitude to life is growing, vibrating and changing so quickly. Not always to the advantage, not always to the disadvantage.
In any case, Berlin lives and pulsates like a beautiful monster that cannot decide between aspiring luxury, lack of personal hygiene, individuality, masses, madness, melancholy and alternative concepts of life. It doesn't even have to. Berlin is definitely the home of diversity and contrasts and therefore also unique. Some come for the history, others for the sights, others because the city is hip. I came this time to experience the city. Without appointments and with a wide berth around the typical sights because I've seen almost all of them. My object of desire this time was, among other things, the Berlin gastronomy. And the city really has a lot to offer, because the internationality is clearly noticeable not only on the streets but also in the culinary area. You've definitely come to the right place if you want to feast your way through the world's cuisine or experience unusual bar concepts. Therefore, in this article, I will take you to dreamy rooftop bars, Israeli specialties, Russian delicacies and a café full of little "miracles".
Great cinema above the roofs of Berlin: Rooftop Bar in Motel One Berlin - Upper West
I was lucky in Motel One Berlin Upper West to spend the night and I have to say I was not disappointed! The hotel impresses with its stylish design and many elements from cinema and film. Faithful film props, Golden Bears and vintage cameras are found throughout the hotel. The individual design and attention to detail can be clearly felt. But the highlight awaits on the 10th floor. With a height of 118 meters, the Motel One Berlin-Upper West is the fourth tallest building in Berlin. From the hotel's roof terrace, visitors can expect a magnificent view of the Memorial Church. With this view, even breakfast in the spacious, light-flooded rooms with a ceiling height of five meters and a panoramic view of the Ku'damm and the Zoological Garden becomes a real experience. Incidentally, the Rooftop Bar is not only open to hotel guests, but also to all interested visitors, although queues can sometimes form at the hotel entrance on weekends in the evening. But the wait is definitely worth it. And if you don't feel like it, I can only advise you to stay in a hotel for a few nights. Despite the absolutely luxurious interior design and excellent location, the Motel One Upper West in Berlin is extremely inexpensive in relation to what is on offer and can easily keep up with luxury hotels in terms of location and elegant design.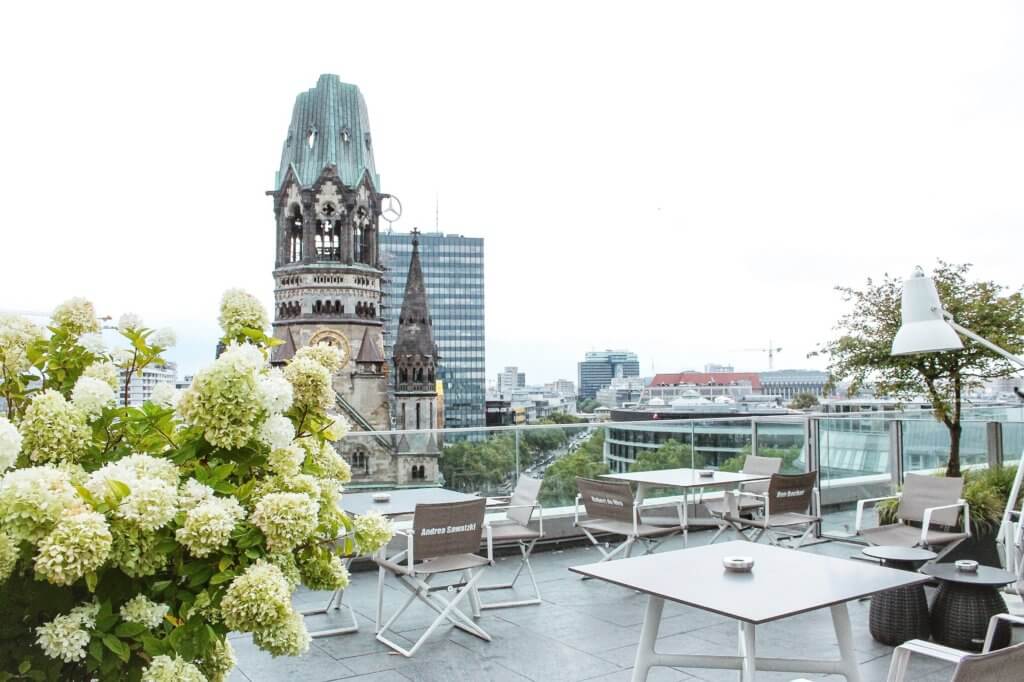 Neni Berlin: Exciting fusion cuisine with an animal view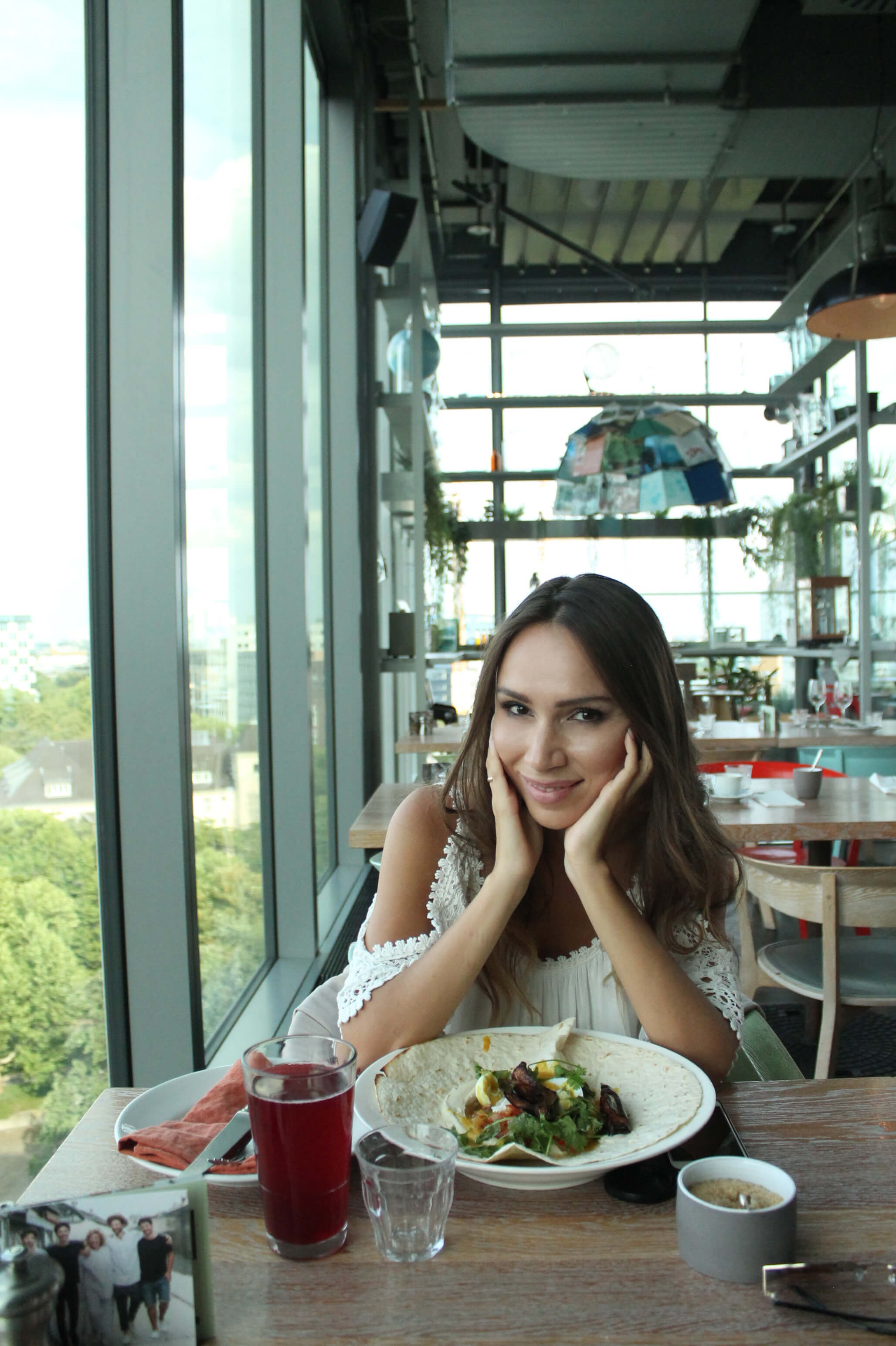 A good friend had reserved a table for us in this beautiful restaurant. That Neni is located on the 10th floor of the 25hours Hotel Bikini Berlin in Charlottenburg and mainly offers an exciting fusion cuisine with Persian, Mediterranean and Austrian influences. The restaurant is bright, friendly and modernly furnished. From the large panoramic window you can enjoy a wonderful view of the zoo. The international ambience and the interior design, which somehow reminds you of a holiday, are particularly great here. Due to the many plants in the restaurant, you really feel like you have found a green oasis in the middle of the urban jungle. The dish I ordered, the Sabich Sandwich, didn't quite convince me in terms of taste or knocked my socks off, but it still tasted fresh and somehow interesting, so I guess I may have just made the wrong choice personally, since I also have Sabich never eaten before. My girlfriend ordered a dessert that is considered a specialty of the Old City of Jerusalem, which I was lucky enough to try. I found it very tasty and exceptional. If I had the chance, I would definitely visit the Neni again just because of the great ambience.
Monkey Bar: Why I thought of chickens rather than monkeys
In the Monkey bar you can usually only get in if you have been to the Neni beforehand or, of course, if you are a guest at the 25hours Hotel Bikini Berlin. In general it's a nice bar with a pleasant atmosphere and a great view of the city, but it was a little too crowded for me personally and I honestly can't understand why people want to sit there cooped up like chickens on a perch to eat at an overpriced to sip a cocktail. But maybe I was so spoiled by the great rooftop bar in Motel One that I got claustrophobic in the Monkey Bar. The bar is probably one of the more hip places, especially among the international crowd. You can go in, but you don't have to. Anyone looking for freedom of movement is definitely at the wrong place here. Despite the large crowd, I found the audience pleasant, which probably also contributes to the popularity of the bar.

Das Spreegold: Where vegan vegetable pasta is taken very seriously
The Spreegold is a well-known restaurant chain in Berlin and we visited the restaurant in Bikini Berlin. In addition to the many homemade dishes, the large roof terrace in particular invites you to relax and linger when the weather is nice. From the rooftop terrace you have a wonderful view of Motel One Upper West and the Waldorf Astoria. From time to time parties also take place in the Spreegold Bikini Berlin. The clientele is mixed here, quite young and accordingly the whole ambience is also "hip and modern", which probably also includes a slight overstrain of the staff ("hip and modern" seems to be increasingly becoming a worldwide synonym of "We don't have enough staff But sometimes they ask €5 more for a sandwich as soon as there is even a rudimentary slice of avocado in it"). In addition to breakfast and brunch, the Spreegold offers a fairly manageable menu of different snacks and dishes. We chose the vegan vegetable pasta, which, as the name suggests, consists entirely of vegetables. We were kindly pointed out again that it really isn't pasta in the traditional sense. For pure vegetable noodles I found the pasta quite tasty, fresh and perfect for a mild summer evening. The service was very friendly but obviously a bit overwhelmed with the number of guests. True to the motto: hip and modern 😉
The House of Small Wonder - The Instagram Mecca full of small wonders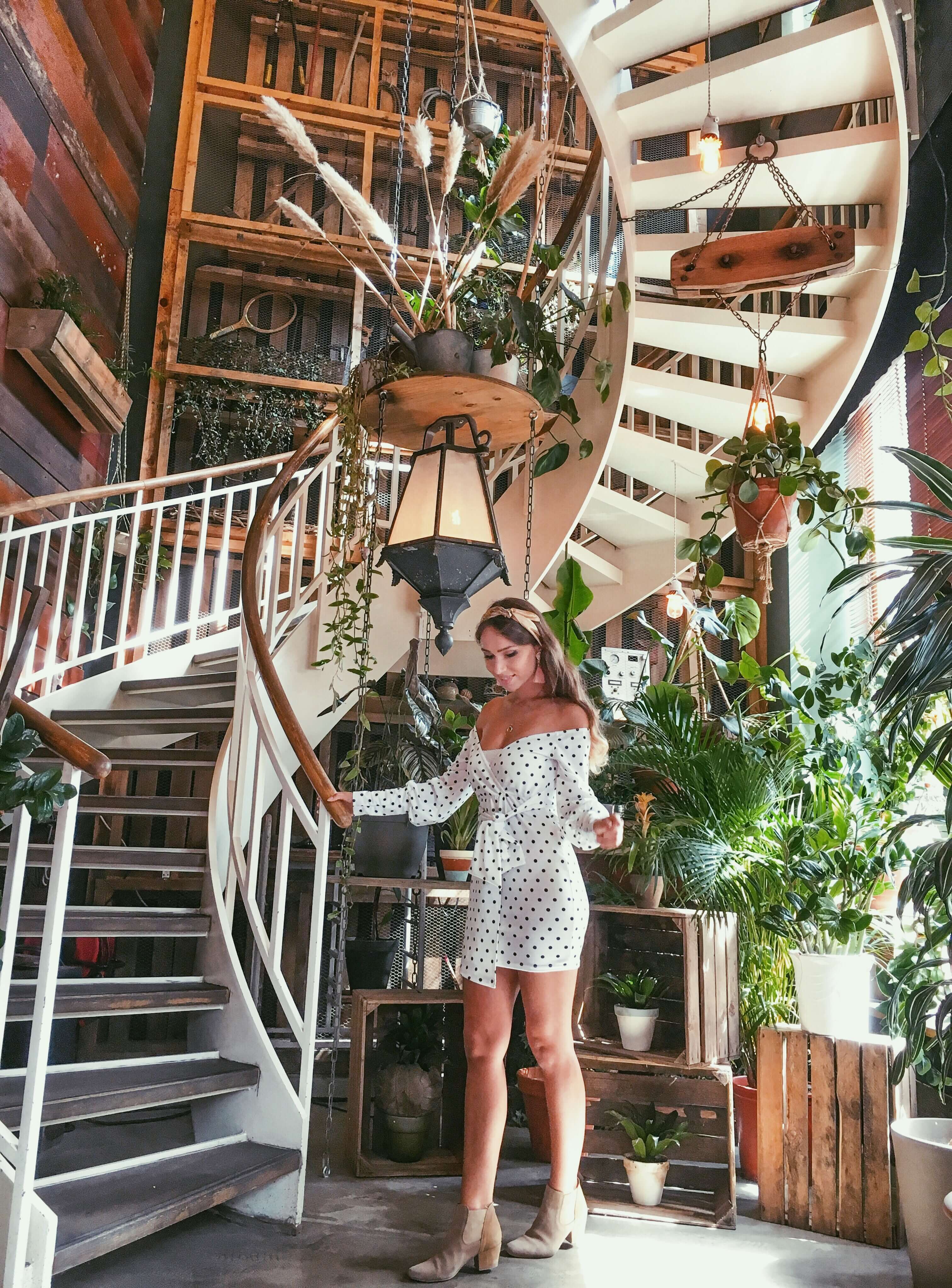 If you should be surprised by a sudden summer rain, you will find in the House of Small Wonder a warm and cozy shelter. As often as it has been posted on Instagram, the House of Small Wonder has piqued my interest a few years ago. The pictures of the beautiful, fairytale-like spiral staircase definitely made me curious and that's why I promptly suggested to my girlfriend to go there. To be honest, I didn't have high expectations for our visit, because the experience taught me that "spectacular" Instagram locations are often not that spectacular in reality. Like some Instagrammers probably too. But I was pleasantly surprised! Except for the slightly longer waiting time for a table, I was impressed by the small café, which mainly offers breakfast and brunch. My girlfriend and I immediately fell in love with the cozy and somewhat alternative ambience that I was already familiar with from cafes and restaurants in New York. As in so many places in Berlin, we were greeted in English. However, I was surprised when I tried to talk to the employee in German and she either couldn't or didn't want to. That was a point that I found a bit strange because I think after you've been living and working in a certain country for years, you should at least know the basics of the local language. Of course, the House of Small Wonder has a predominantly international audience, but I personally find this development worrying that some restaurants in Berlin are now deliberately not speaking German at all. Apart from that, however, all the employees are extremely friendly, competent and courteous. Originally the café is from Williamsburg, Brooklyn, my favorite part of New York, before the owners Shaul Margulies and Motoko Watanbe and the café moved to Berlin. Since 2014, Das House of Small Wonder has been pampering its visitors in Berlin with fine, predominantly Japanese-style "comfort food" made from fresh, organic ingredients. Our ordered food was really a small miracle that made our rainy day even sweeter. We definitely felt very comfortable and would love to come back.
The Green Lamp Berlin: Travel through time to the Russian thinkers and poets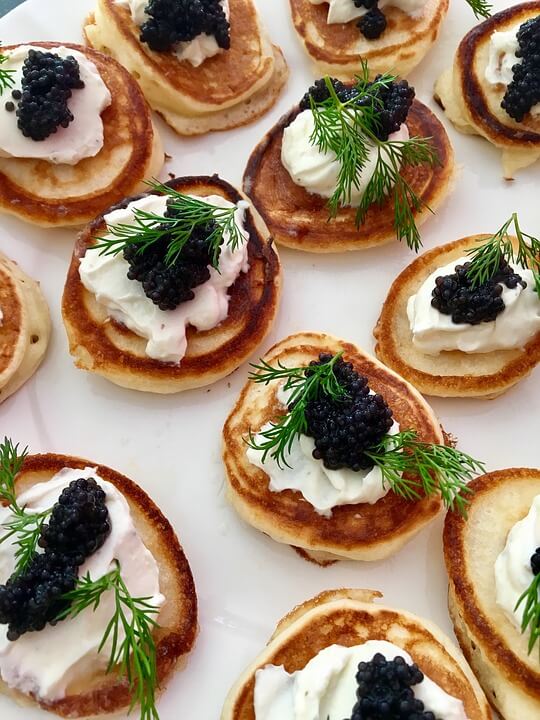 From 1819-1820 there was an elite circle in St. Petersburg called "Seljonaja Lampa", in English: "Green Lamp", in which numerous artists, writers, intellectuals and nobles frequented. Among the most famous among them was Alexander Pushkin with his Decembrist friends. In this elite circle, however, there was not only debate and discussion, but above all good food. "The Green Lamp" in Berlin is now picking up on this tradition. The cozy restaurant in Wilmersdorf offers traditional Russian, Ukrainian and Georgian cuisine in a modern way. For me, "The Green Lamp" is now a must when visiting Berlin, as Russian restaurants are still a rarity in Germany. In good weather you can also sit outside and enjoy the summer with kvass and fresh, summery salads. Unfortunately we didn't manage to eat in the restaurant this time because we came too late in the evening and the kitchen was already closed. One of my absolute favorite Russian dishes and therefore my personal recommendation at the Grünen Lampe is the traditional Syrniki, Russian pancakes made from curd dough. Mmmh, just thinking about it makes me want to make some myself again.
Accommodation options in Berlin
The Scandic Hotel at Potsdamer Platz
I got to know the Scandic Hotels for the first time on my adventurous journey across Scandinavia and was immediately impressed by the location, comfort and breakfast of the hotels. Back then, as a tour guide, I was happy about comfortable, functional but also cozy hotels after a hard day's work. Since then, I have associated Scandic with reliability that you can rely on. That's why I chose this for my trip to Berlin Scandic Hotel at Potsdamer Platz. In addition to the ideal location, just a few minutes' walk from Potsdamer Platz train station and the underground, the hotel offers large, bright rooms with cozy furnishings and a spacious bathroom. The hotel is deliberately furnished in a Scandinavian style, with lots of wood, modern furniture and lots of unusual lamps. The rooms are designed in the colors of the seasons and as a guest you can choose the room of your favorite season.
I was able to switch off from the hustle and bustle of the big city very well in the hotel, even though it was right in the middle of the action. Nevertheless, it was so quiet in my room that for a brief moment I even forgot that I was in Germany's largest city. When I travel, I attach great importance to sustainability and environmental awareness. Therefore, I find it particularly remarkable that the hotel is registered in the current VDR Certified Green Ranking as the hotel with the highest number of points in Berlin - and is therefore also the greenest hotel in the city. In the room you will find, for example, waste bins with a separation between paper, plastic and organic waste. Plastic cups and plastic cutlery are not used at breakfast. The rich breakfast takes place in buffet form in the hotel's restaurant "3rd floor". There are many delicious organic products to choose from. The large variety of different rolls and breads at breakfast alone is immense. In addition, there are also pancakes, a large yoghurt and muesli station, fresh fruit and vegetables and much more.
It's just a bit hectic in the mornings, as the hotel is very well booked on weekends. Unfortunately, I can't judge how it is during the week, as I was staying over the weekend. My tip: Before 8:00 a.m. it was much quieter and more relaxed at breakfast. For me, the Scandic am Potsdamer Platz is the ideal address for a city trip or business stay due to its central location, reliable quality and absolute cleanliness.
Address:
SCANDIC BERLIN POTSDAMER PLATZ
Gabriele-Tergit-Promenade 19
10963 Berlin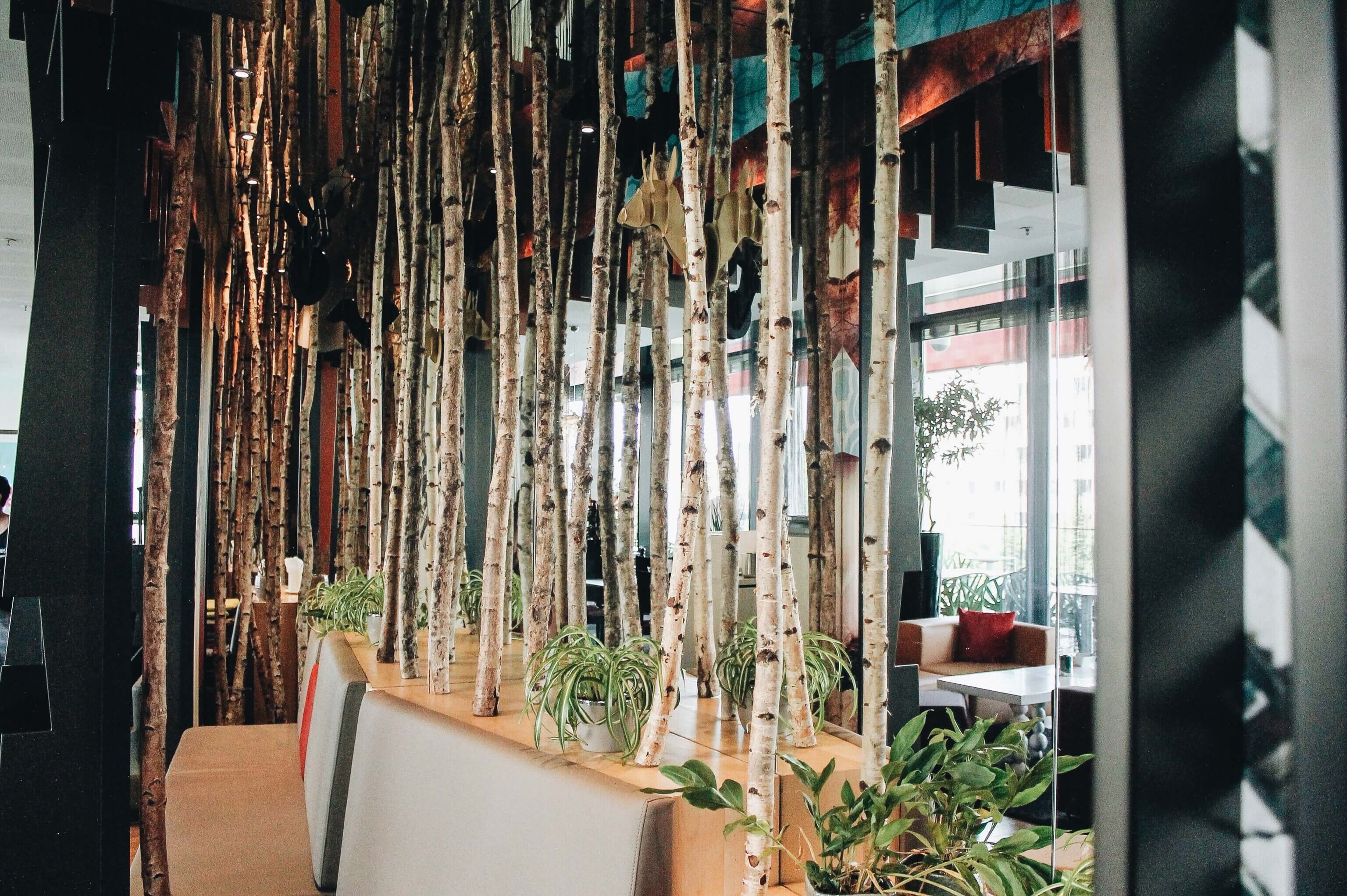 The Motel One Berlin - Upper West
As already mentioned, I don't only have the Rooftop Bar in the Motel One Berlin Upper West can enjoy, but also spend the night in the hotel. The ingenious location alone between Kurfürstendamm, the Zoological Garden and the Kaiser Wilhelm Memorial Church quickly convinced me. The subway was therefore almost superfluous because I could walk to almost everything. If you prefer to drive, you can choose between bus, train and subway. In addition to the practical component, I felt very comfortable with the elegant and artistic design of the hotel. For me, this hotel is proof that inexpensive hotels do not necessarily mean compromising on quality, furnishings and location. On the contrary, everything is offered here that one would expect from a good city hotel and, in my opinion, the expectations are even exceeded by far.
Address:
MOTEL ONE BERLIN-UPPER WEST
Kantstrasse 163/165
10623 Berlin