How do I find a cheap rental car for my vacation?
The next holiday is just around the corner and this time you have decided not only to explore the hotel complex, but also a little bit of the surrounding area? Then you will order a rental car don't get around. For me personally, a rental car is very often part of my trips, as it allows you to organize your vacation more flexibly and spontaneously. Places or sights that you particularly like can be visited longer or you can plan a detour, which would not be possible on a guided tour.
Book cheap rental cars
Today I would like to show you how I go about finding the perfect rental car and in particular the things you should consider before booking. On the one hand, the rental car should of course be cheap, but it should also contain the most important insurance policies so that the holiday does not become an unnecessary risk.
Transparency: This article contains so-called affiliate links. If you click on this and make a purchase via this link, I will receive a small commission from the relevant online shop or provider without changing the price for you. With this you support Petit Chapeau. Thanks a lot for this!
Rental car direct provider, intermediary or online platform?
What is important if you want to book a cheap rental car? First of all, I would like to explain the difference between direct rental car providers and the so-called rental car brokers. Direct providers include large companies such as Hertz, Avis, Budget, Europcar and Sixt. The rental car intermediaries (also known as "brokers"), as the name suggests, arrange rental cars by taking them from the direct providers with appropriate contingents. In this way, an agent finances himself, since he naturally receives corresponding discounts when accepting larger contingents. Rental car brokers include companies such as Holiday Cars, Sunny Cars and Auto Europe. These offers are now bundled and offered to the end consumer on a wide variety of online platforms - it is worth comparing the various offers, as you can save a lot of money here.
Which rental car comparison portals do I use?
When I travel, I use various comparison platforms to find the right offer for my vacation. I pay particular attention to the price, the conditions (how many kilometers are included, fuel regulations), the insurance package and also the local conditions (directly at the airport or with a shuttle).
Check24: The rental car price comparison with a wide range of services
Book cheap rental cars: Most of us should be familiar with Check24. Maybe you know the comparison portal from the advertisement? 😊 In addition to the large comparison offers in the area of ​​finance (loans, banks, etc.) or house (electricity comparison, gas comparison, etc.), Check24 also offers a rental car comparison. Over the past few years, we have achieved gold status, which again includes particularly attractive additional services (you get this after booking three rental cars within 12 months).
In our opinion, the big advantages of Check24 are:
Book risk-free: You can cancel free of charge up to 24 hours before pick-up
No payment fees: You have no additional costs when paying by PayPal, credit card or direct debit
Large number of providers: Over 300 car rental companies (through brokers such as Car del Mar, Auto Europe, Sunny Cars, TUI Cars) and large direct providers such as Avis, Budget, Dollar, Europcar, Hertz, Thrifty or Enterprise
Exclusive advantages in the Gold Club: collect double Check24 points, exclusive Gold Club hotline (Monday to Sunday from 07:30 a.m. to 23:00 p.m.) and free Allianz travel accident insurance package (worldwide except USA and Canada).
Book cheap rental cars on Cheaper rental cars: Germany's largest rental car comparison
The second comparison site for rental cars that I use regularly is Cheap car rental. Cheap car hire bills itself as "Germany's largest rental car price comparison" and has already been named test winner 26 times. In addition to rental cars, you can also see prices for Campers & RVs to Rent compare or prices for renting one transporters.
In our opinion, the big advantages of cheap rental cars are:
Book risk-free: You can cancel free of charge up to 24 hours before pick-up
Large selection of rental car providers in over 170 countries (40.000 locations worldwide)
Free advice by phone (Mon-Fri from 8:00 a.m. to 18:00 p.m. and Sat from 9:00 a.m. to 14:00 p.m.)
Payment by credit card, PayPal, direct debit or on account (only portal so far)
Click here for the provider: Cheaper-Mietwagen.de
What should I consider when booking a rental car?
Would you like to book a rental car as cheaply as possible? Everything starts with the selection of the filter criteria. With both Check24 and Cheaper rental cars, you theoretically have the option of specifying a different location for the pick-up and drop-off location. Please note, however, that with the so-called one-way rental additional costs are to be expected. We therefore always return our rental car to the place where we picked it up.
Both at Check24 as well as at Cheap car rental you have the possibility to specify "further options" directly in the search mask. We always use the following filter criteria in our search:
Unlimited kilometers
Choose the option All kilometers free, so that you can explore the area as flexibly as possible during your holiday. If you don't choose this option, the rental car providers have a certain number of kilometers included, but if you exceed this, the additional kilometers will be expensive to pay. Since we often do not plan our route down to the last detail, we always choose the option "All kilometers free" and can drive as much as you like.
Flexible dates when renting
As with the Search for the right (and cheap) flight, it is also worth testing different data (duration, weekdays and pick-up location) when looking for a rental car, as there can also be large price differences here. Sometimes, for example, the stations where the demand is particularly high (eg at the airport) are more expensive than in the city. Therefore, test which combination is the cheapest for you - if you are flexible, you can usually save a lot of money. Another tip: book early, in most cases you can get a rental car much cheaper if you don't book a few days before pick-up. Since you can cancel free of charge with both Check24 and cheap rental cars (up to 24 hours before pick-up), you don't take any risks here.
additional driver indicate early (if necessary)
We always book our rental car with a main driver. Each additional driver is usually associated with additional costs - but if you cannot avoid several drivers: Specify the additional driver when booking, later when you pick it up it will otherwise be even more expensive. There are also some offers that include an additional driver, so it is worth considering this decision when booking online (A little hint: With cheap rental cars, you can already select the option during the search "1 additional driver included" choose).
Best tank control
With Check24 and Billiger-Mietwagen you can choose the option "Fair tank regulation" or "Good tank regulation" and only see offers with the regulation full-full. I will explain to you here what this means.
insurance and deductible
When it comes to insurance coverage, I don't make any compromises and save myself any trouble afterwards. So I always choose the option "without excess". Please also note that damage to glass, tyres, underbody and roof when booking a rental car is often not included in the fully comprehensive insurance. We therefore always book this additional insurance, the price is often not particularly expensive as a result. the Liability insurance: With both comparison portals you can "Liability at least €1 million" choose, so you have a solid sum insured. In general, the higher the better.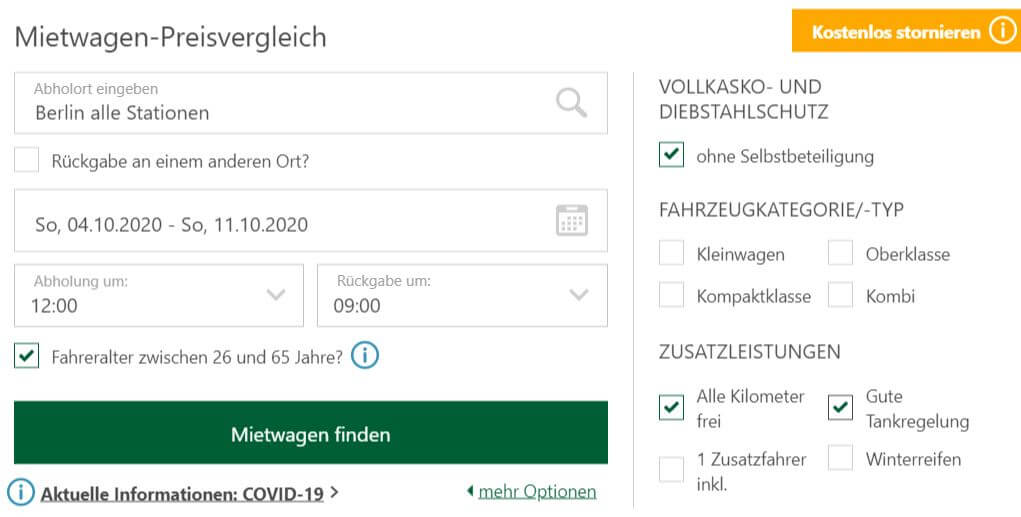 The best fuel policy for rental car bookings
If you use the above comparison portals, you will quickly notice that there are different regulations for filling up your rental car. The best option is: "full-full". This means that you have to pick up your rental car with a full tank and return it with a full tank. You only pay for the fuel that you actually use and you don't have to pay an additional service fee for refueling (this is the case with the "full-empty" rule).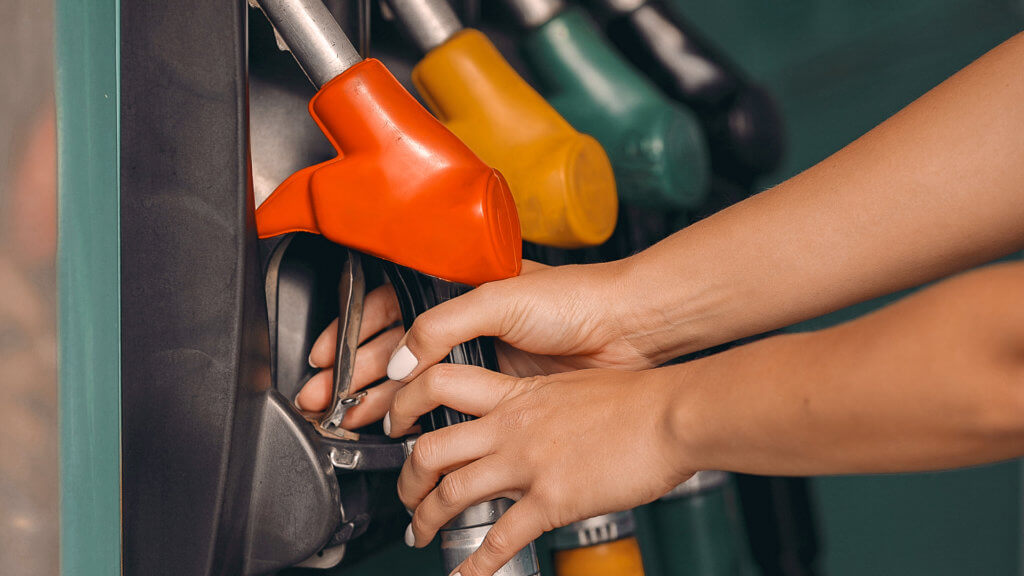 Good to know: The rule "full-full" does not always mean that your tank is 100% full when you pick it up. For example, if it's only half full, you only have to bring it back half full. Just make sure this is stated in the rental agreement and check the fuel gauge before you set off.
Do I need a credit card for my rental car booking?
Sunny Cars has so-called "No deposit/credit card" offers, where you (in some countries) do not actually need a credit card to book a rental car. In most cases, however, you need it on site a credit card issued to the main driverto post a deposit. It is important that you have a full (no debit or prepaid) credit card from the big three providers (Visa, MasterCard or AmericanExpress). Personally, I always use my Santander 1Plus Visa credit card for my rental car bookings. In my article I have put together my three favorites for you.
Special feature: Special tariffs for young drivers under 25 years of age and minimum age
Most providers charge an additional fee for young drivers, the limit is here often at 25 years. Young driver surcharges vary but are included in most cases about 10 to 20 euros per day. It is important that you read these regulations in the rental conditions of the provider.
What you should also note is that many rental car providers also have a minimum age for the main driver, which is sometimes 19 years, but depending on the country even 21 or 23 years. In addition, many providers require that you has held a driver's license for at least one year.
I hope this article has helped you and you save a few euros on your next rental car booking. If we're honest: We'd rather spend the money we saved on a pizza on the beach or a delicious cappuccino. If you liked the article, please leave a comment. I'm looking forward to your feedback!
Related posts
Free newsletter
Subscribe to our newsletter now and never miss an article again. In addition, you will receive exclusive travel tips, announcements and the latest news on the topics of personal development, spirituality and mindset.