Vegan Matcha Latte Recipe
After I gave you a little insight into the preparation of my vegan Matcha Latte Tea on Instagram, I received countless requests for the recipe. I was surprised that my Vegan Matcha Latte Lunch sparked so much excitement among my followers! And because many of you have asked for it, I would like to share my vegan Matcha Latte recipe with you.
Some information about matcha tea
What is matcha actually?
Matcha tea is a powdered green tea from Japan. The powdered tea originally comes from China, but is now particularly popular in Japan. And there this tea is an integral part of everyday life. From the classic Matcha tea to countless foods with the typically finely tart Matcha taste to Matcha Cola, you will find all imaginable (and imaginable) combinations with the popular green tea powder in Japan.
My favorite was the Matcha soft ice cream *dream*. Matcha tea is served free of charge with the ordered dishes in many restaurants and cafés. While matcha tea is still considered quite exotic in Europe, in Japan it is an integral part of drinking and eating culture. If you want to know what else is on the table in Japan, then feel free to take a look my top 7 favorite dishes from Japan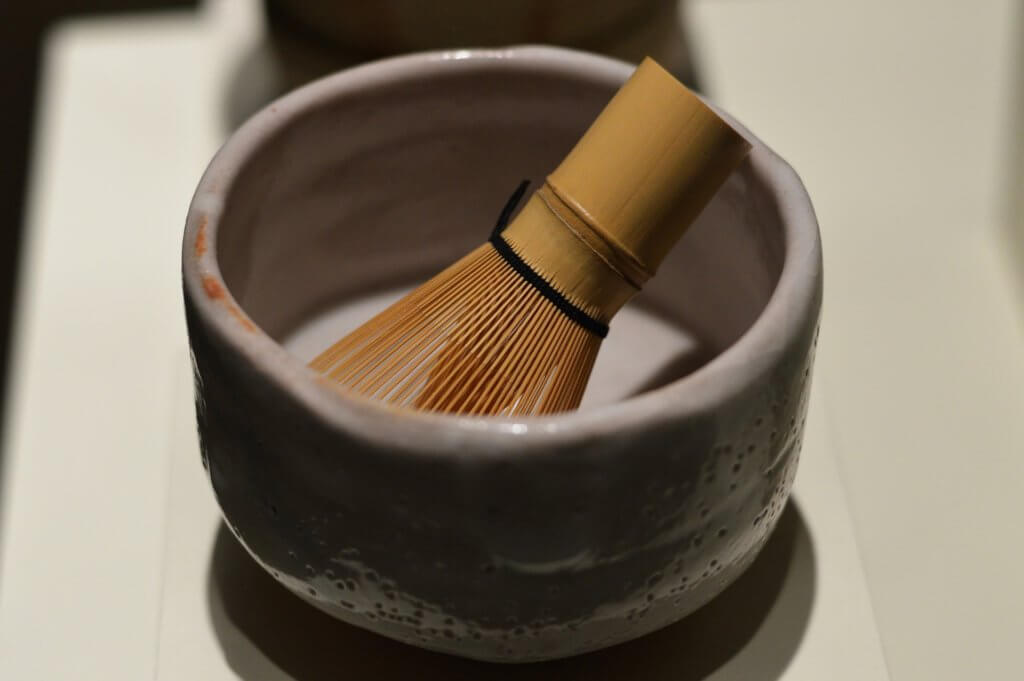 Matcha is so healthy
But why is matcha tea so popular? On the one hand, this is due to its sweet taste, as well as to its numerous properties that have a positive effect on health.
1. Matcha tea contains many antioxidants
Matcha tea contains a lot of antioxidants that can protect the body from free radicals. In particular, the catechins contained in matcha tea work wonders: They are anti-inflammatory, ensure healthy arteries and can even repair cells. Matcha tea contains comparatively much more antioxidants than green tea and is said to be even healthier for this reason.
2. Matcha tea can help with weight loss
Just like green tea, matcha tea boosts the metabolism and can thus help to lose weight. However, this effect is quite small and can in no way replace a balanced diet.
3. Matcha tea is good for the heart
Drinking green tea can lower cholesterol and reduce the risk of heart disease. This effect is also due to the high concentration of antioxidants.
Coffee alternative: Matcha tea as a healthy pick-me-up
Did you know that a large serving of matcha tea contains about 272 milligrams of caffeine per cup? That's about the same as an espresso.
Because drinking Matcha first stimulates the central nervous system, it leads to a slow release of adrenaline and increases alertness without the sluggish feeling that one often feels after drinking coffee. Matcha tea is even said to improve brain activity and prevent Alzheimer's. Therefore the applies Matcha tea as healthy coffee alternative.
Fast & easy: My vegan Matcha Latte recipe with oat milk
My favorite drink is Matcha Latte with oat milk and cinnamon. I usually prepare my Matcha Latte in the afternoon and afterwards I not only feel fit but also full. The best thing about this recipe: It's super easy and super quick!
I wish you a lot of fun and joy in the preparation! Everything you need for a super delicious Matcha Latte tea can be found below:
Ingredients for a vegan matcha latte tea for two people
Oat Milk Barista (I like to use the Oat Milk Barista Edition from Oatly or the oat milk Barista from Alpro)
½ tsp matcha powder per cup (you can find matcha powder in dm, in health food stores & in your trusted tea shop)
A pinch of cinnamon
Choice of honey or coconut blossom syrup for sweetening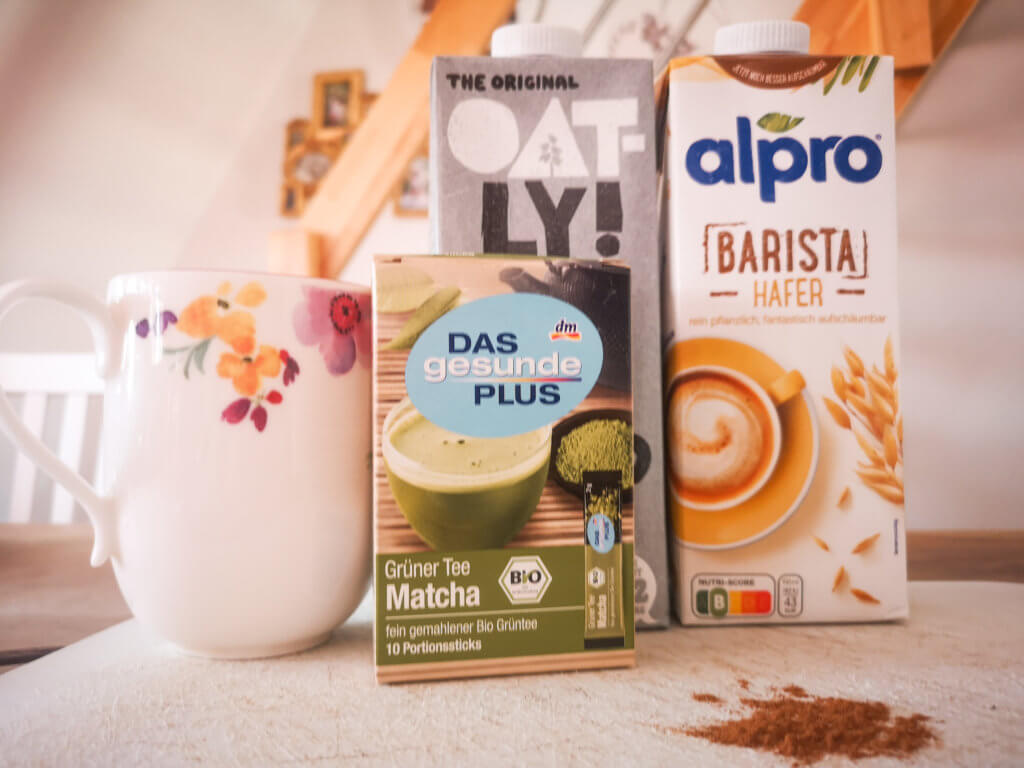 Preparation: In 5 minutes to your delicious Matcha Latte
Shake the oat milk well and pour into 2 cups, heat the contents in a small saucepan. I like to use the Barista Edition because this oat milk is particularly creamy and foamy.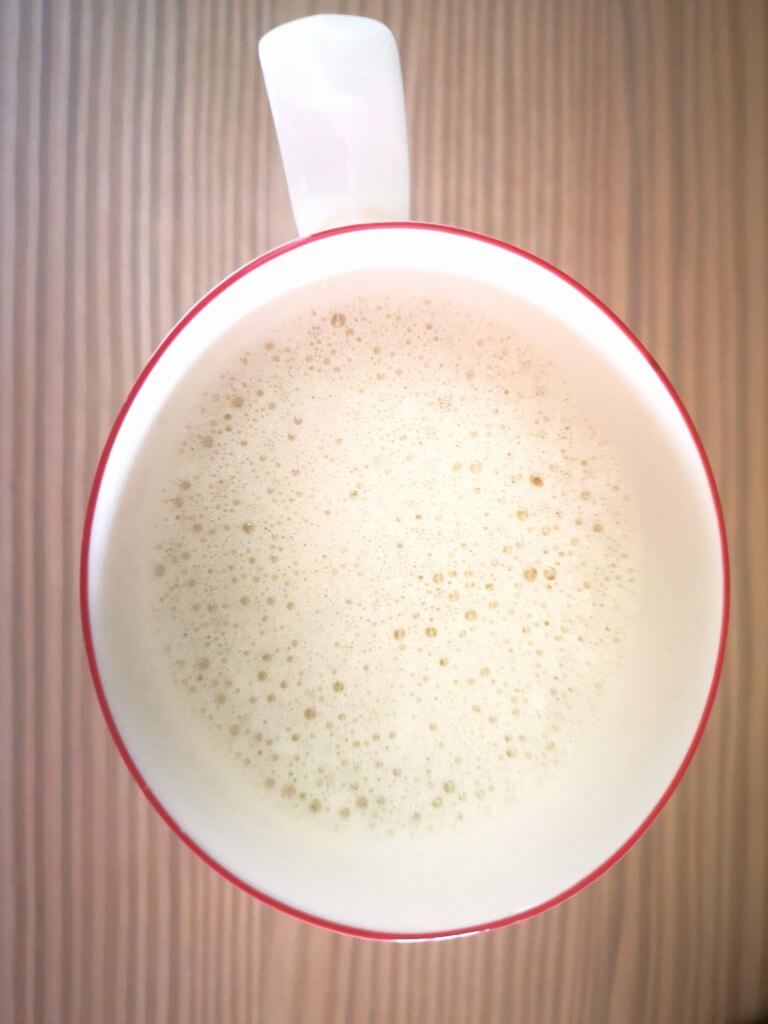 Meanwhile, put the Matcha powder in the cups.
Depending on your personal taste, you can add half a teaspoon of honey or a bit of coconut blossom syrup for the vegan option. (I prefer to drink Matcha Latte unsweetened?).
Boil briefly and pour into cups. Mix immediately and whisk with a milk frother and whip until foamy.
Refine with cinnamon.
Et voilà, your matcha latte is ready!
Enjoy it and let me know what you think of this Matcha Latte recipe 🙂
Note: The products mentioned are my personal recommendations: I bought all the foods mentioned myself. This is not an advertising order.
Related posts
Digital message in a bottle
Subscribe to our newsletter now and never miss an article again. In addition, you will receive exclusive travel tips, announcements and the latest news on the topics of personal development, spirituality and mindset.