The search for the best flight search engine
Many know it: The next trip is imminent and the search for suitable flights that are as cheap as possible can begin. The positive: Nowadays everyone can thanks to a flight search engine find the best flights for you from the comfort of your own home and even save money at the same time. In this article, I want to share my experience with you and give you guidance on how best to do this.
Which flight search engine do I use for my trips?
I have used many different flight search engines over the years. Most of the time it was one of the following three: Skyscanner, Kayak or Swoodoo. In recent years, I have dealt with the topic more and more intensively and discovered other flight search engines (such as Kiwi, idealo, Google flights or sky explorer) and found the best flight search engine for my purposes. In this article I want to share my experience with you and the Advantages and disadvantages the individual search engines introduce – first of all, it is important to start comparing the prices of one of the providers.
What is a flight search engine anyway?
A flight search engine is a website that finds the best offers for you from the multitude of possible flight combinations (period, departure airport, destination airport, number of stops, airline, etc.). Basically, you can say that you will find the best deals (in terms of price/performance) if you have a certain time flexibility have. In the first step it is very important that you use a search engine that you shows as many combinations of flights as possible.
When searching, you should keep your departure point, your travel period and the number of changes as flexible as possible. It is therefore extremely important that you use a flight search engine that processes current data and not only searches in outdated databases (background: every flight search that is triggered costs the provider money, which is why not all flight search engines have the most up-to-date data).
Only when you have found the perfect flight combination does the final price comparison and finally the booking begin. I can recommend the following flight search engines to help you find the right flight connection: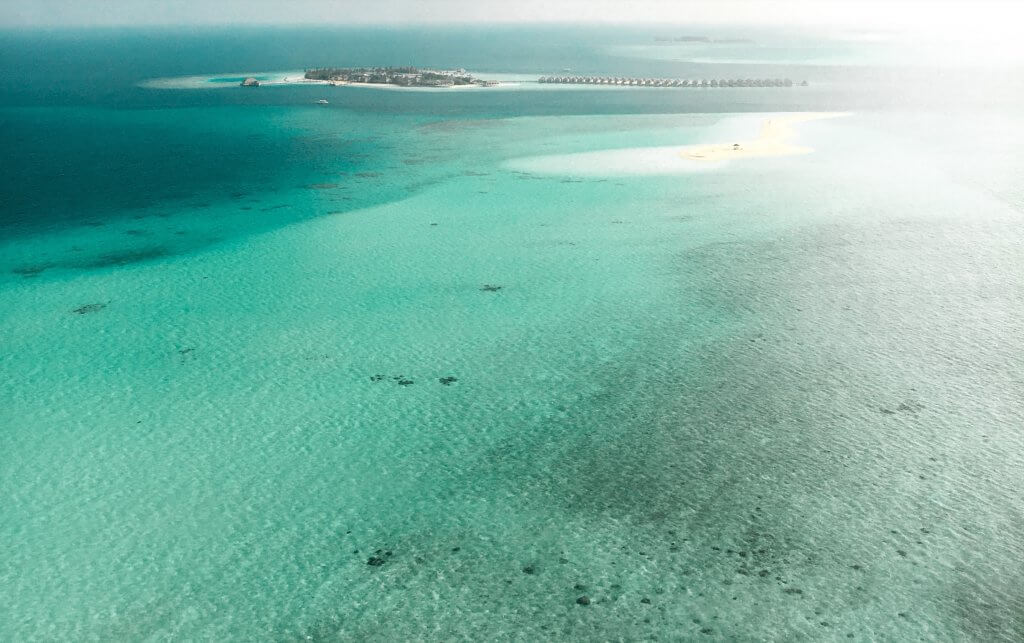 Kiwi: The best flight search engine for flexible travel
You can search for flights extremely flexibly on Kiwi.com. Flight search engines often have to specify a fixed departure and destination airport and a fixed travel period. Not so with kiwi. When you start researching your next vacation, you have complete flexibility to get started. For example, you can enter your own location within a radius of +250 km as the departure airport and just a country or even a continent as the destination. You can choose the departure date and return date just as flexibly.
Simply define a period in which you are able to travel and if you like, you can also define a travel duration (e.g. at least 2-14 nights). If you still need some inspiration for your next holiday destination, you can theoretically search with only one departure airport and leave the destination completely open - then you will get an overview page that is sorted by the "popularity" of the destination by default (you can change this by price sort).
I find that particularly cool NOMAD Mode in which you can specify a start destination and a number of target destinations on Kiwi. Kiwi then looks for possible combinations and different lengths of stay for each destination - a great feature for planning your next road trip.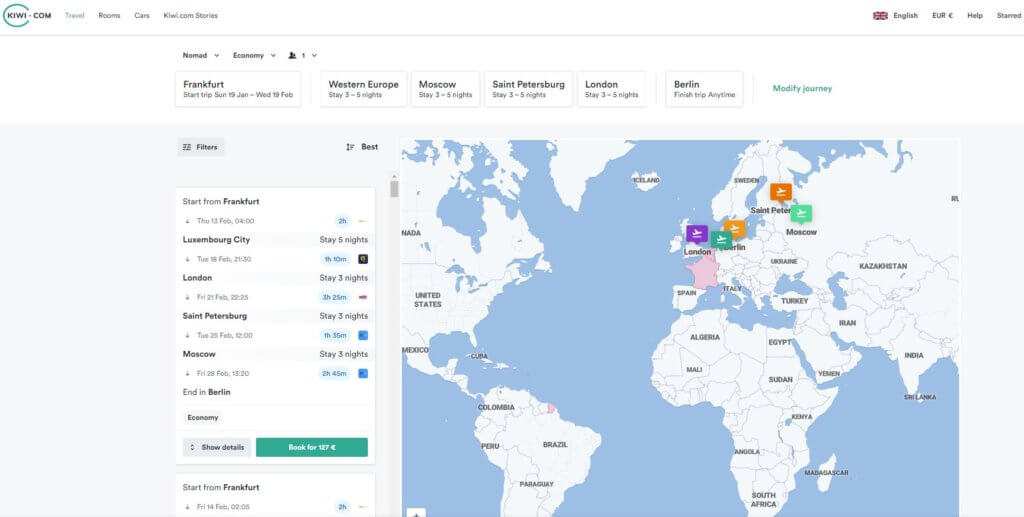 Google Flights: The flight meta search from the search engine giant Google
In my opinion, Google's flight search is clearly behind Kiwi in terms of flexibility. You should already have a concrete idea of ​​where you want to fly from, but then Google Flights is also a good flight search engine with a beautiful and user-friendly interface.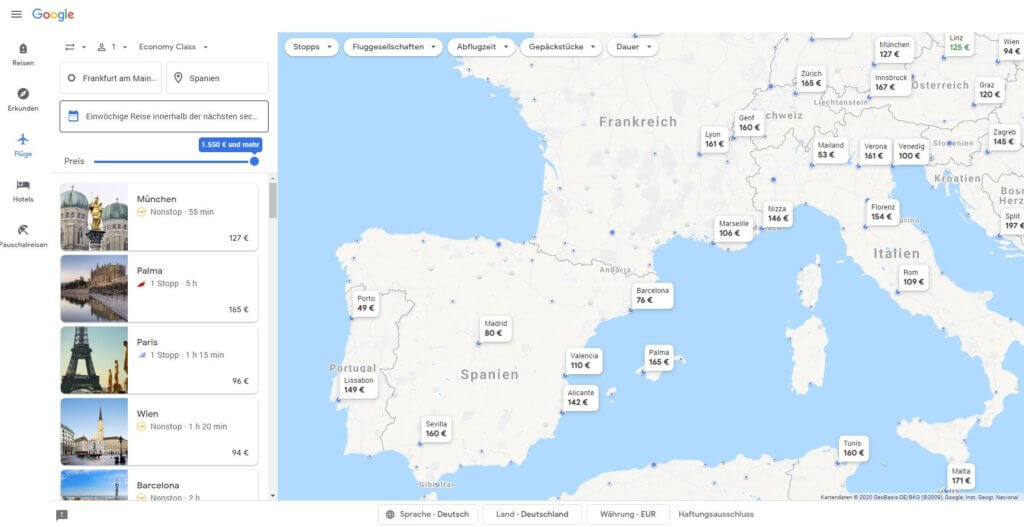 Unlike with Kiwi, you cannot book a flight directly in the Google flight search, but are forwarded to the respective provider (e.g. the flight airline). What I particularly like about the Google flight search is the following feature: If you have selected a specific flight route, Google will show you a price benchmark (a kind of bookmark). In this way you can find out whether the displayed fare is particularly cheap, normal or expensive.
Now that you have found an ideal flight combination for you, it is time to find and book the best price for this flight. It is often the case that the price displayed on Kiwi or Google is not the best. When searching for the best price, I like to use the following Flight price comparisons:
Skyscanner: The Ultimate Airfare Search Engine
I've been using Skyscanner to compare the best flight prices for many years. Skyscanner has an extremely large number of partners in its search, including many German booking platforms (Opodo, lastminute and also kiwi.com) but also the flying airlines. This makes Skyscanner one of the best flight search engines on the market for me. Similar to Kiwi, Skyscanner also gives you the option of finding the best flight combination for you in a monthly overview (note, however, that the prices displayed in the monthly view are often not 100% up-to-date).
Compare airfares with Kayak, Swoodoo and Momondo
Kayak and Swoodoo are one of the "oldest" flight search engines on the market. You have a certain flexibility when searching, but this only covers +/- 3 days in terms of time or a maximum of 3 airports in terms of location. Nevertheless, it can't hurt to try the comparison on Kayak or Swoodoo. Momondo has a slightly different user interface, but in my opinion it doesn't offer any special new features. All three brands belong to Booking Holding (formerly Priceline), which also includes brands such as Booking.com, Agoda and Cheapflights.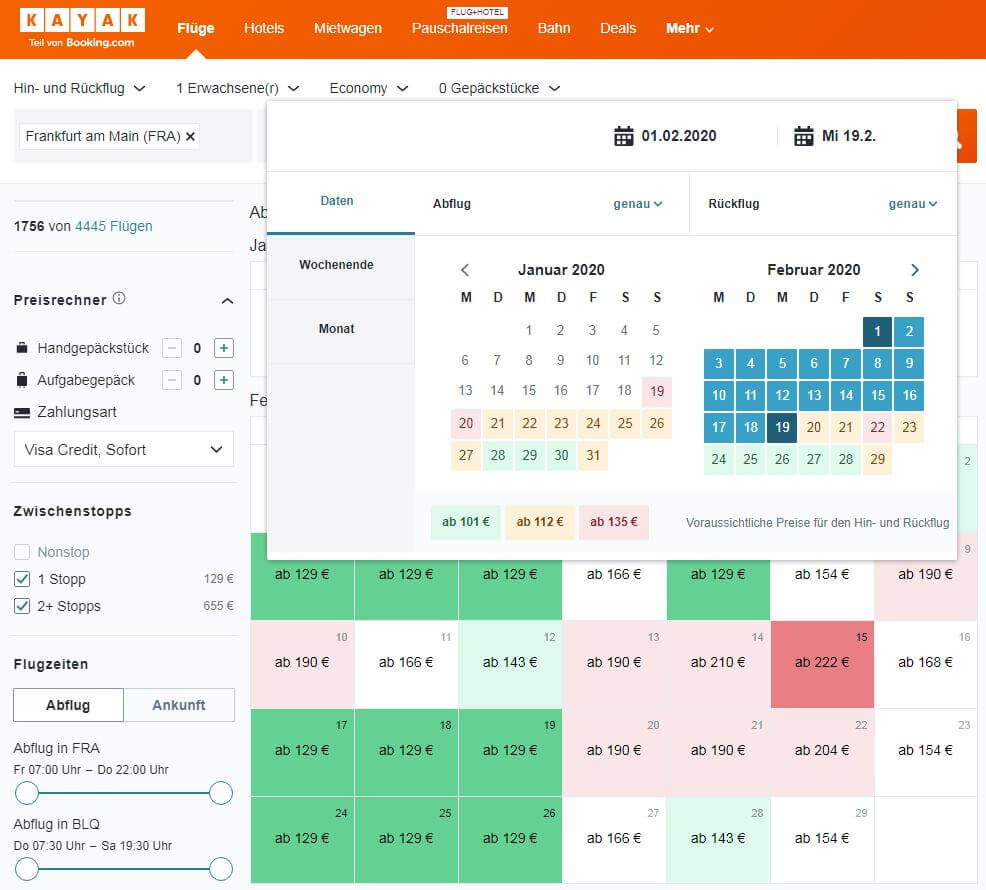 Idealo Flight: Compare flight prices
For many, Idealo is already a household name as a price search engine, i.e. when comparing products of all kinds online Ideal flight search flight prices for round trips (return flight), one-way flights (one-way flight only) or open-jaw flights can be compared. This means that you should have already chosen your route and are only looking for the best price. This search engine does not offer you flexibility in terms of time period, departure airport or destination airport. However, I like to use Idealo at the end of my research to validate that I have really found the best price for my itinerary.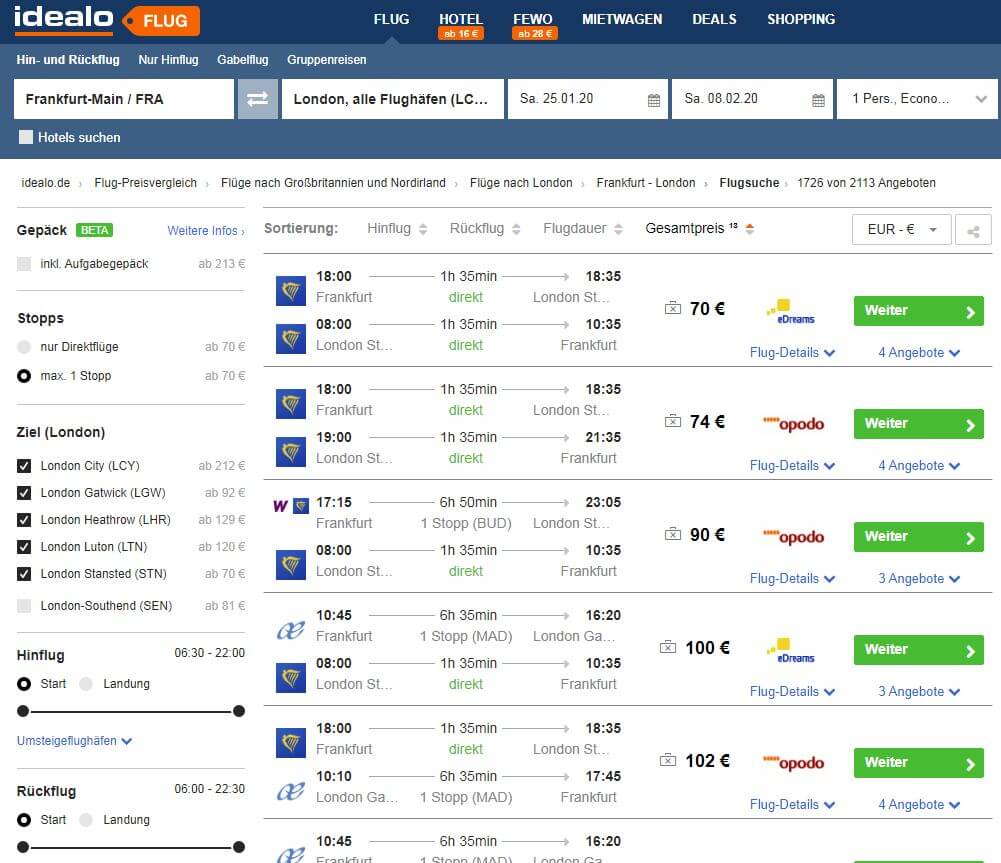 Skyexplorer: The flight search engine for flexible travel
I only recently discovered Skyexplorer. With this flight search engine, similar to Kiwi, we can search very flexibly for possible travel routes. All you have to do is set a departure airport and a destination airport and then select your earliest possible departure date and a date for the latest return journey (these two dates can be a maximum of 90 days apart for Skyexplorer). You can set the duration of the trip flexibly using a timeline of 7 to 14 days, for example. You will then be shown the best and cheapest flight combinations. Personally, I like using Skyexplorer when my travels aren't set in stone and I'm still in the research phase.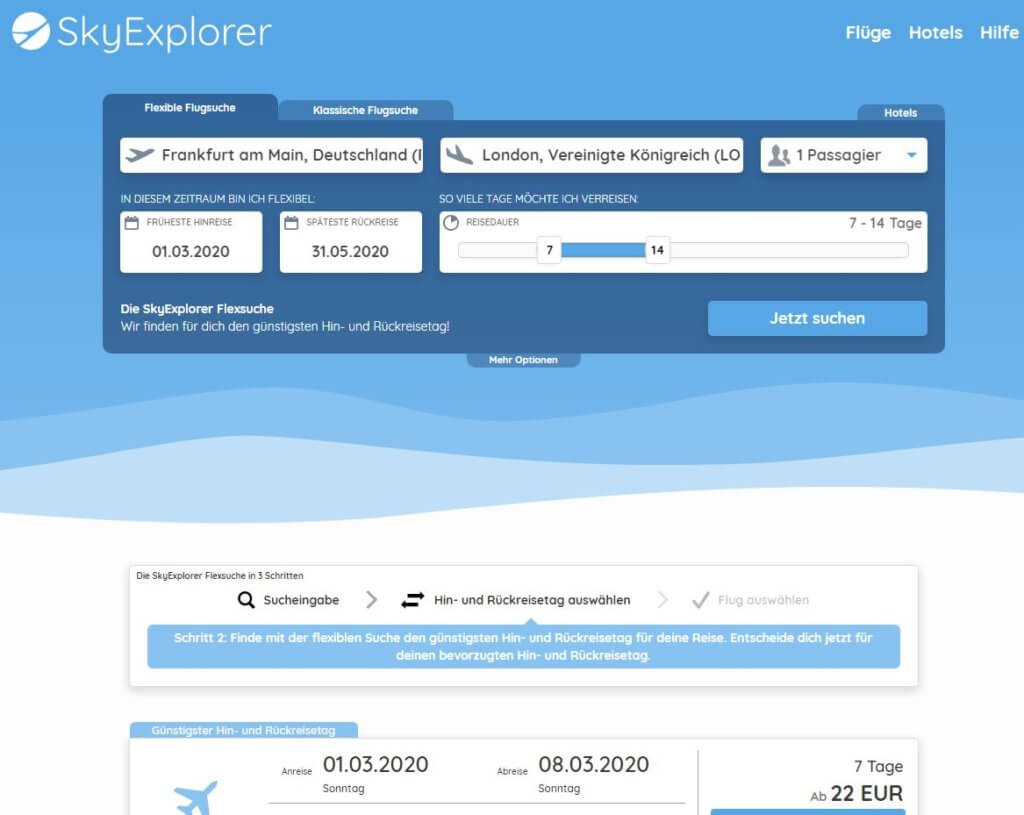 Last but not least, I give you the tip that you also check the airline's website - if the price differs only slightly from the price of your provider, you can also book directly with the airline. This way you have direct contact with the provider of your flight and do not have to communicate via the third-party provider if the worst comes to the worst. If you are now also looking for a suitable travel credit card, you can find my comparison below The best free travel credit cards: My top 3.
I hope you liked my post and that I was able to give you a few valuable tips when looking for your next flight. Please write me a comment about your experiences with flight search engines and which one is your favourite.
Digital Message in a Bottle: The free newsletter from Petit Chapeau
Carry yourself in ours now free newsletter and never miss an article again. In addition, you will receive exclusive travel tips, announcements and the latest news about honeymoons, adventure travel and mindset.
Related posts
Digital message in a bottle
Subscribe to our newsletter now and never miss an article again. In addition, you will receive exclusive travel tips, announcements and the latest news on the topics of personal development, spirituality and mindset.