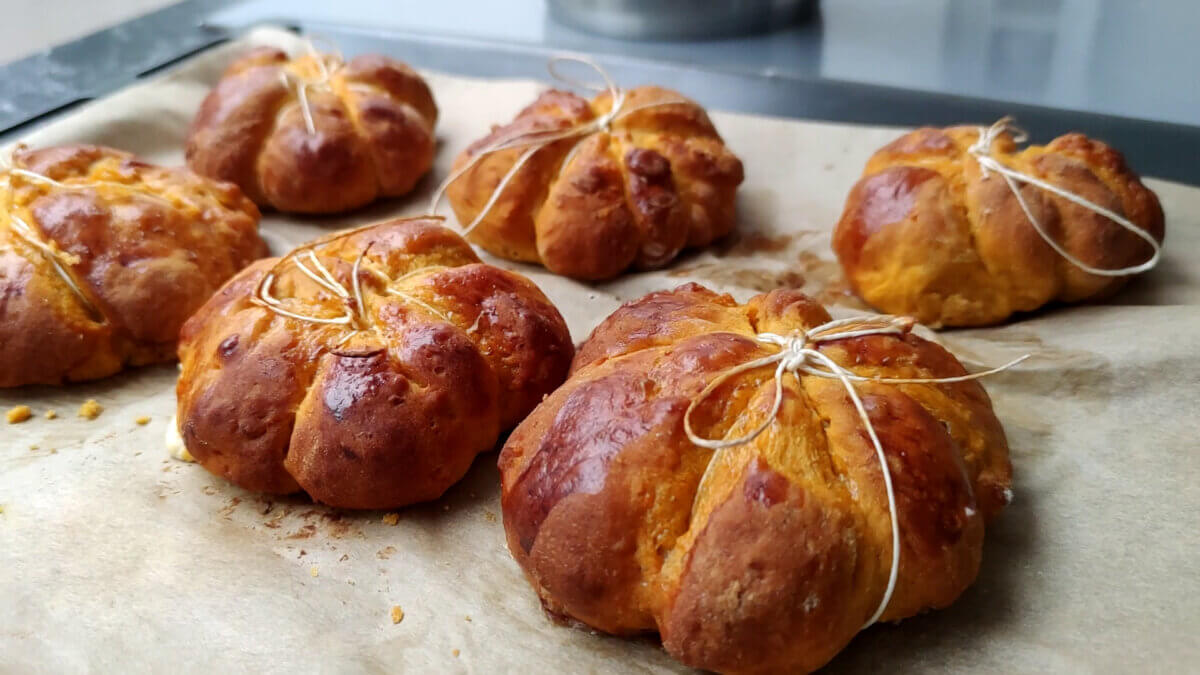 Christmas is almost here again, isn't it incredible? I would like to make the end of the year particularly contemplative this time and especially, also as part of my book project, with the Rauhnächten occupy. But what would the pre-Christmas period be without the smell of freshly baked treats? To satisfy my cravings for sweets, I have a delicious pumpkin bread recipe selected for baking and also a small one Video with a step-by-step instructions as well as all necessary quantities.
Bake pumpkin bread like from a baker
I tried the recipe for our cozy autumn picnic in the Black Forest for the first time. Thanks to the pumpkin season, even autumn has become sympathetic to me. But who is actually in favor of pumpkins being available all year round? As you can see, I'm an absolute pumpkin fan! But especially at Christmas time I love the seductive scent of cinnamon and pumpkin.
I've wanted a kind for a long time Pumpkin bread like from the baker bake myself and finally I took the time. The pumpkin buns are super tasty, juicy and, with their pumpkin shape, also a real eye-catcher - as you know, the eye eats with you 🙂
My perfect pumpkin bread recipe for winter
Step-by-step instructions: Bake pumpkin bread yourself
Before we start, you need the following ingredients:
100 g pumpkin puree (I used a Hokkaido pumpkin)
120 ml warm milk
1/2 teaspoon sugar
50 g coconut blossom sugar
1 packet of dry yeast
325-350 (about 2,5 cups) household flour
1 teaspoon of cinnamon
4 teaspoons (approx. 30 g) melted butter
1 egg
175g cream cheese
Optional: sweetened condensed milk
7-8 cinnamon sticks
cooking yarn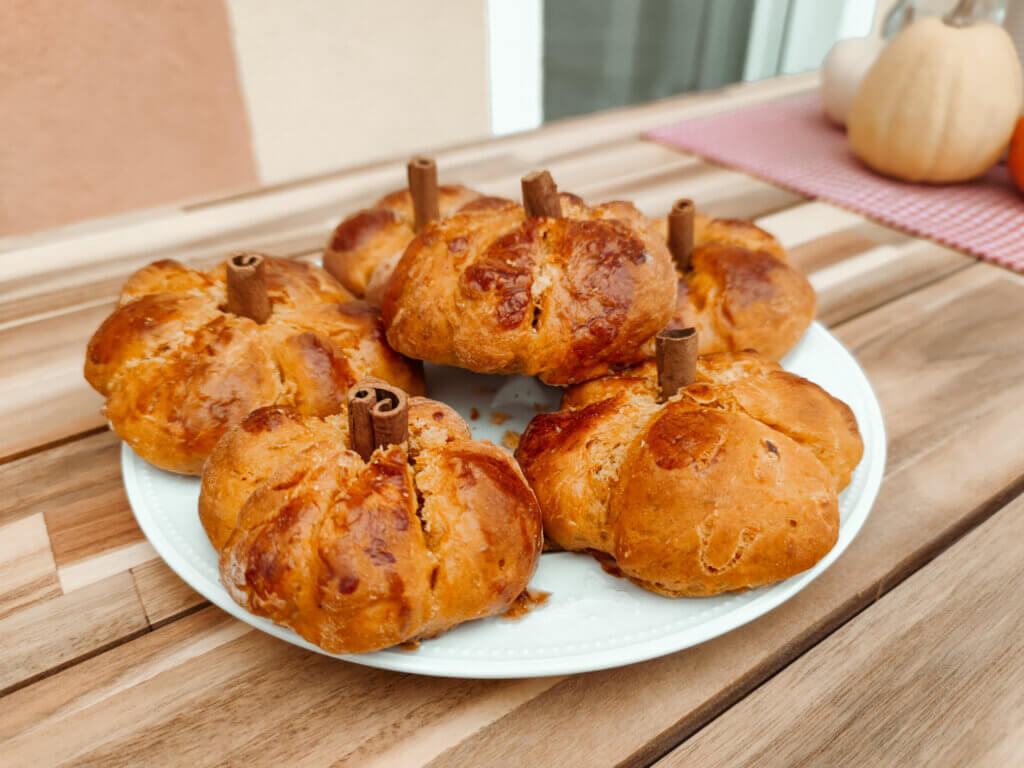 Needed time: 1 hour and 30 minutes
It's very easy, in just 8 steps you have delicious pumpkin breads for your family and friends ready:
Hollow out the pumpkin

For the pumpkin puree I used a Hokkaido pumpkin. To make it easier to spoon out the pumpkin flesh, I divided the pumpkin in half and put it in the oven for about 40 minutes.

Mix together milk, sugar and yeast

Combine 120ml milk, half a teaspoon of sugar and a packet of dry yeast. Now we let it rest for about 10 minutes so that the yeast is activated.

Mix flour, coconut blossom sugar and cinnamon

Mix the flour and cinnamon mixture and then add the milk.

pumpkin puree

The pumpkin should come out of the oven nice and soft now. Hollow out the inside and collect about 100g of puree in a bowl. Add the puree to the flour/yeast mixture and add one more egg. Then mix everything together to form an even dough with a mixing stick.

Knead dough

Now you can knead the dough until the dough is no longer sticky, but remains pleasantly soft and supple. If it's still too sticky, just add a little more flour.

Divide the dough into 7-8 equal sections

You can now divide the dough like a cake into equally sized parts (doesn't have to be super exact).

cream cheese filling

A little cream cheese filling is added to each piece. (Optional: I added some sweetened condensed milk to the Philadelphia cream cheese.) Then close the small dumplings and form a ball with your hands. Lay out all the balls on a baking sheet, cover with a kitchen towel and let them rest again until the dough pieces have roughly doubled in size.

Decorating & Baking Time

To create the real pumpkin look, you can now tie up small packages with the kitchen twine. The small pumpkins can either be brushed with a little egg yolk or milk. Then our little pumpkins go into the oven for about 20 minutes at 180°C. When they have cooled down, you can use cinnamon sticks in the middle of each bun as decoration. The mini pumpkin pies are ready.
Video tutorial: How to bake pumpkin bread
I am also happy to take this opportunity to introduce you to my new YouTube channel: The Cottage Candle. On this channel I share everything that concerns me personally, cozy stories, calming nature shots, recipes and small DIY instructions. Have a look!
I hope you liked my little pumpkin bread recipe and maybe you want to try it too. Please leave me a comment here Petit Chapeau or under my YouTube video - I'm looking forward to it!
Lina
Hi! I'm Lina, a blogger, translator, podcaster and travel photographer by profession. I was born in beautiful Tajikistan and currently live in Bad Wildbad in the Black Forest. Thanks to my many trips, I now feel at home almost anywhere in the world. I've been blogging regularly since 2017 Petit Chapeau.
Related posts
Free newsletter
Subscribe to our newsletter now and never miss an article again. In addition, you will receive exclusive travel tips, announcements and the latest news on the topics of personal development, spirituality and mindset.