Sardinia insider tip in summer
There's this one American TV series called Hart of Dixie, in which the protagonists are continuously busy celebrating lavish parties in their quaint little town of Bluebell, alongside plenty of heartbreak. As delightful as it is to watch Hart of Dixie, to completely switch off and immerse yourself in an ideal world, the whole scenario feels unrealistic to the viewer.
Sorso: A beautiful small village in the north of Sardinia
Does Bluebell really exist? You know it, such a city can not exist! And then you decide to travel to Sardinia and are taught a better, no a much better! The city is not called Bluebell but Sorso, but in the summer months it can not only keep up with Bluebell in terms of partying, but also easily surpass it. We are in the north of Sardinia, the Costa Smeralda with its magnificent beaches, luxurious villas and high society is behind us and a piece of magical summer ahead.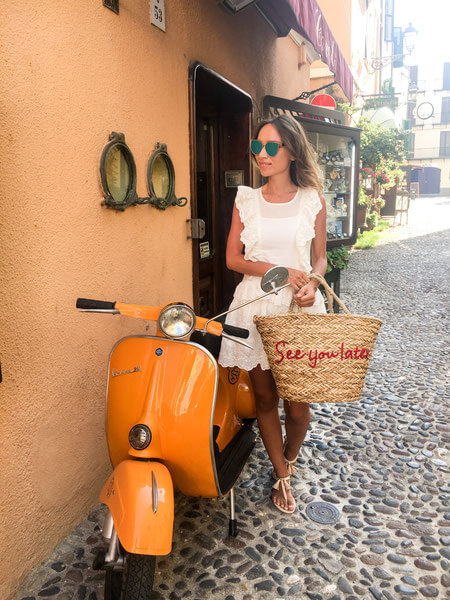 The perfect Sardinian summer in Sorso
Near the second largest city of Sardinia Sassari you can find the small town of Sorso with its 14,000 inhabitants. Located in the immediate vicinity of the dazzling sea of the Gulf of Asinara, surrounded by vineyards and olive groves, the historical town of Sorso, with its splendid and fertile landscape, promises a perfect Italian summer, or rather, a perfect Sardinian summer. Because the Sardinians don't really see themselves as Italians. But more about that later. Sorso with its many small bars and cafes is cozy but anything but sleepy. Because there's a lot to talk about over a good cup of coffee or espresso, people like to get together for a chat, which can occasionally last well into the night or into the next morning.
Loud, lively and vibrant: Sorso is anything but a sleepy little village
Sardinia in July is hot! Quite hot. Sorso is quiet only from midday and seems to be deserted when the summer heat is at its peak but the rest of the day and night it is noisy, lively and alive. Young and old meet, laugh, discuss and gesticulate above all. Yes, you feel like you're in a movie that doesn't leave out a single cliché about the Italian way of life. The only difference is that it feels even more beautiful because it's real.
Almost every day something is celebrated: be it the Melanzana (Italian for eggplant), the Festival of the Library, Saint San Pantaleo or simply grandiose dance performances by the local dance school. There is always something to celebrate. And celebrating is very important there. A party is organized in every detail and from adults to children everyone is involved. Huge cotton candy clouds, the likes of which we have never seen before, are just as much a part of it as the family pizza, which is transported on a scooter and distributed among each other in a collegial manner.
Our accommodation in Sorso: The Bed and Breakfast Piazza San Pantaleo
And just when you think it can't get any better, you end up in a palazzo of a somewhat different but special kind. We spent the night and had breakfast in a bed and breakfast, which can really be described as an absolutely exceptional accommodation. The "Bed and Breakfast Piazza San Pantaleo" is located in the heart of Sorso, right next to the famous church of San Pantaleo.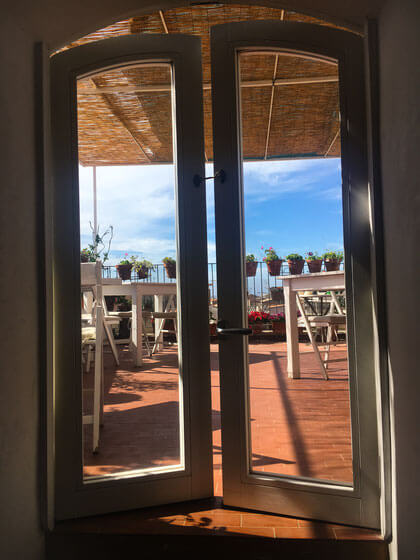 We embark on a journey through time
Even though I used to think time travel was impossible or at most the perfect stuff science fiction novels are made of, I now know that it really does exist, because as soon as you enter the art nouveau house, you instantly feel transported back to another time. This is pure magic but also, above all, the individual furnishings. The rooms exude the charm of the early twenties, but are both restored and renovated. Down to the smallest detail, the interior design resembles a unique work of art. Nevertheless, as a guest you feel no fear of contact and do not feel as if you were in a museum; on the contrary, you immerse yourself in a long-gone era and relive it. The bed and breakfast is run by the friendly and incredibly friendly couple Christina and Giovanni.
A magical breakfast with traditional Sardinian specialties
They conjure up a dreamy breakfast every morning, which you can enjoy while relaxing above the rooftops of Sorso. From homemade cakes to fresh fruits and delicious cheeses, everything you need for a successful start to a vacation day is here. They also like to give their guests insider tips on sights that you wouldn't easily find as a more unsuspecting tourist and that are definitely worth a visit. On our road trip, we quickly discovered that the clocks in Sardinia tick differently or can simply be forgotten. And that feels really good! But that could also be due to the hot weather. Because in Sardinia in the summer there are high temperatures.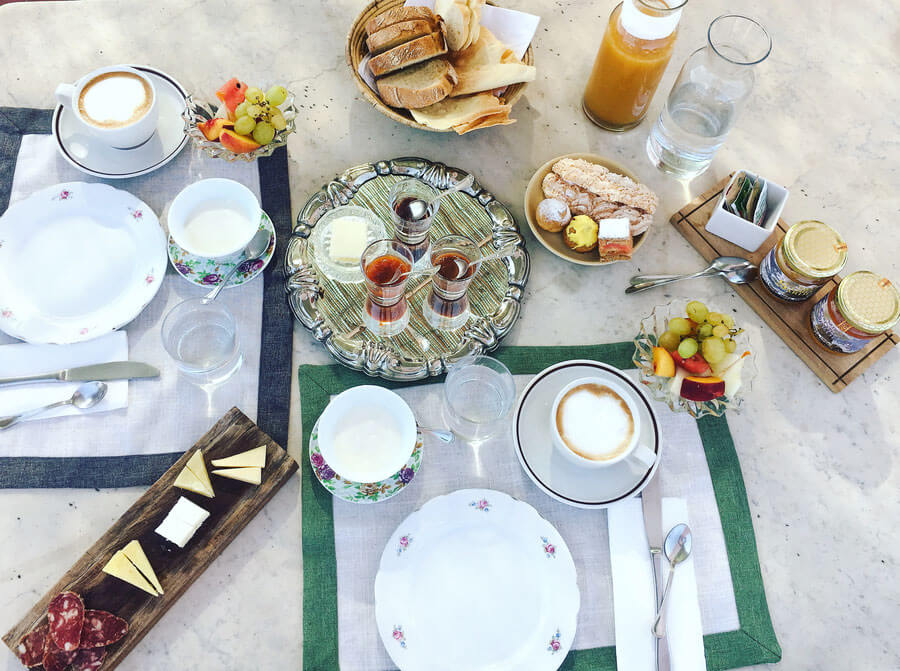 And what else we noticed is the Sardinian flag that is gladly presented, whether on umbrellas or beach towels. As already mentioned, the Sardinians do not consider themselves Italians. The Sardinians are keen to preserve a certain autonomy. This is reflected in many conversations with locals but also, for example, in the Sardinian language, which is not an Italian dialect but a language in its own right, spoken by over 80% of the Sardinian population, but still not considered an official language. For a long time Sardinia was cut off from the Italian mainland.
Sardinia – A piece of history
In the 1960's there were not many ferries to the mainland and the crossings were extremely tedious and not pleasant. A large part of the original villages of Sardinia was very poor. "Forty-five years ago, many children had to play in the streets without shoes, not because they liked to walk barefoot, but simply because they were so poor that they didn't own shoes," Giovanni tells us about Sassari. Even today, the island has problems, but enjoys a steadily growing tourism. We experience Sardinia in July warm, hospitable, colorful, barren, abandoned in some places, lively in others, noisy and completely silent and simply beautiful. It is precisely these contrasts that make up the flair of this fascinating island.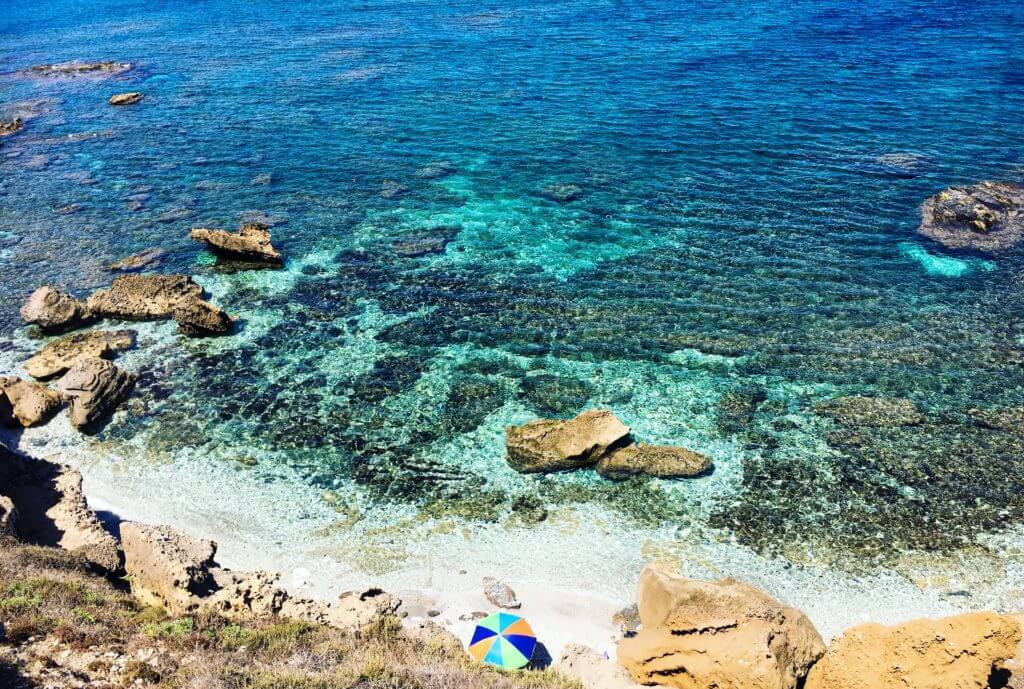 The Caribbean of Europe: It's the simplicity that feels like luxury
The walk in the evening when you can pick fresh figs directly from the tree, the meeting of young and old on the promenade of Marina di Sorso, from which you look together at the sea and it is the stray harmless shepherd dog with the sad expression on his face. Pictures that only life can paint. The small towns on the island do not sell avocados or fruit mixes that dub themselves superfoods. There are typical local fruits and vegetables, fresh fish, meat from the butcher and cheese. The selection is manageable but there are no limits to creativity in the preparation of the dishes.
Food from Sardinia
Memories of the particularly hard times of the island lead to the almost ritualistic basic attitude to food. And the collective enthusiasm for special vegetables and fruits, be they small spiny artichokes or cactus fruits, for example, is indeed contagious. What could be better than celebrating the simple but elementary things in life with a full-bodied wine while enjoying the picturesque view of Castel Sardo or one of the many paradisiacal bays? For it is not without reason that Sardinia is called the Caribbean of Europe. Here Caribbean atmosphere meets a unique Mediterranean way of life full of history and tradition.
Sardinia: An island with history
But the history of the island is far from over. Each new year brings new adventures, change and one or two new enthusiastic vacationers who will eventually travel back but lose a part of their heart to Sardinia. Because Sardinia triggers a wanderlust that feels like home. Sardinia in July was an unforgettable experience for me. I finally found my Bluebell, not the one on the screen, but a real one and much better.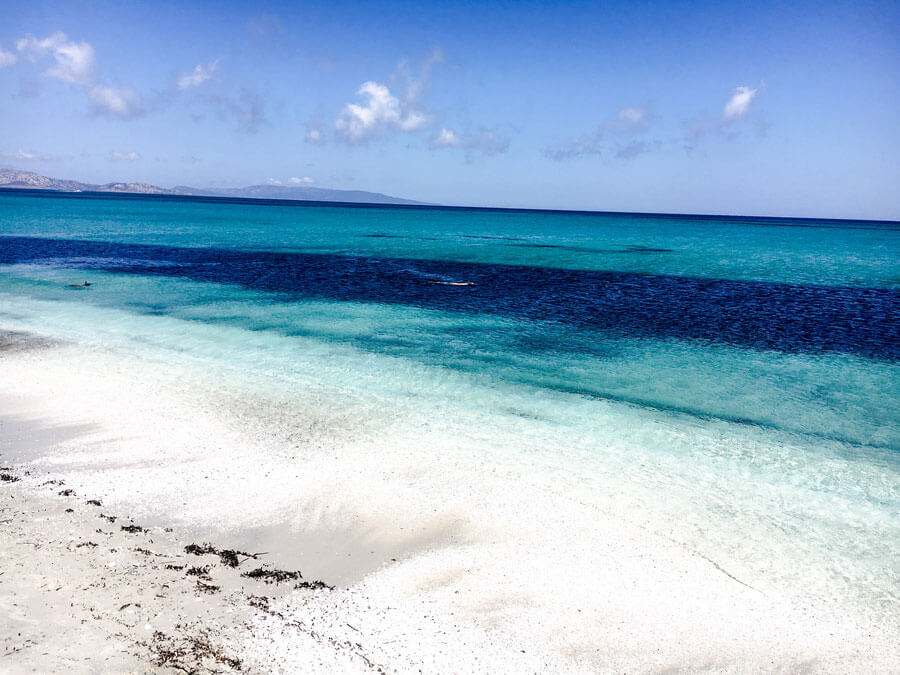 Related posts
Digitale Flaschenpost
Trage dich jetzt in unseren Newsletter ein und verpasse keinen Artikel mehr. Zusätzlich bekommst du exklusive Reisetipps, Ankündigungen und aktuelle News rund um die Themen der Persönlichkeitsentfaltung, Spiritualität und Mindset.