Mykonos before the sleeping beauty
The first time I was on Mykonos was already a few years ago during a stopover on my way to Santorini. At that time I was glad that we flew on, because I really wanted to see Santorini and therefore Mykonos was not very appealing to me as a destination. But honestly, I had no information about the island at the time (except that a few famous soccer players like to spend their vacations there) and at the time I had many butterflies in my stomach. But that's another story…
This time our story takes us to Mykonos, but first I'll tell you why I changed my mind about Mykonos in the first place and why I really wanted to go there: The reason could not be more banal – thanks to Instagram I became aware of the island.
The many pictures of relaxed beautiful people in a dreamy frosting environment quickly made my travel heart beat faster. Besides, my stays in Greece had never disappointed me so far. In just a few hours by plane, you quickly land in a Mediterranean paradise and that is exactly what I love about traveling within Europe, according to the motto: The good is so close! Because a few hours after departure, a summer simply awaits you.
Mykonos in October: The somewhat atypical and yet beautiful travel time
However, it wasn't quite the case with this trip, as I don't think I chose the typical time of year for a Mykonos vacation. However, that was a very conscious decision. I didn't want to surrender to the high season madness and instead wanted to experience the island when it was about to go into hibernation. At this time there are still many people on Mykonos but it is generally much more tranquil and relaxed.
Although you can not expect temperatures of 30 degrees in October, but as "compensation" unfolds the original beauty of the island with itsalmost deserted beaches and breathtaking sights. The coast looks like it has been polished by the strong wind that often blows across the island. However, the people and the white house facades don't seem to mind, quite the opposite, they shine like strings of pearls in the sun.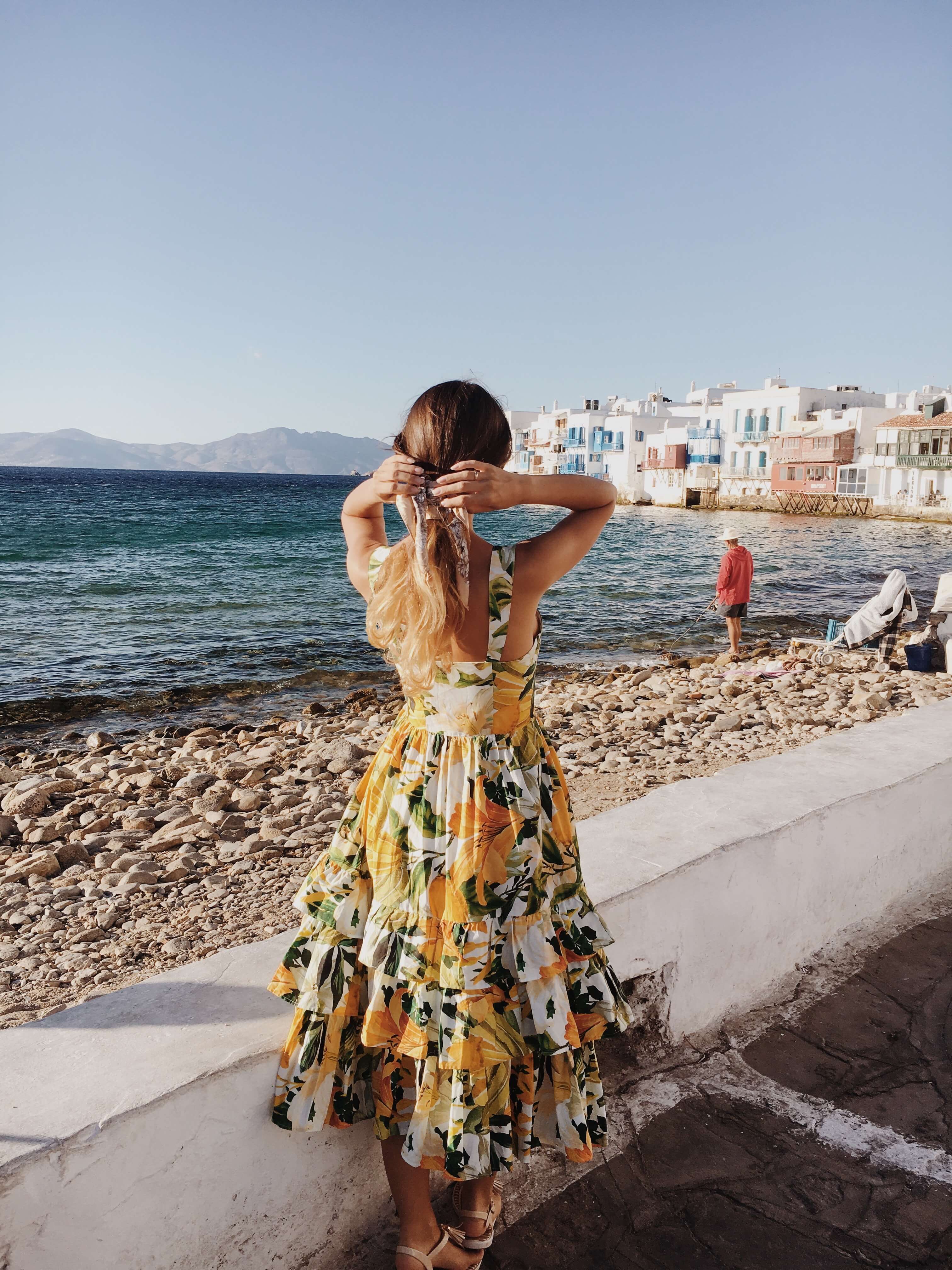 Mykonos: Just an exclusive party island in the Mediterranean or more?
Having already seen Santorini and Zakynthos, I didn't have too many expectations for Mykonos. Maybe because I've heard before that Mykonos is clearly one of the most expensive islands in the Mediterranean, plus it's a party island, and maybe because I immediately thought of my disappointing trip to St. Tropez. But at the latest when I arrived at the hotel and entered our room for the first time, I was completely blown away. The room was cozy and nice, no question about it, but what immediately drew me in was the huge terrace with a direct view of the Aegean Sea and the neighboring islands of Delos and Tinos. I was already jumping for joy, but when I discovered the huge Jacuzzi tub on the terrace, I could not believe our luck!
Agios Stefanos: A picturesque island village on the northern west coast of Mykonos
Seeing this landscape directly from the room was more beautiful than flying! The view was so gorgeous and even more breathtaking than I could have ever imagined. Waking up every morning with the sea and the ships confused me because I thought I was still dreaming. "Is someone pinching me?", I asked myself every time I opened my eyes and then saw this beautiful light of Mykonos over the sea. We stayed in the picturesque island village of Agios Stefanos in the immediate vicinity of the small beach of the same name. You know those postcards where you just think to yourself "Wow, you can't Photoshop more, there can't be colors like that in real life!" This is exactly what Agios Stefanos looks like, but without Photoshop.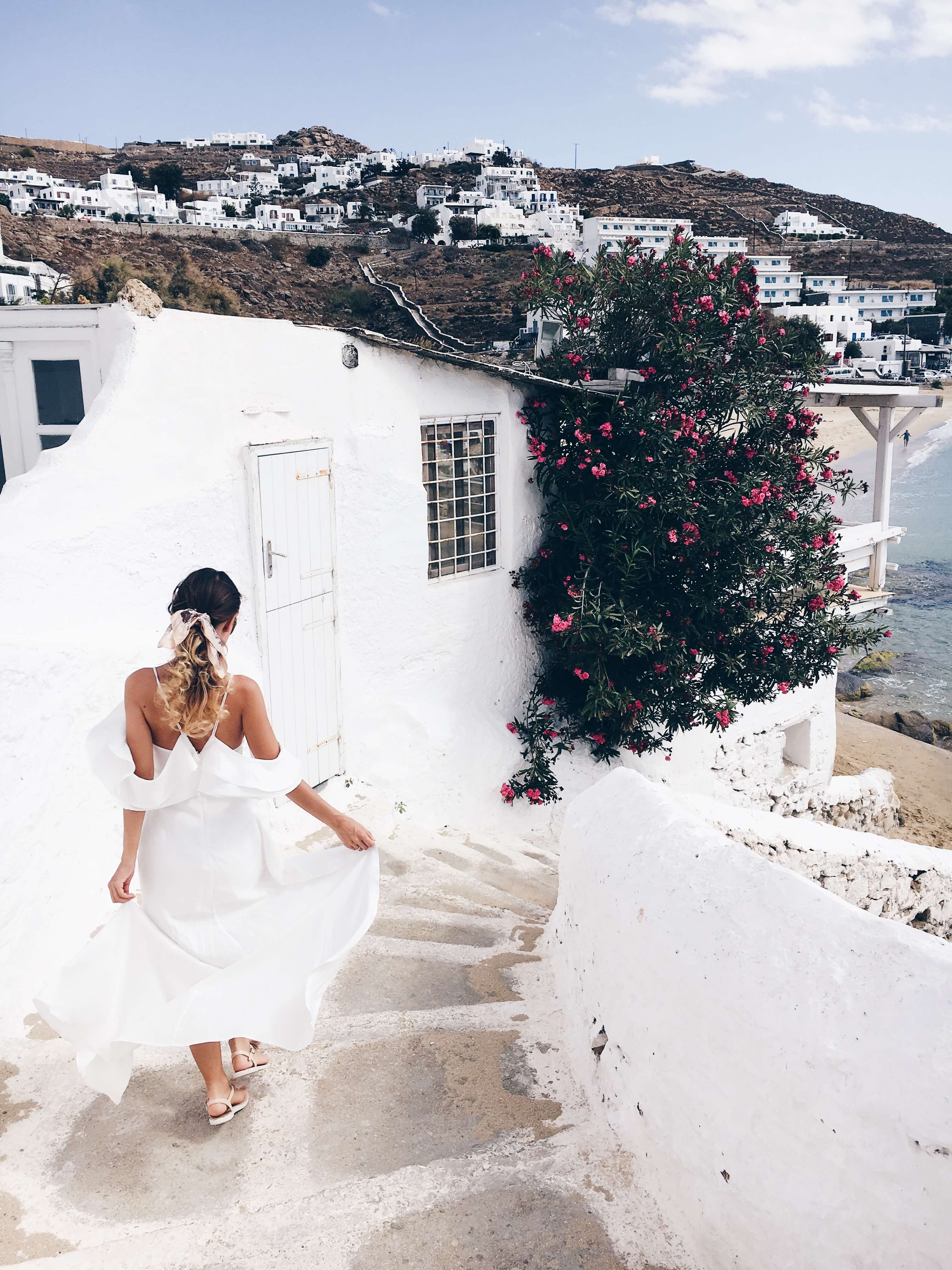 Mykonos Town: The lovely and lively heart of the island
The village of Agios Stefanos is located about 5 km from Mykonos Town, which can be easily reached by bus every hour until midnight. Mykonos Town is an incredibly lovely and lively little town. Strolling through the labyrinthine little alleys, once designed specifically to confuse pirates and invaders, you feel a bit like you're in a Mediterranean theme park. The typical architecture of the Cyclades fascinated us right away. Mykonos town is truly a dream in white, blue and turquoise. And everywhere there is something to discover: Be it the countless small boutiques or wonderfully decorated restaurants and cafes, or the trendy clubs such as the "Scandinavian Bar and Club" – The town is the perfect place to spend a great time on Mykonos.
Still a lot going on even in the off season
There is still a lot going on here, even in the off-season, and plenty to see and store. You can find many designer boutiques that offer mainly beautiful selected hippie and vintage fashion. From small to very large and influential brands, everything is represented. Of course, we also did not want to miss the opportunity to get to know Mykonos Town. What we found out in the process? Getting lost is worth it! Because unsuspecting we have met the true VIP of the island: Petros the Pelican! Suddenly he was just standing in front of us and my cell phone almost slipped out of my hand because I was so happy.
The true VIP of Mykonos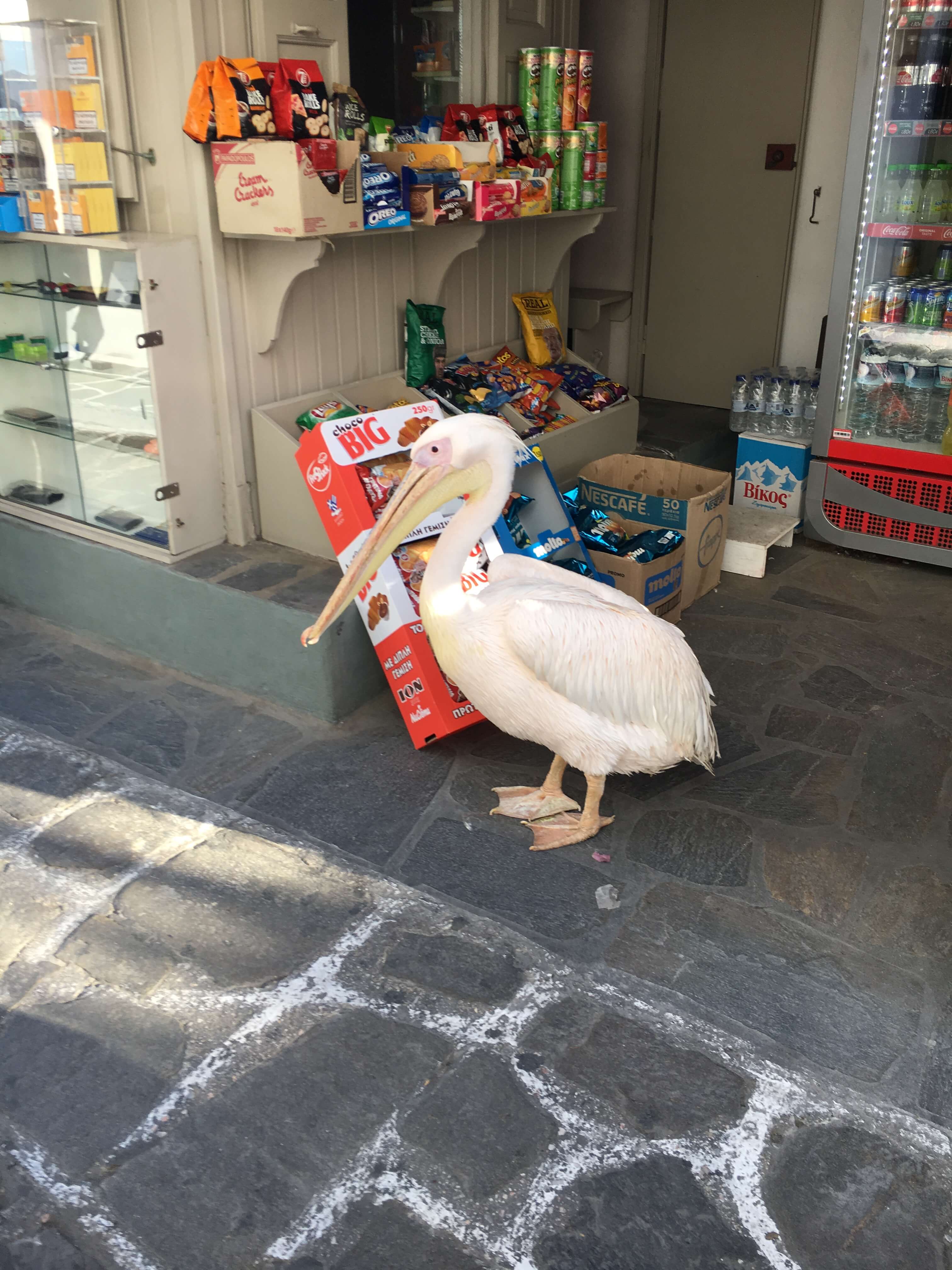 Petros the Pelican is an incredibly sweet guy, only unfortunately I had the impression that the poor guy is now suffering from burnout. Certainly the many people who constantly want to be photographed with him are a great burden for the bird but I am guilty as charged, I also went for a little walk with him, of course with enough distance. Still, I feel sorry for him. I hope he has a home where he can hide from the tourists sometimes, otherwise his funny and cute appearance is just sad.
Although I was incredibly pleased to meet him but I think a pelican should actually lead a more species-appropriate bird life … Meanwhile, he is apparently part of the cityscape. In the evening we had a cozy dinner right on the water and could enjoy the sunset with delicious food overlooking the famous mills.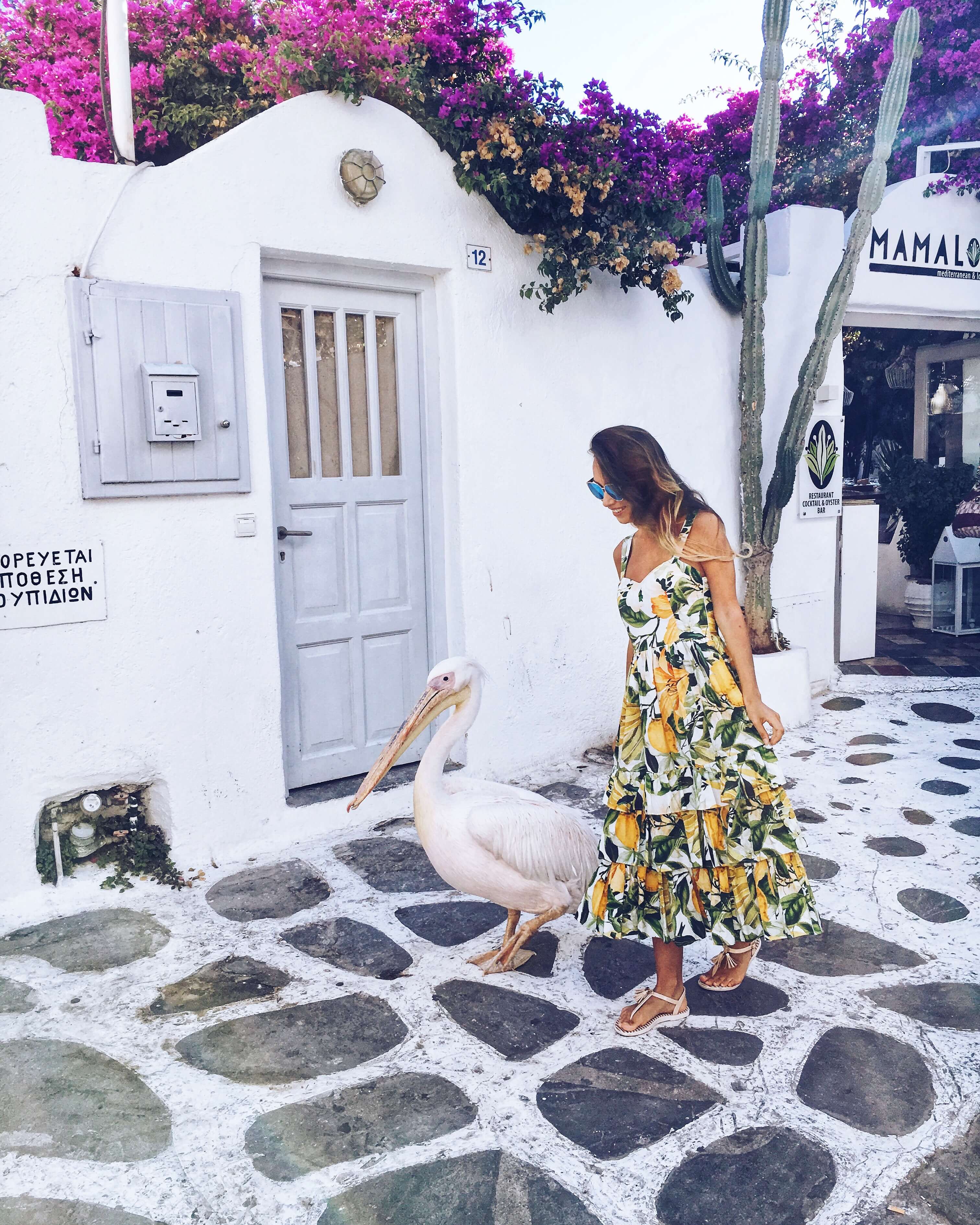 By scooter to Armenistis lighthouse in Mykonos
The next day we went by scooter to Armenistis Lighthouse. Equipped with helmets, we fought our way up the cliffs against the strong wind, past the small enchanting churches, where a breathtaking panorama spread out before us: barren rock formations, a few isolated sheep and the turquoise sea. And then in the middle of it all: the lighthouse in a landscape that could just as easily have come from a set of "Lord of the Rings".
While in high summer many people like to cavort at the lighthouse, we had it on this autumn day but actually almost for ourselves, except for a few sheep and shepherd dogs hardly other visitors came by. Of course, the opportunity was immediately used to take pictures.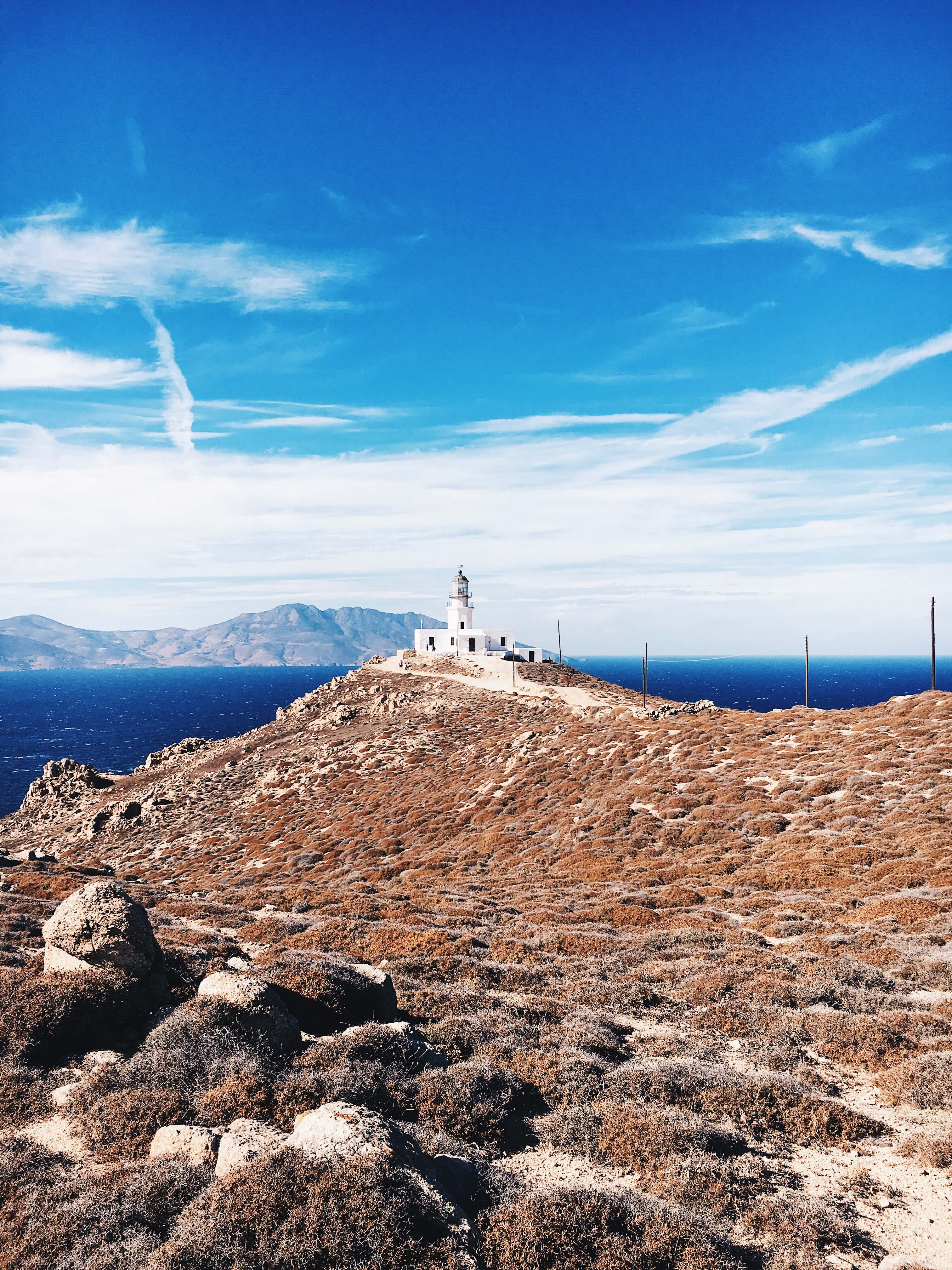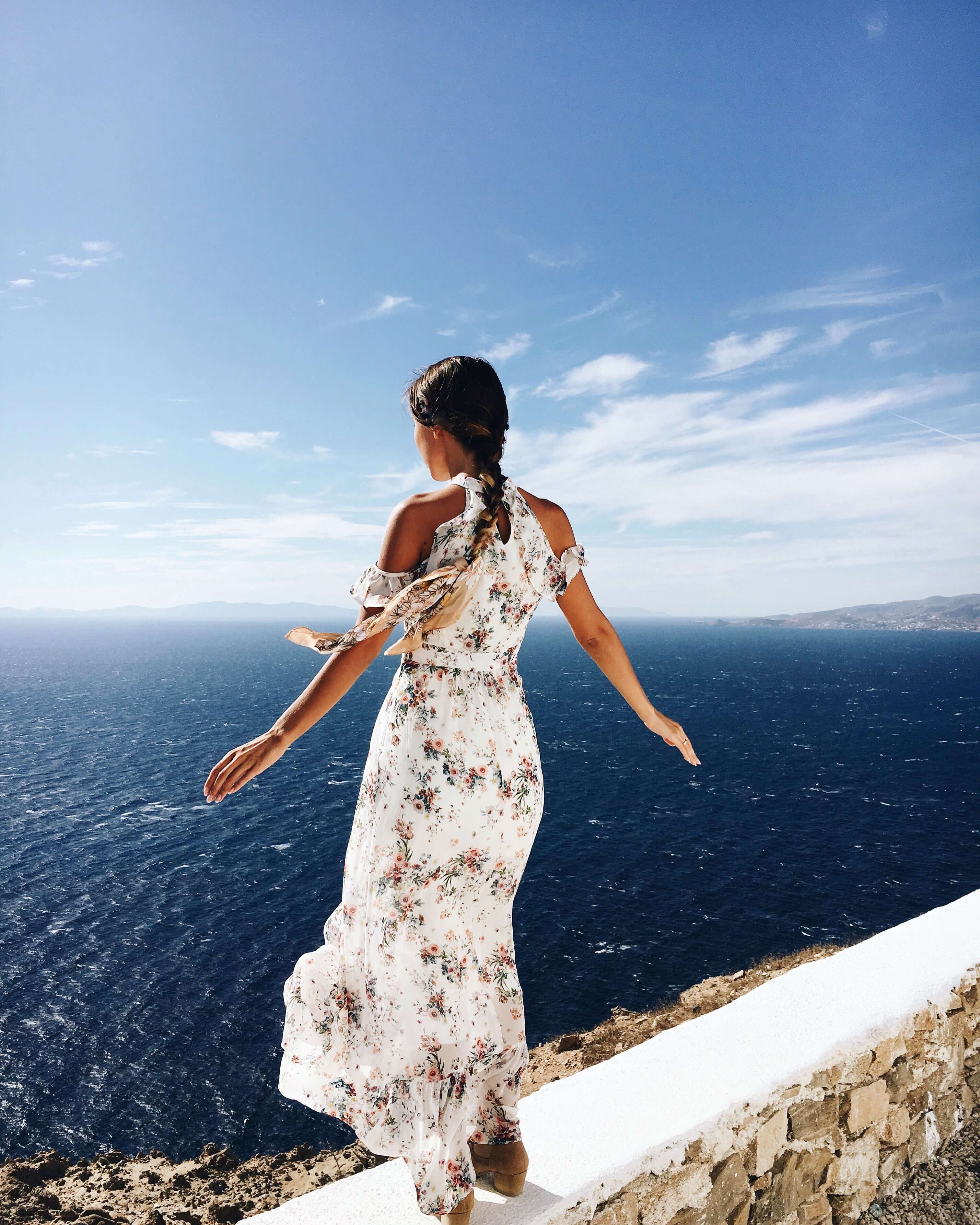 Kiki's Tavern: Delicious food with great atmosphere at Agios Sostis Beach
The wind, the shooting and the fresh air made us hungry quickly, so we continued to the north of the island, where a real but now very popular insider tip was waiting for us. We are talking about Kiki's Tavern, a small tavern on Agios Sostis Beach, which is open only a few hours a day. At Kiki's Tavern, there are no telephones or electricity, but there is delicious food and a unique concept that is clearly well received by visitors. Equipped with only a few seats on the terrace, overlooking the enchanting bay, guests wait in front of the entrance and meanwhile can enjoy chilled rosé or water. So the wait can be endured well 🙂
With the relaxed atmosphere and the beautiful view of the beach, pleasant conversations with other travelers quickly arise. In the high season, however, you can sometimes wait several hours. We were therefore very curious whether we would find a queue at all in the off-season. When we arrived, we were flabbergasted: In fact, there were already about 15 people waiting in line. But it still went relatively quickly. Vassilis the restaurant owner takes note of each new guest and personally shows everyone to their table.
You sit in an absolutely cozy atmosphere under an ancient beautiful olive tree. We chose a salad and fresh fish. The food was really delicious with exceptional taste. Meanwhile, the tavern is very touristy and you can hear all kinds of languages (except Greek), but a visit is definitely an extraordinary experience.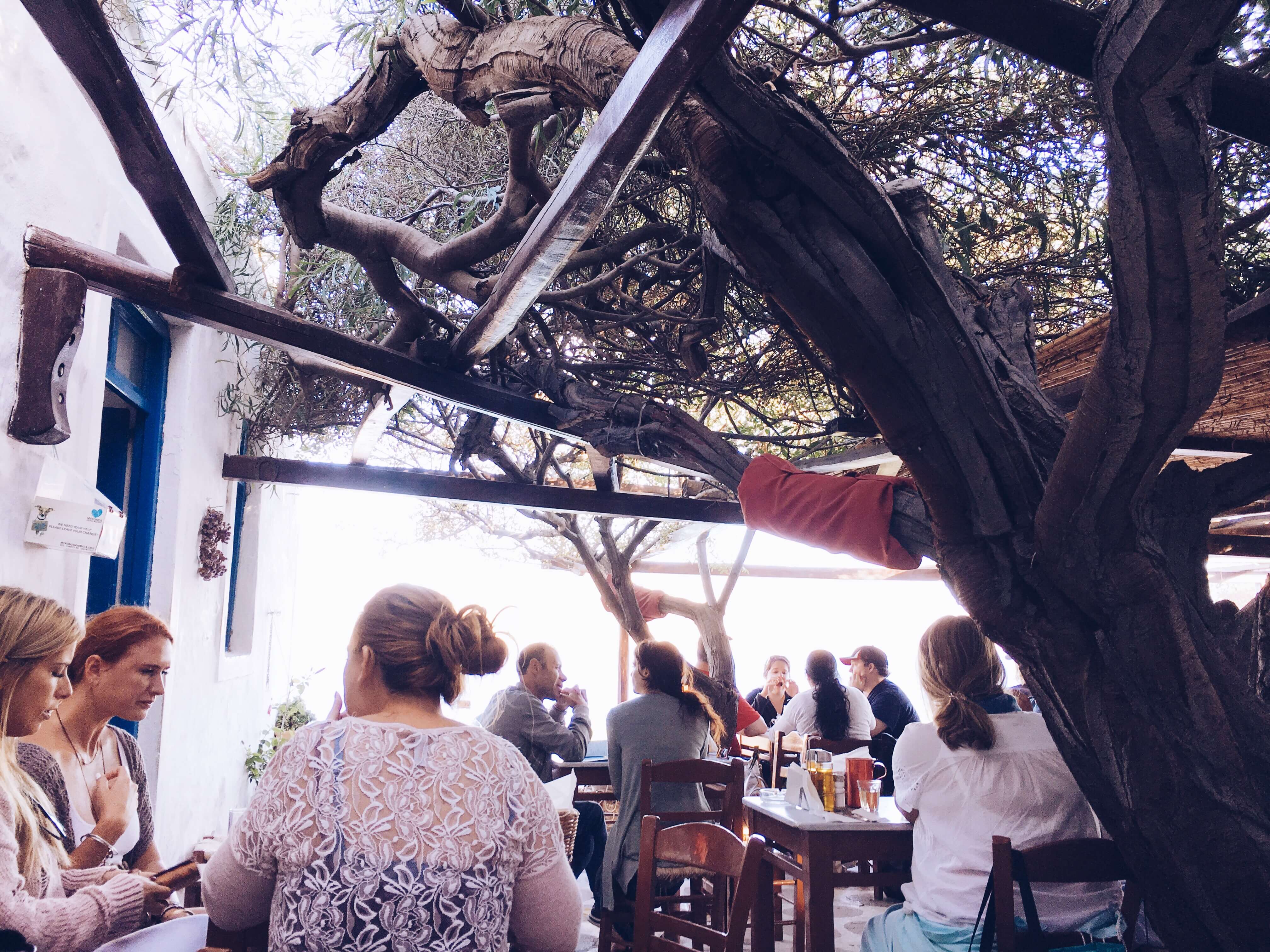 Pure relaxation at the pool and beach
We spent the following days relaxing by the pool and on the beach, watching stars and just forgetting about time. Even though in the low season many stores, restaurants and cafes have unfortunately already closed, our Mykonos vacation was still a complete success. We met nice people, could have dinner directly on the beach every now and then, saw a lot and got to know the island before it falls into its slumber. But pictures say more than words, so see for yourself 🙂 Here are some more impressions of this beautiful island: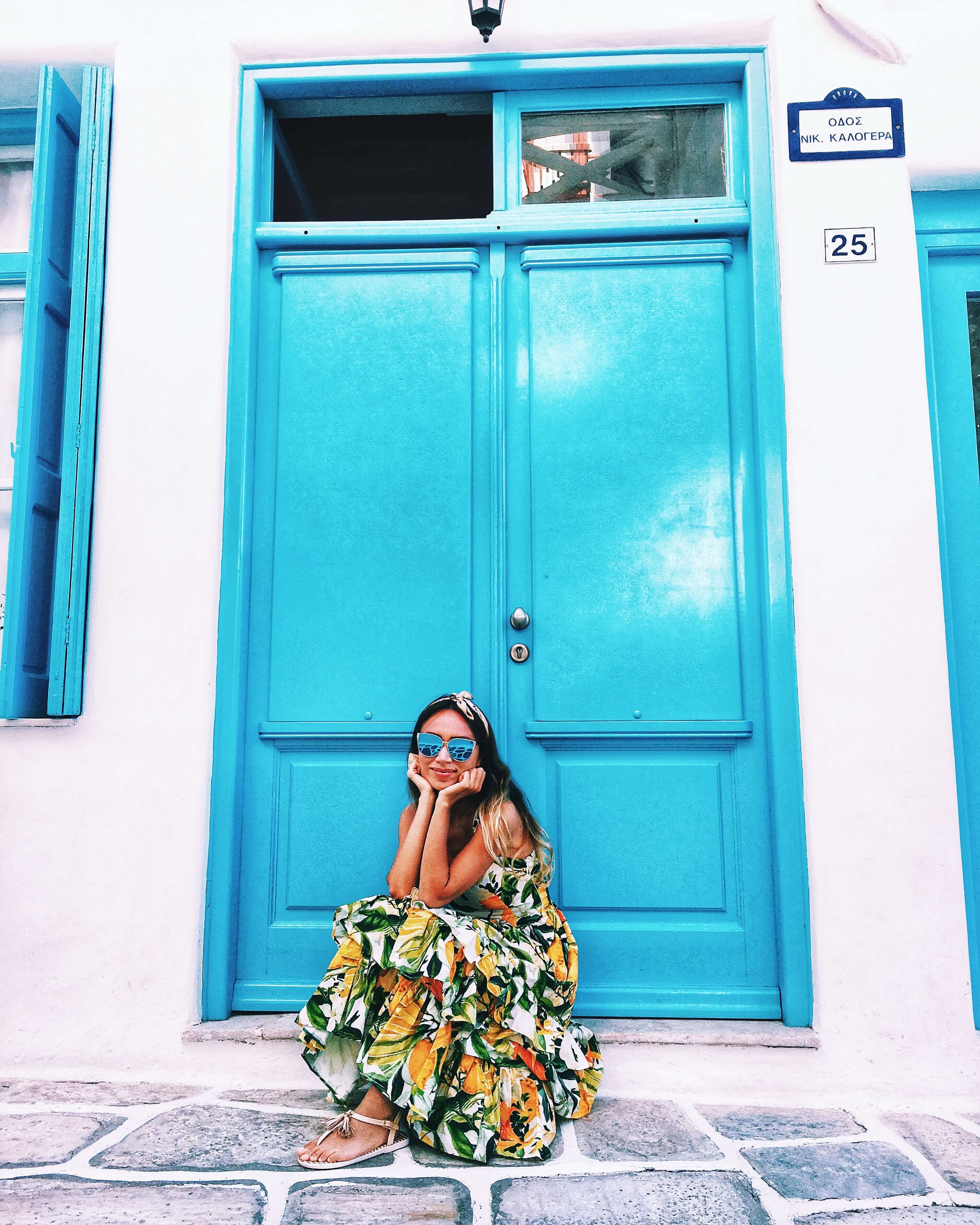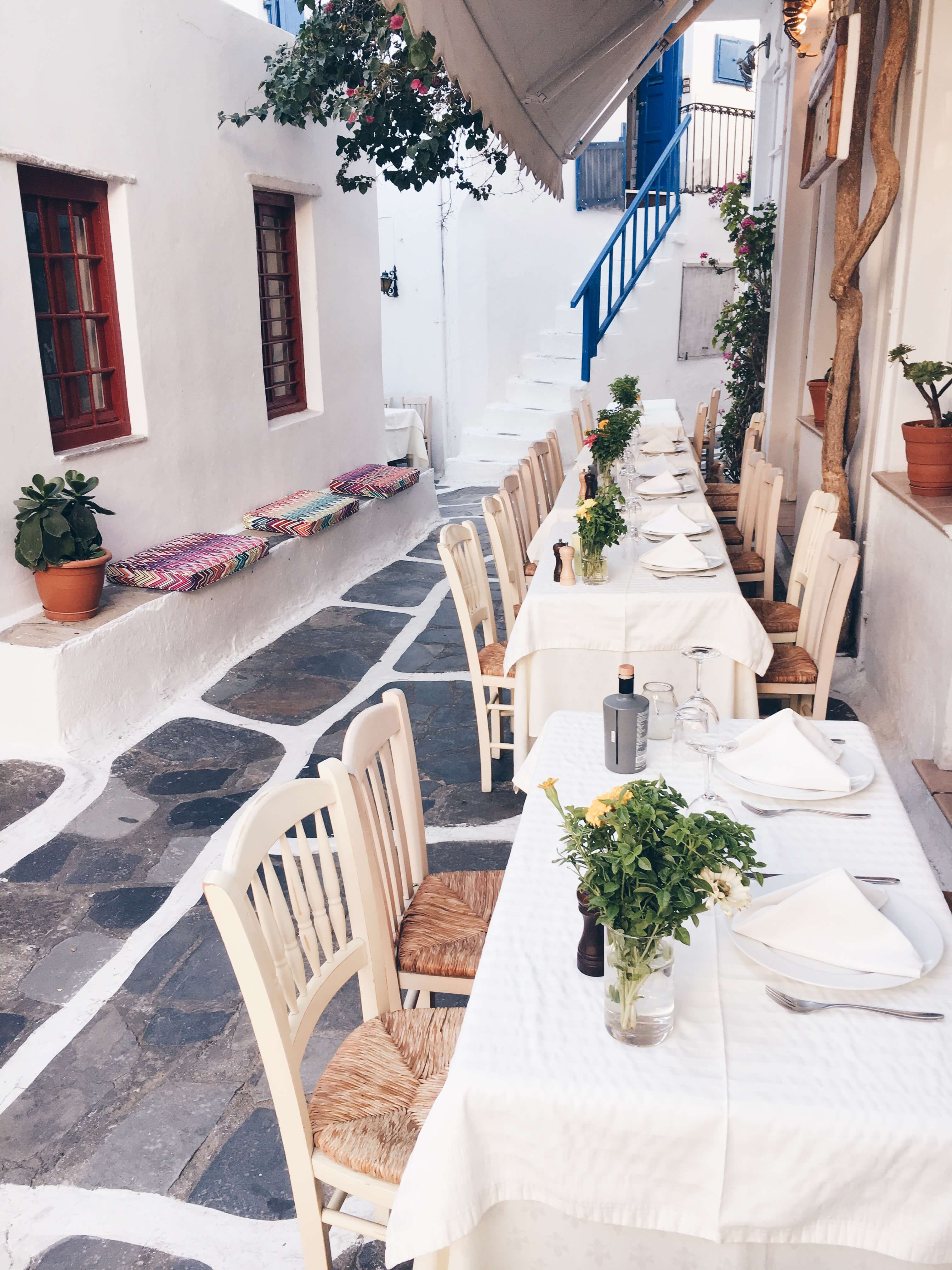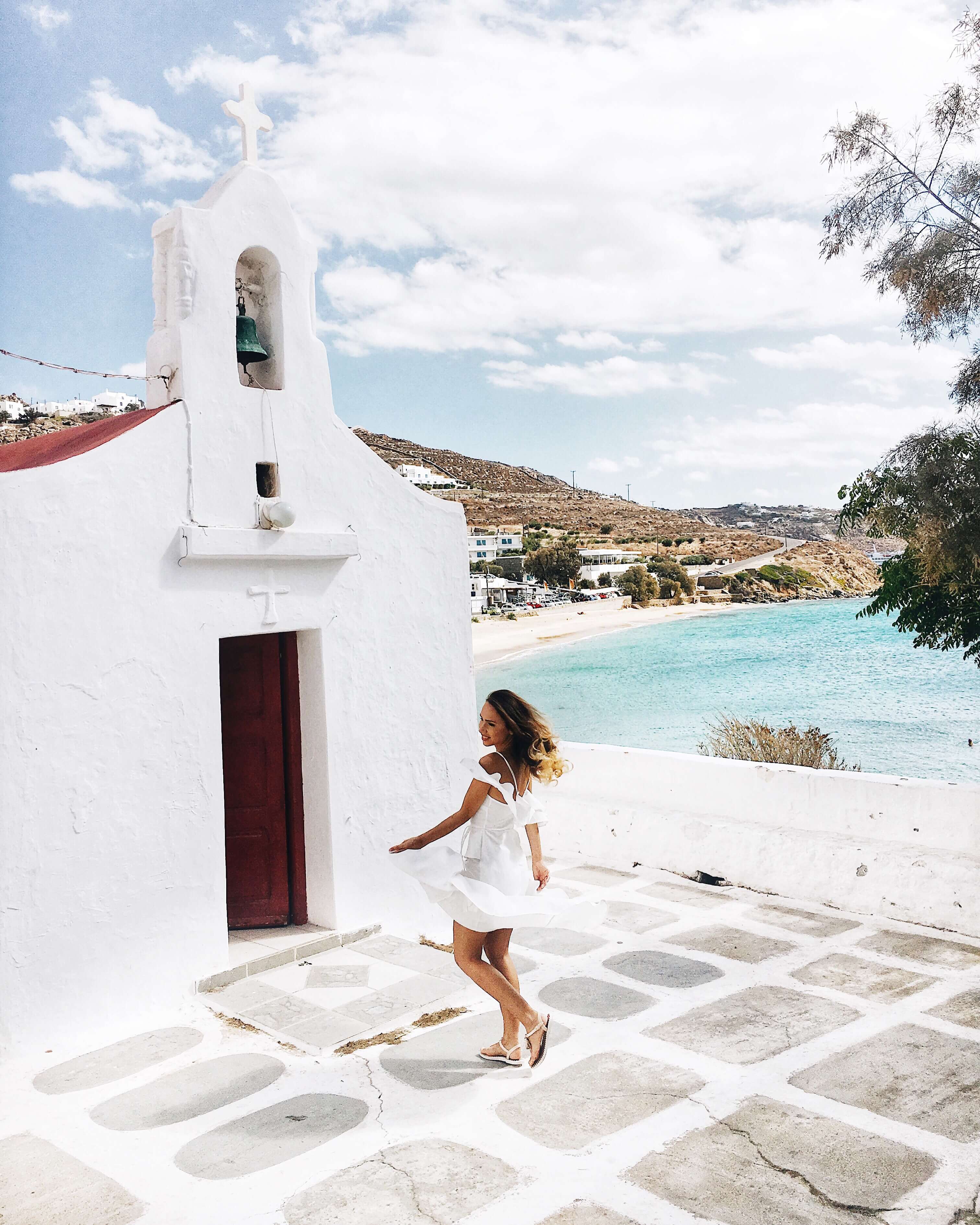 Saint Stefanos (or Agios Stefanos) is 3,5 km away from Mykonos Town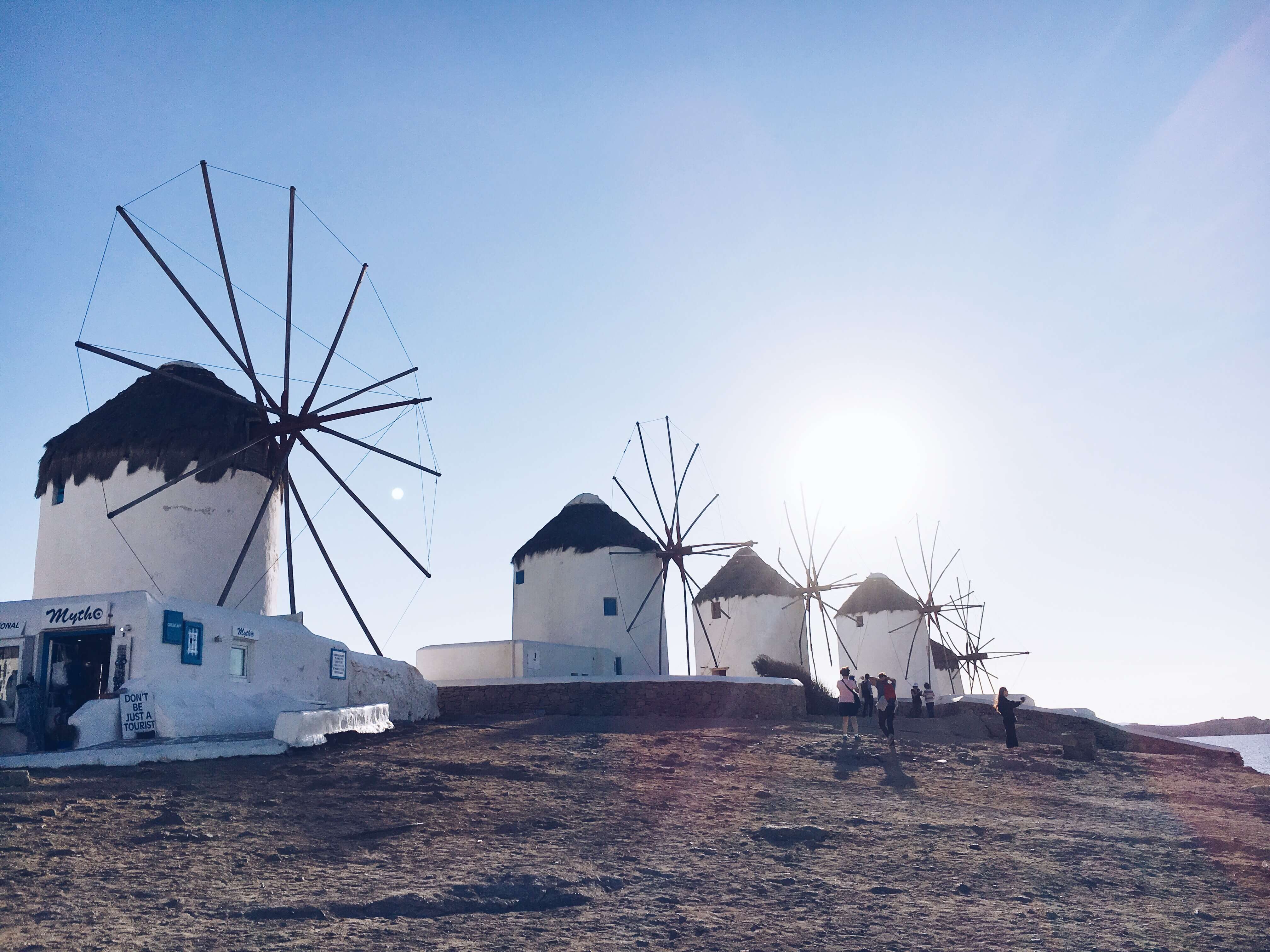 My Mykonos Travel Guide: Sights in Mykonos
Mykonos city
With its countless small winding streets, Mykonos Town is clearly one of the most beautiful sights on the island. There is something for everyone in the city. Enjoy the magical atmosphere in "Little Venice", one of the most romantic corners of the city. With a sparkling cocktail you can end the day here directly at the sea.
Neighboring island Delos
In Greek mythology, Delos is the birthplace of two gods: the twins Apollo and Artemis. Delos was considered in ancient times as the sacred island of Apollo. Today, the island, located about 6 km from Mykonos, is an extensive excavation site as well as a museum and is a UNESCO World Heritage Site. It is worth a visit to feel the special and mystical atmosphere of days gone by.
Armenistis Lighthouse
Even the ride to the lighthouse is a real experience. The view is simply breathtaking and the sight of the lighthouse has something magical! Lighthouses have always fascinated me. The high towers at the sea have already led me to a poem and to my new Lighthouse Meditation inspiration.
Weather in Mykonos in October: 7 days weather forecast
We found the weather in Mykonos in October still very pleasant. During the day we had temperatures of around 23°C, towards evening it became a bit fresher and you had to put something on. The following table shows the weather forecast for the next 7 days:
Restaurants in Mykonos: What to eat?
Mykonos is a small paradise for gourmets. Good food is very important on the island, because the Mycenaean cuisine offers dishes for every taste. We have visited the excellent restaurant Reeza at Hotel Rocabella several times and were simply overwhelmed by the intense and unique taste of the food. The portions of the main courses were quite small compared to other restaurants, but the taste was a real treat. For the small hunger I can recommend the beautiful beach bar directly at Agios Stefanos: Simply delicious homemade dishes right on the beach! Also, you meet a lot of local families at dinner.
Addresses:
ROCABELLA Mykonos Hotel
Agios Stefanos
P.O Box 6042
84600 Mykonos
Saint Stefanos Snack Bar Cafe & Grill
Agios Stefanos
P.O Box 34
84600 Mykonos
Kiki's Tavern
Agios Sostis Beach
84600 Mýkonos, Kikladhes, Greece
My hotel recommendations in Mykonos
We stayed at the beautiful boutique hotel Mykonian Mare. Originally, another hotel was planned for our trip but unfortunately it was no longer open at the time. But in Russian there is an appropriate proverb: "What does not happen, happens for the best!" And that's exactly how it was. The hotel, the room and the view were just gorgeous. In addition, the ideal location of the hotel, offers at the same time rest and relaxation but also the possibility to make excursions at any time. We were also enthusiastic about the neighboring hotel "Rocabella Mykonos". Luxuriously but comfortably furnished in high quality vintage design, it also offers a fantastic view of the Aegean Sea as well as excellent but not intrusive service. We have definitely earmarked it for our next Mykonos trip.
Addresses:
Mykonian Mare Luxury Boutique Hotel
Agios Stefanos,
Mykonos 84600,
Greece
ROCABELLA Mykonos Hotel
Agios Stefanos
P.O Box 6042
84600 Mykonos
In my article 10 destinations in October I'll show you which other destinations are on my list of favorites this fall.
Related posts
Digitale Flaschenpost
Trage dich jetzt in unseren Newsletter ein und verpasse keinen Artikel mehr. Zusätzlich bekommst du exklusive Reisetipps, Ankündigungen und aktuelle News rund um die Themen der Persönlichkeitsentfaltung, Spiritualität und Mindset.