*Press trip
About the feeling of time and how we can experience it more intensively again
The other day I went to Eckhardt von Hirschhausen's stage program for the first time and there Dr. Hirschhausen said something that stuck with me.
It was about the feeling of time. The first fifteen years of our lives seem incredibly long and fulfilling, while the next few years after that seem to fly by. At least that's how it seems to us.
That time is relative is well known to most, but Hirschhausen's explanation for this helpless feeling of surrender to time got me thinking. We do so many new things for the very first time in the first 15 maybe even 20 years of our lives that we find these years particularly intense but eventually most things become routine. You do more or less the same thing every day. And then it happens: life becomes routine. So what can we do to experience time more intensely again? We cannot decelerate or accelerate time but we can use it and therein lies the secret. No matter what age, no matter what situation in life: in this way we can shape each day anew and thus give our lives new experiences and insights. This thought was also my incentive to take the opportunity to travel to Morocco for a few days. At first I was a little unsure because I would be going to Morocco all by myself. My comfort zone, of course, felt massively attacked:
"What? All alone? To a country you've never been to? You're crazy!"
But once my decision was made, all I felt was relief and joyful excitement. It was good not to feel trapped by inner fears and insecurities and just do what my heart felt was right. Because it's usually right.
Paradis Plage Surf Yoga & Spa
So I first went to Agadir with my suitcase and tripod. The area around the fishing village of Taghazout, north of Agadir, has long been known as Morocco's surfing Mecca. My arrival was quite unproblematic and after a few hours I literally found myself in paradise. The landscape between Agadir and Imi Ouddar reminded me a lot of Spain and Portugal. Immediately I noticed the many surfers on the coast. And surfers all over the world seem to be cut from the same cloth: they are incredibly likeable, relaxed and fun-loving. This is exactly the feeling of life I felt as soon as I arrived at Paradis Plage Yoga & Surf Resort.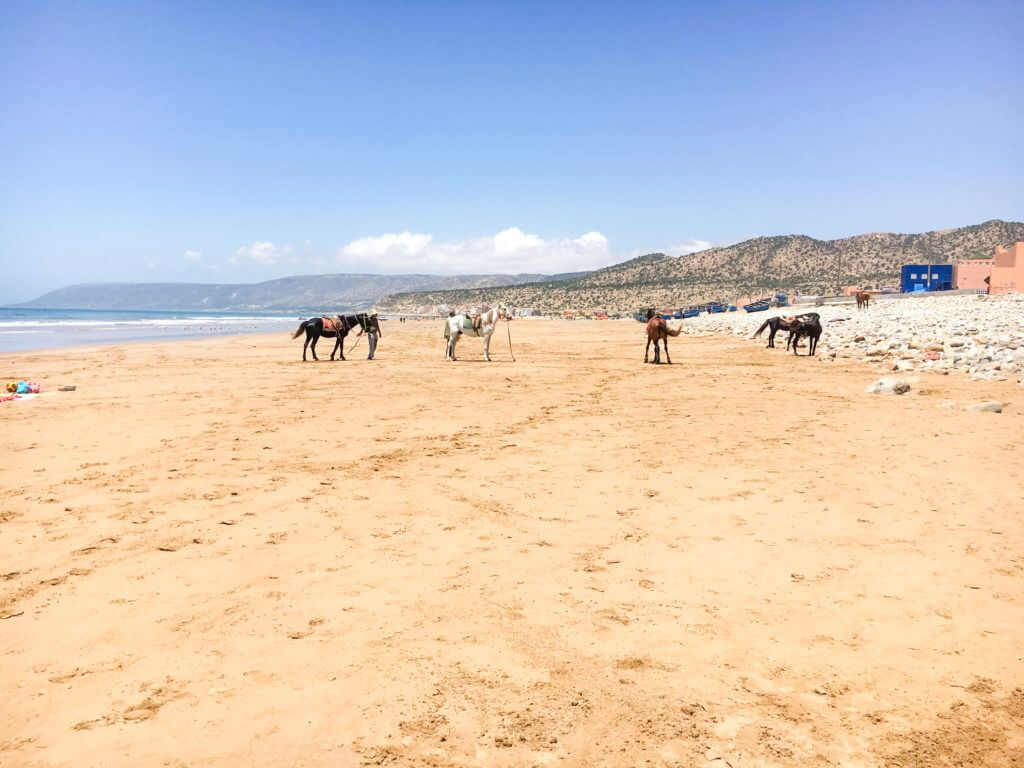 A mixture of traditional and modern furnishings
Already in the entrance area I noticed the colorful but tasteful mix of traditional and modern furnishings. Here exquisite Moroccan wooden furniture meets the beautiful lifestyle of the surf culture. I felt instantly at ease. Supplied with a delicious Moroccan tea, I looked at the turquoise waters of the pool and sea. When I saw this view, I knew I had arrived at a very special place. Although I was still waiting for my room, they kindly provided me with a temporary room. However, room is not accurate, because it was rather a spacious suite with sea view. After I had put on some summery clothes, I had a look at the hotel complex of Paradis Plage Resort. The facility has a pleasant and manageable size.
There are no long distances to walk and everything is harmoniously connected. Above all, here you are reconnected with nature. The ocean and the life around it are omnipresent. This fact alone makes everyday life in this place an experience. Be it the modern Chiringuito Bar right on the beach, where surfboards are used as tables and musicians play guitar, or the magnificent glassed-in yoga pavilion with a direct view of the sea. Despite the modernity, you can also find traditional craftsmanship and originality. In addition, the entire facility is extremely well maintained and clean.
As soon as I arrived, I had my first adventure when I discovered several horses on the beach. Everyone who knows me knows how much I love animals and am always fascinated by them every time. And I'm so grateful to have a direct view of fields and horses from our balcony at home. Of course, I couldn't pass up the opportunity to take a close look at the horses in Morocco as well.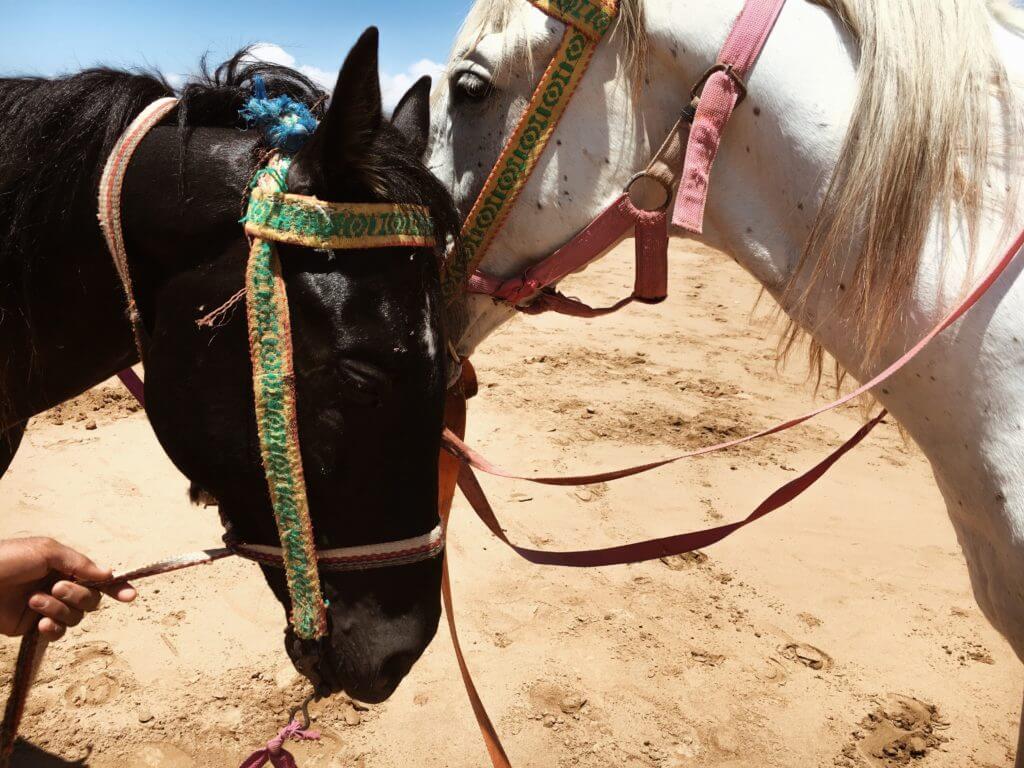 The young man who took the horses out, as a matter of course, immediately wanted to sell me a ride on the horse. I was skeptical but he was persistent and so I was just allowed to try it out on the horse. My brief adventure almost backfired as the horse shook wildly from all the flies. And then I realized that what I was doing was a bit reckless, but on the other hand, I just trusted that everything was going well. However, I was unsure if I should take a longer ride. That's why I reconsidered. Of course, the young man initially wanted to sell me some prices, but he was quickly willing to go down. Still, I didn't dislike him at all, because although he obviously doesn't have it easy in life, he lovingly takes care of his horses – as best he can.
Shortly after, I already met the next animals on the beach. A couple of dromedaries marched toward me. What is probably considered commonplace on this beach had a surreal effect on me. I thought it was nice to be so close to the animals by the sea. Like in a dream. And although time had flown by, it felt like I had been in this place for much longer. Meanwhile, I was able to move into my actual room, which was also a suite. The suite had a spacious living and dining area with kitchen, two balconies with direct beautiful views of the shimmering ocean and a large bedroom. All rooms are flooded with light, spacious, comfortable and very elegantly furnished.
Relaxing in the beautiful Zen Garden & sunset at the Beach Bar
I spent the rest of the day exploring again and relaxing in the beautiful Zen Garden, where I was greeted by a Buddha statue. Later, I watched the sunset at the beach bar and relaxed around the campfire. I had my dinner at the buffet restaurant, where I got to try traditional tajine dishes for the first time. After a friend raved about it so much, I've always wanted to taste it. All the food was fresh, organic and deliciously presented. The service was very professional, courteous and friendly. Individual dishes were explained to me. I was particularly taken with the homemade traditional chocolates. The exotic blend of oriental spices and rose petals was phenomenal.
Surf lesson at Paradis Plage: this new feeling
Can you still remember the feelings you felt for the first time? They take you by surprise, challenge us and also scare us from time to time. That's how I felt before my first surf lesson. I didn't know exactly what new experiences would await me. This feeling made me nervous, but it was also terribly exciting. That's why I wanted to try it out. And literally just jump in at the deep end. Feeling the speed of a wave for the first time was terrifying and fantastic at the same time. With each new wave I felt my body gradually getting used to the rhythm and speed of the waves. Until he relaxed more and more and I slowly built up trust in them. This was also due to the experienced surf instructors who taught me step by step the most important basics of surfing. A few bruises and a big grin later, I was just glad to have finally tried it. Although it was quite exhausting, I had had such great fun and was happy to be one experience richer.
SPA at Paradis Plage: Traditional Hamam and a full body massage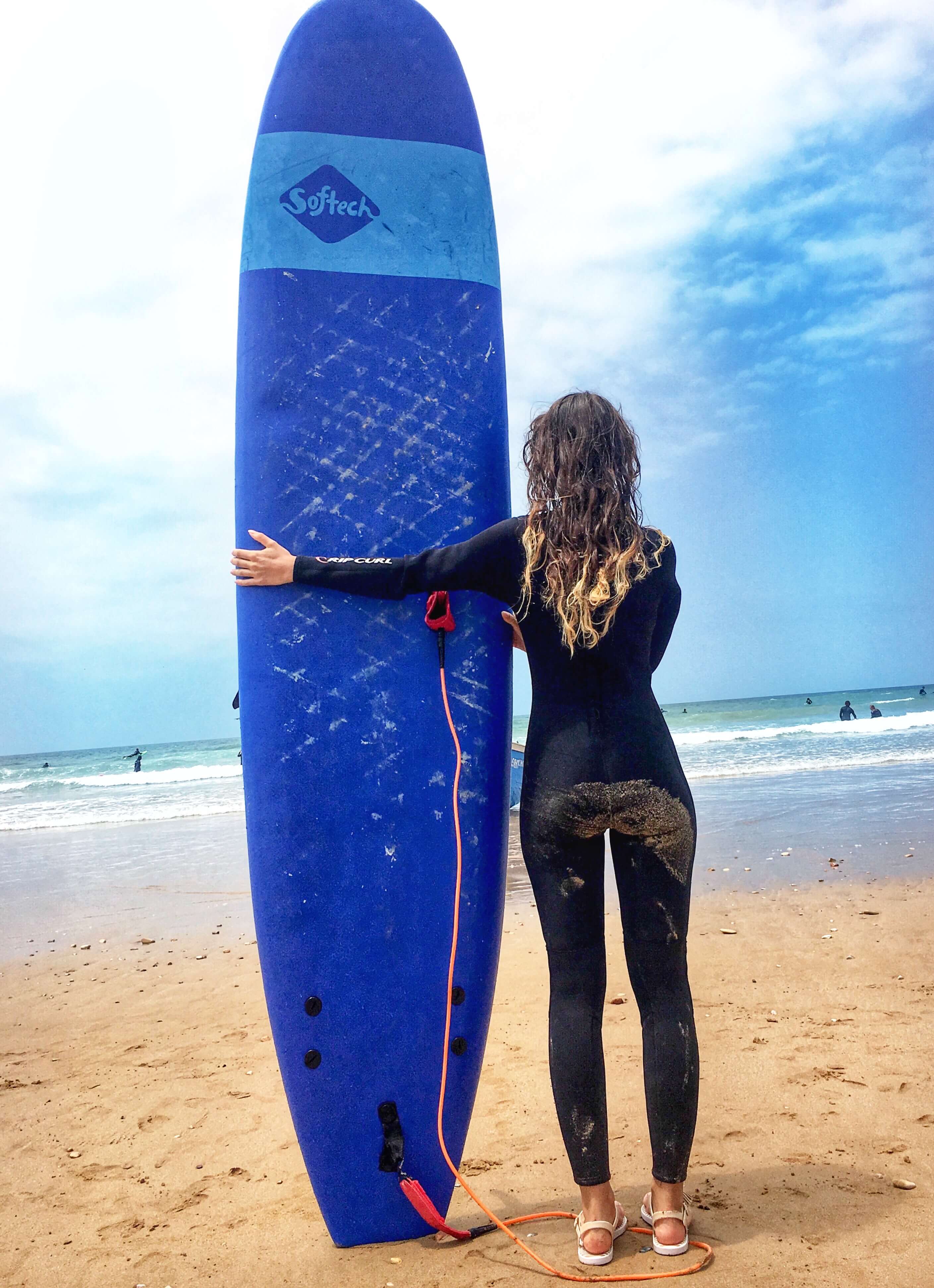 Of course, it did not stop at this experience. The next day, the next surprise was already waiting for me in the spa. Unfortunately, since the sky was a bit cloudy that day, it was the ideal time to enjoy the spa. I was signed up for a traditional hamam and a full body massage. In the hamam, I didn't know at first what was in store for me. First I was allowed to relax in the steam bath, then I was rubbed with a fragrant eucalyptus soap. Later came exfoliation, which removed the old dead skin. I was then creamed with a soothing mixture of healing clay from neck to toe. In this way, the skin is supplied with plenty of moisture and wonderfully cared for. So there I lay, helpless as a seal. At first I thought that after the procedure all the tan of the skin would also go away. But on the contrary, my skin felt like silk, took on an even beautiful complexion and was quite soft. Immediately after the treatment, it is recommended not to go out in the sun for one or two days. But after that, the skin takes on a fantastically even, golden tan. After my spa experience, I discovered something strange in the ocean waves while taking a walk. At first I thought what kind of weird fish was that, until I could tell it was actually a spotted dog on the surfboard. I could not believe my eyes! I have seen surfing dogs on TV before but never live! Of course, I wanted to get to the bottom of it right away and quickly found out that the hotel manager actually goes surfing with his dog every day. Simply magical!
A place for the senses: yoga with a view of the sea
This is how you can truly describe Paradis Plage Resort. Whether for sports lovers, families, solo travelers or couples, everyone is in good hands here, because as a guest you have the simple choice of whether you want to relax, feast, go to yoga or surf. And you learn to enjoy every moment intensively. Maybe it's the special light that surrounds this place or maybe it's the great team and surfing dog (I mean, how cool is that, please?). Paradis Plage combines pure relaxation with corporate pleasure. Everything can, nothing must. I like that very much. Nevertheless, the focus is on quality and high value. Throughout the facility, one discovers the attention to detail. But also with the individual courses. My personal highlight was the yoga class overlooking the ocean. Yoga is held three times a day at the resort. With the schedule, you have the choice of going to yoga in the morning, during the day, or in the evening. I attended the Sunset Yoga class and it was just fantastic to do yoga while the sun was slowly setting and the dromedaries were passing by on the beach in the background. A big thank you goes to my yoga teacher Karsten, who made the class creative and educational. He is a very experienced and inspiring yoga teacher, whom I can only recommend with all my heart. A few days in this resort felt like weeks but definitely in a positive sense, because I experienced so much in a short time and took away for myself personally. My time at Paradis Plage was filled with new experiences and beautiful encounters with wonderful people.
I will never forget the incredible hospitality and helpfulness. My stay proves to me that even just a few days off can trigger intense feelings of happiness. It's just always worth trying new ways, looking behind the corners and being curious. Every day anew.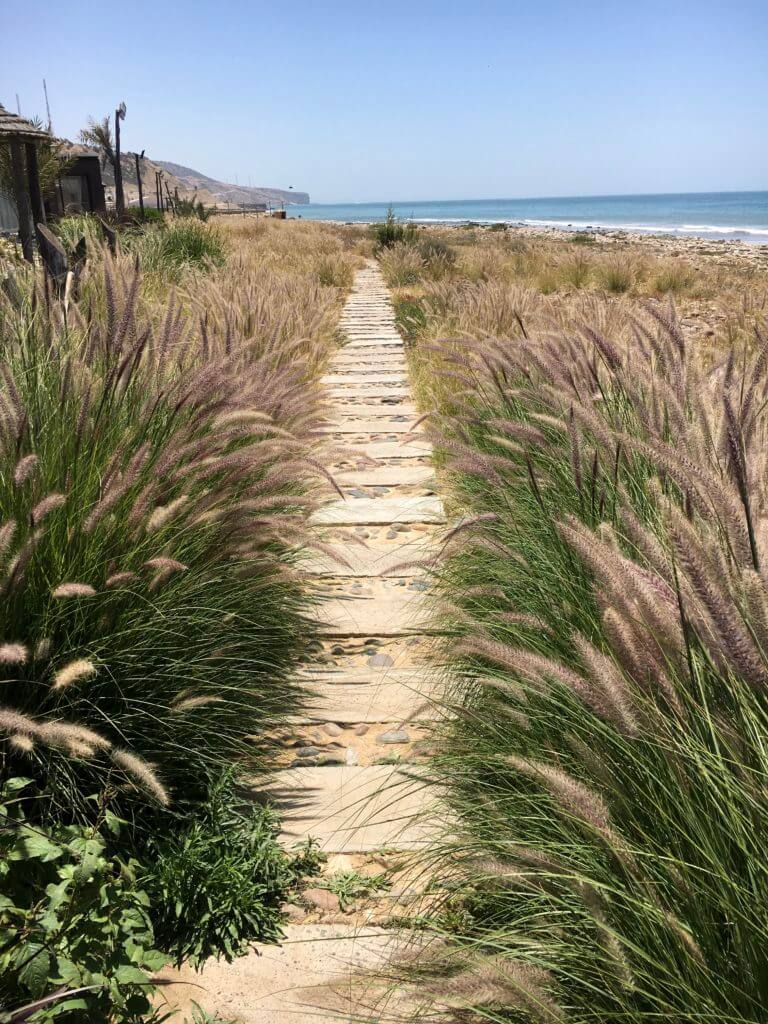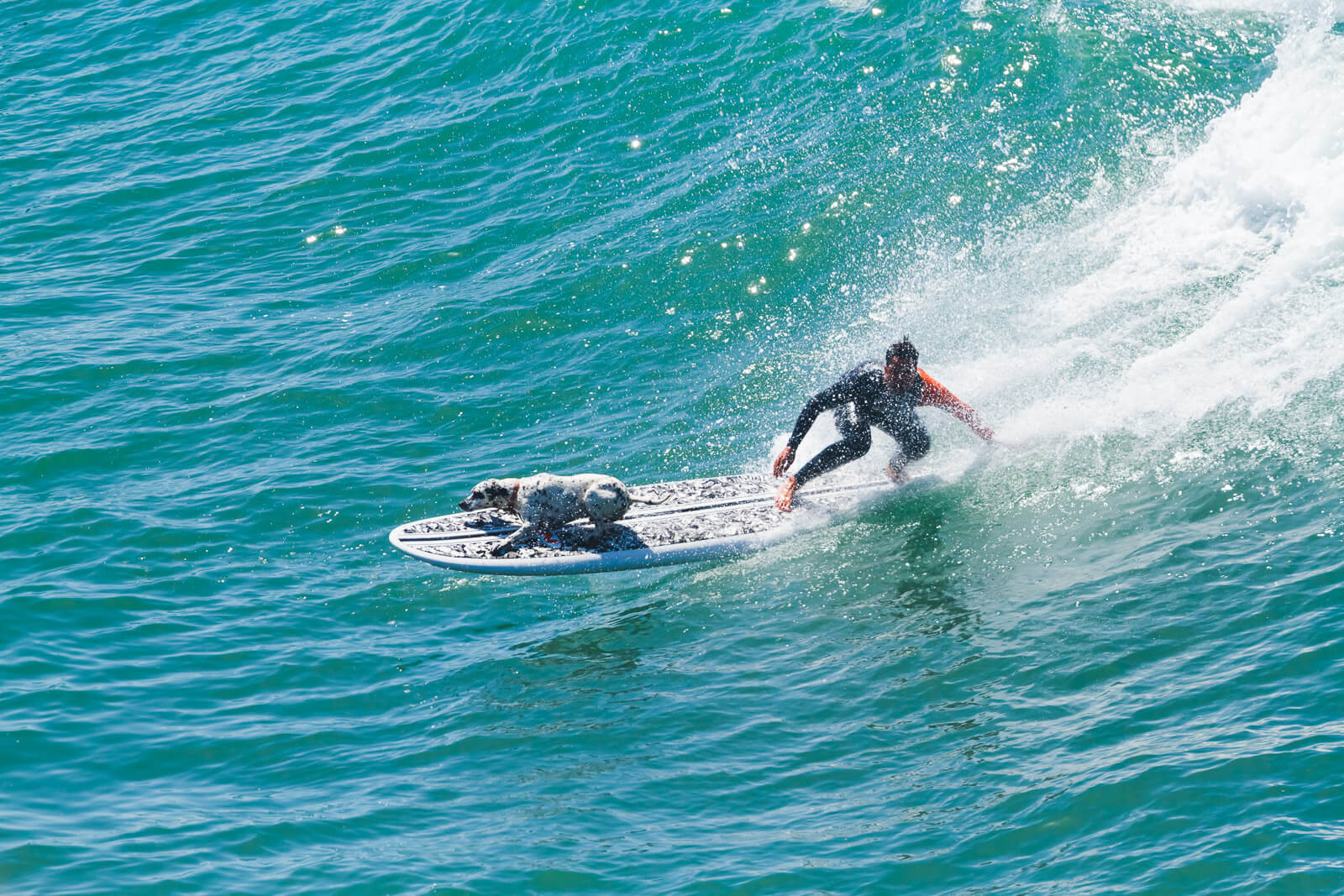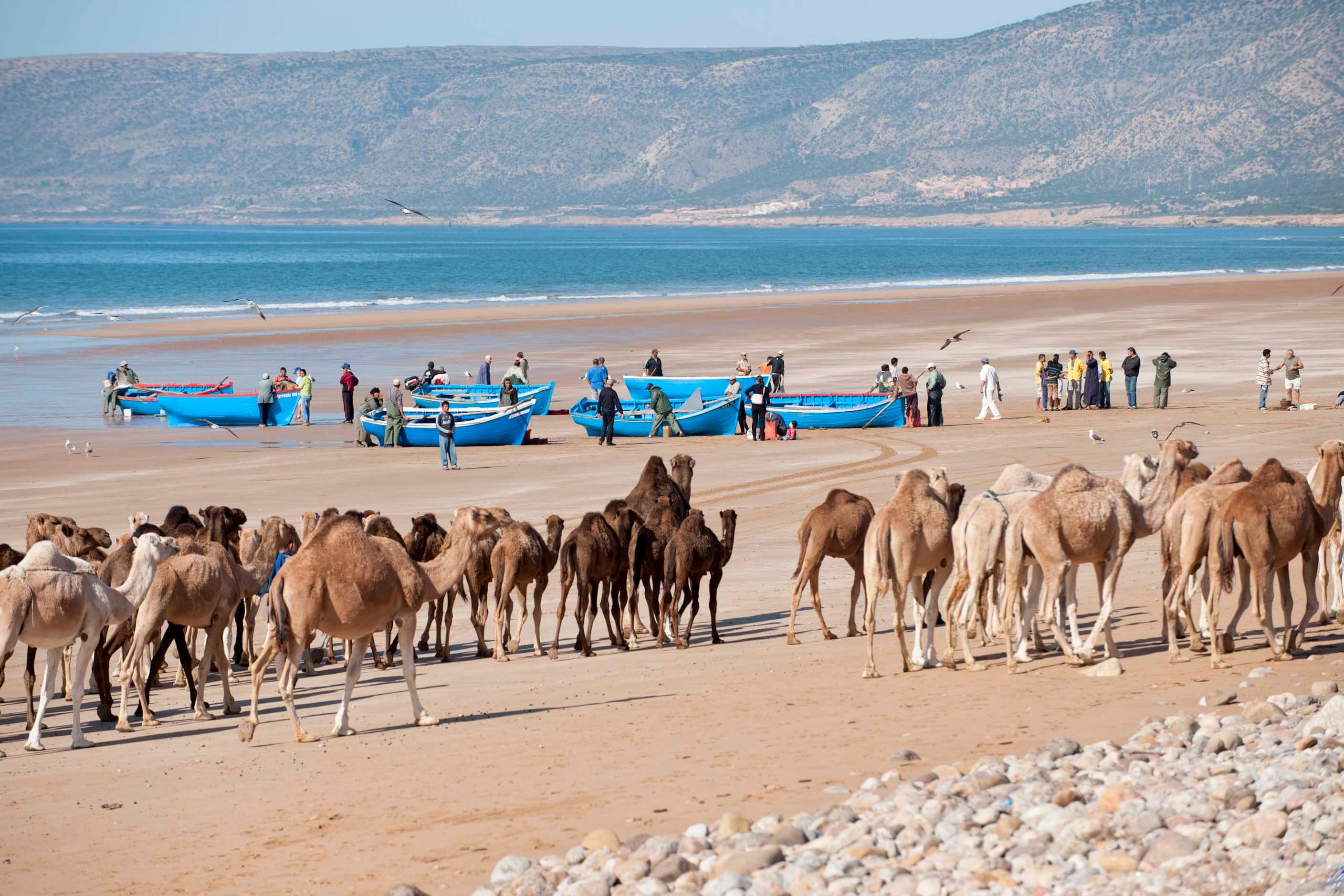 Related posts
Digitale Flaschenpost
Trage dich jetzt in unseren Newsletter ein und verpasse keinen Artikel mehr. Zusätzlich bekommst du exklusive Reisetipps, Ankündigungen und aktuelle News rund um die Themen der Persönlichkeitsentfaltung, Spiritualität und Mindset.