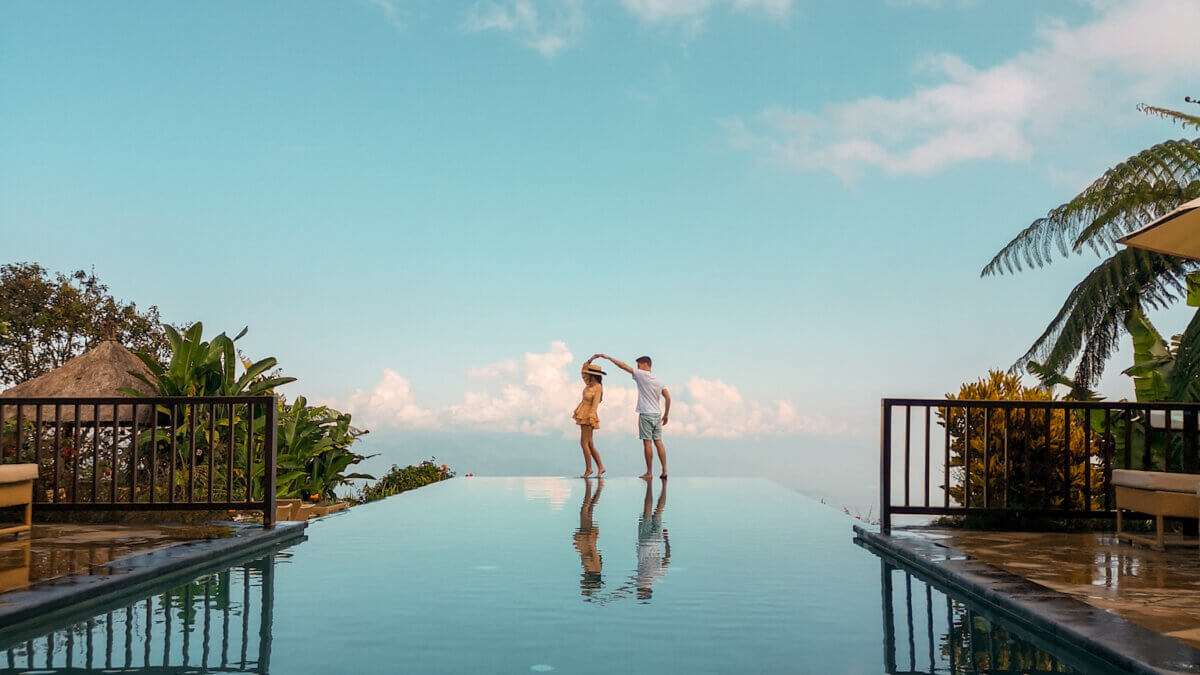 In addition to the classic honeymoon destinations such as the Maldives or Mauritius, there are also places that are not usually immediately associated with honeymoons and can therefore be rediscovered. We have selected and tested 5 extraordinary and romantic honeymoon destinations for you, where you don't have to choose between adventure, relaxation and romance, but have exactly the right mix. Enjoy browsing!
Extraordinary and romantic honeymoon destinations in Slovenia
Small but great! Often overshadowed by Croatia and therefore sometimes overlooked, Slovenia is still an insider tip. Slovenia immediately captivated us with its lush, beautiful nature, the warm, helpful people and the variety of landscapes. There is something for every taste in leisure time in Slovenia: Whether it's a beach feeling in Piran, stand up paddling on Lake Bled, rafting in the Soča Valley, hiking in Bovec or sightseeing in Ljubljana. This is just a small selection of the numerous possibilities of what you can do in Slovenia. But you can also really spoil yourself with culinary delights during your honeymoon in Slovenia. A total of 58 Slovenian restaurants are currently listed in the Michelin Guide.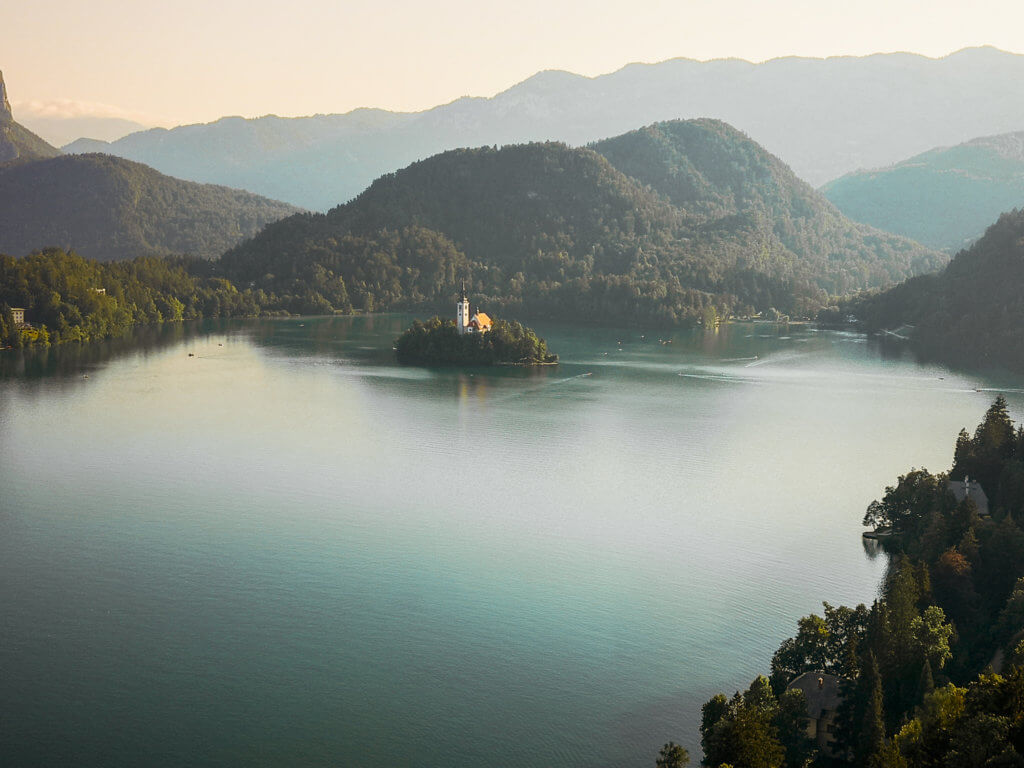 Getting married at Lake Bled
If you are even considering getting married abroad, then the island church on the island in the middle of the legendary Lake Bled might be of interest to you. This cute little island has a long history of weddings and celebrations. Couples are still married today in the Church of Our Lady by the Lake. Wedding couples are brought to the island here with the traditional pletna boats. From here the groom should demonstrate muscle strength, because traditionally he is allowed to carry the bride up 99 steps (!) to the church. The wedding ceremony can be held in a church or civil ceremony. At the end, the couple can then ring the famous wishing bell for a happy and long marriage together.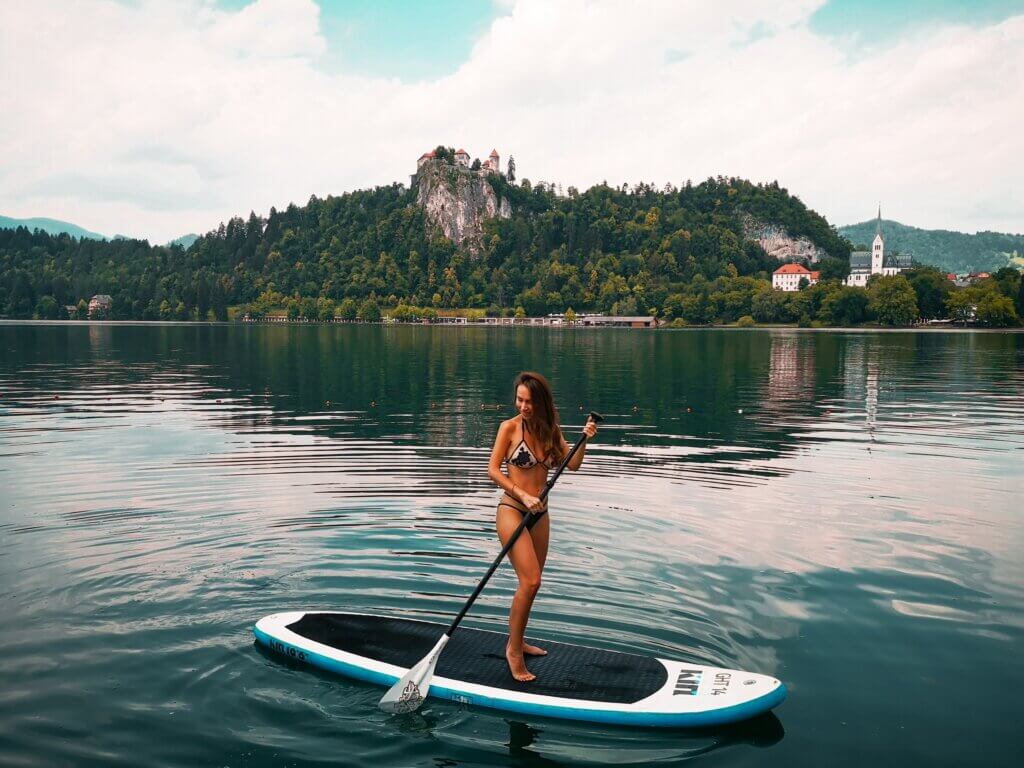 Romantic Activities in Slovenia – Dolphins in Lake Bled?
The legendary Lake Bled with its castles and viewing platforms is a particularly romantic travel destination and is one of the most beautiful and warmest lakes in the Alps. The lake also has a surprise under water. During stand up paddling we were accompanied by several huge catfish. They are so big that we couldn't believe our eyes for a moment and thought they were dolphins. You can find out more about Slovenia in our article Slovenia road trip in summer.
Conclusion Honeymoon in Slovenia
If you are looking for a mix of action, lots of nature and romance for your honeymoon, then Slovenia is a brilliant & still underrated honeymoon destination.
Honeymoon in Cappadocia – Honeymoon among hot air balloons & fairy chimneys
There can hardly be a more romantic destination than Cappadocia (sorry Paris, but you don't stand a chance in this case). But anyone who now thinks that a honeymoon in Cappadocia has little to offer other than romance will be particularly surprised by this region in Turkey. In Cappadocia you can expect an exciting mix of historically valuable villages and towns, colorful sunrises, the most beautiful cave hotels in the world, unique nature, exciting hiking trails and of course the famous countless hot air balloons. With such a romantic vibe, it's no wonder that Cappadocia is not only a popular honeymoon destination, but also a region where thousands of weddings are celebrated every year.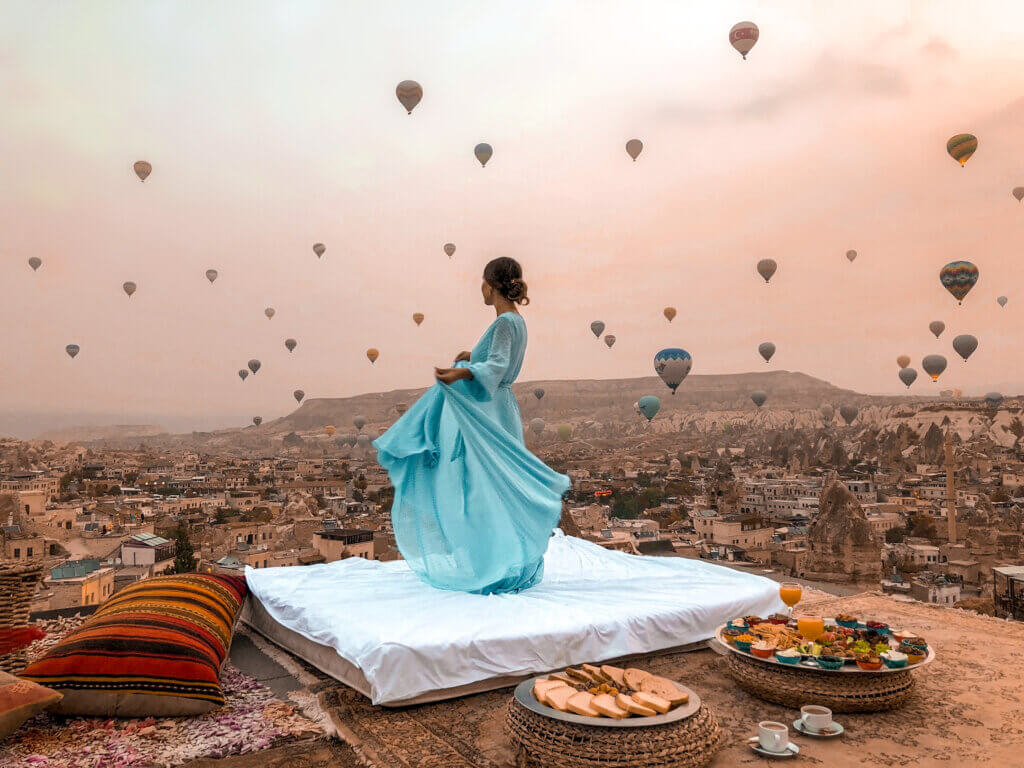 Romantic Activities in Cappadocia – On Cloud 7 in Goreme
Maybe you even want to fly in a hot air balloon yourself and admire the "fairy chimney" landscape from a lofty height. Against the backdrop of hundreds of colorful hot air balloons, Cappadocia is also an ideal place for particularly romantic marriage proposals that are hard to beat. But can it get any more romantic at this point? Cappadocia says yes! Because did you know that in Cappadocia there is also a valley called Love Valley? The Love Valley or also called Bağıldere Vadisi is a valley characterized by impressive tufa mountains, the so-called fairy chimneys. There are many romantically decorated swings along the viewing platform, which visitors can sit on and look out over the picturesque valley. How you can get there and what you should best avoid can be found in our article Cappadocia in 4 days read.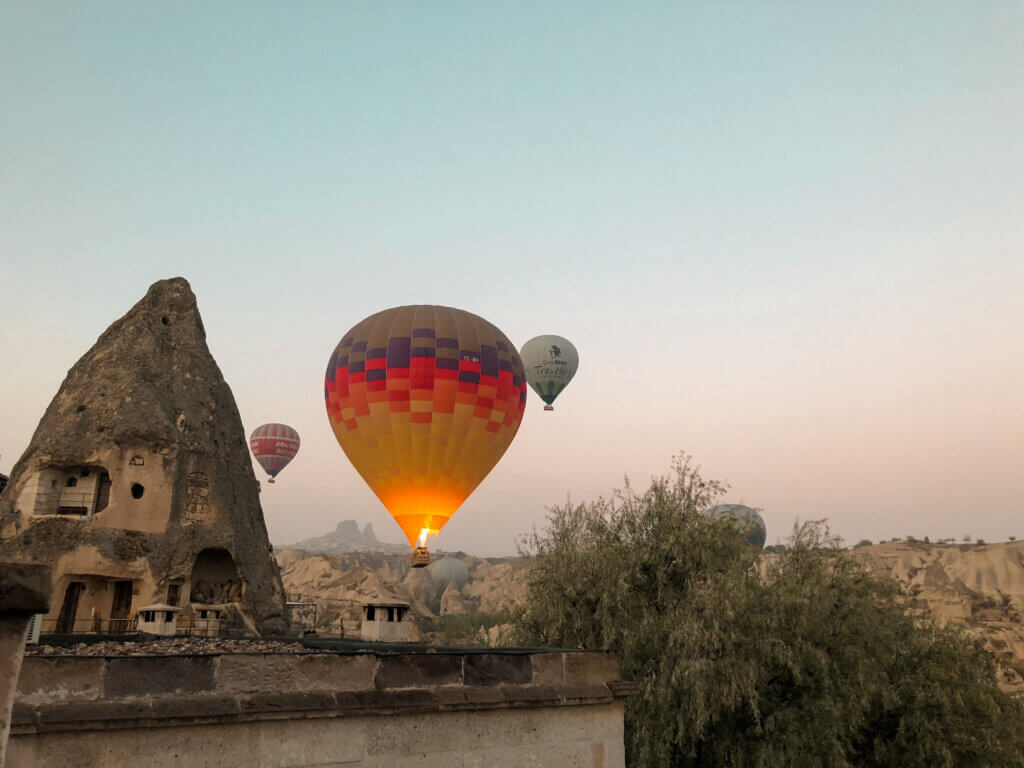 Live like Fred & Wilma Feuerstein - Romantic cave hotels in Cappadocia
Who would have thought caves could be so luxurious these days? If you stay in a cave hotel in Cappadocia, you can often expect freestanding bathtubs, jacuzzis and wonderful roof terraces from which you have a fantastic view of the hot air balloons that take off daily.
This makes Cappadocia the ideal honeymoon destination for romantics and adventurers. We were also particularly enthusiastic about the gastronomy. Göreme in particular is a true foodie paradise. The regional Turkish specialties not only taste fantastic, the restaurants also attract with a loving eye for detail and a romantic atmosphere. We especially like the Turkish ravioli in Göreme! You can find more information about Cappadocia & the famous cave hotels in our article 8 things you want to know about this fascinating region in Turkey.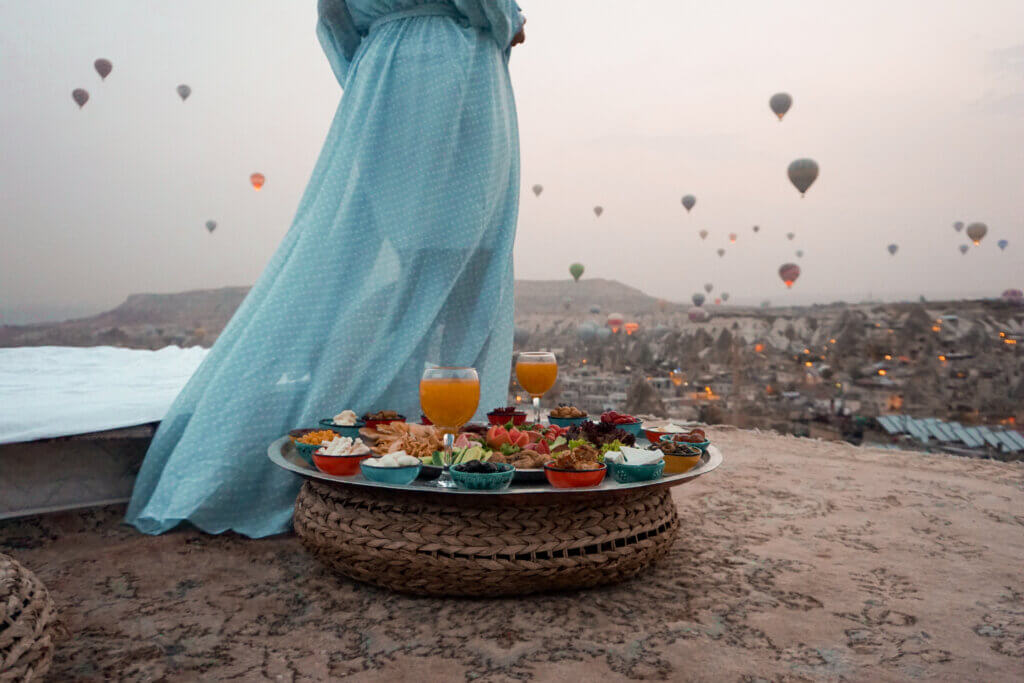 Conclusion Honeymoon in Cappadocia
Cappadocia is a place like no other in the world. Even a morning grouch like me will enjoy waking up early here because you will be rewarded with the most impressive views imaginable. Almost as if you were still dreaming. Our trip to Cappadocia is one of the unforgettable trips that we still like to think back to today.
Extraordinary and Romantic Honeymoon Destinations – Honeymoon in Bali
Bali as a honeymoon destination is not new, but the "Island of the Gods" definitely cannot be missing in our top 5 of extraordinary and romantic honeymoon destinations for adventurers. In addition to ultimate relaxation in fancy accommodation, jungle book vibes await you in the north, the most beautiful sunsets in Uluwatu, impressive temples, almost 40 waterfalls and super warm, hospitable people. And hardly any other island has such a variety of extraordinary accommodation, hotels and restaurants as Bali. Since we believe that beautiful accommodation is an important part of every successful travel story, Bali immediately enchanted us with its fantastic accommodation at low prices.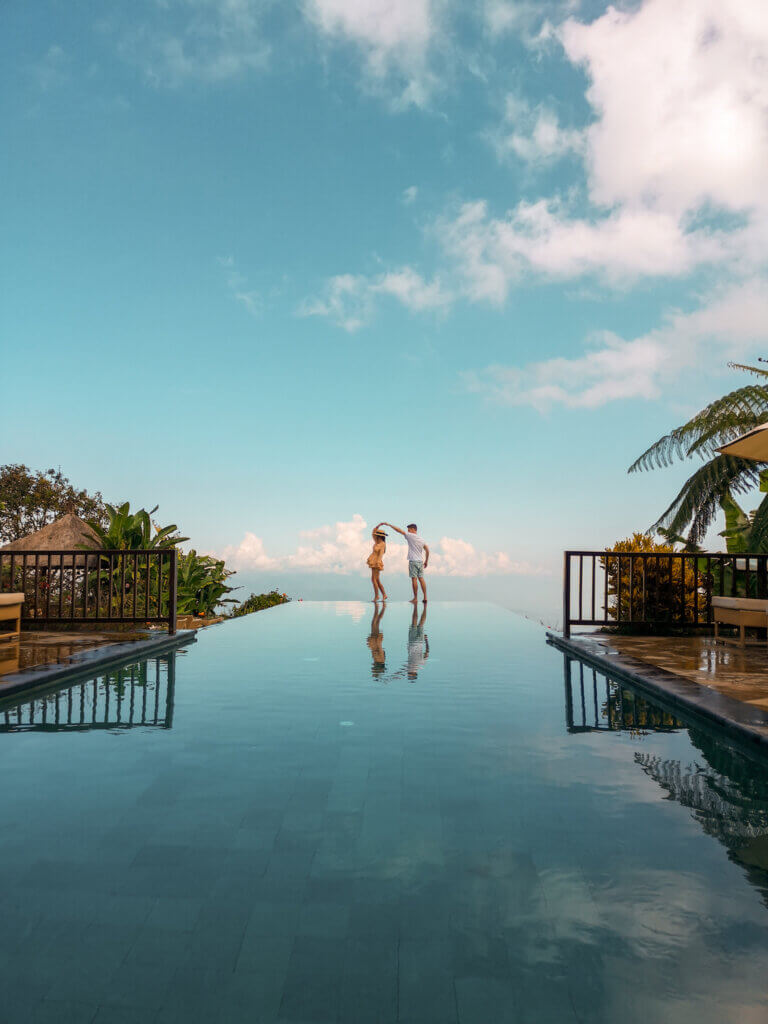 Island of the Gods - Fire Ceremony & Overnight in the Jungle
But the Balinese traditions, rituals and the spiritual aspect are also reasons why we have taken Bali to our hearts. How about a traditional shared fire ceremony? You can see how a Balinese ritual works in our Articles about Fire Blessing Ceremony to read. Bali is a destination that offers something for everyone. Nature lovers love the lush green landscape in Ubud and the peaceful atmosphere. The famous rice terraces are also located here. And maybe you want to spend a few days in the middle of the jungle like we did. The Fivelements Retreat on the Ayung River is tucked away about half an hour from Ubud. We spent several days in the middle of the jungle, you can find out what we experienced there here . Your honeymoon in Bali will definitely not be boring. If its about extraordinary and romantic honeymoon destinations goes, then Bali should not be missing under any circumstances.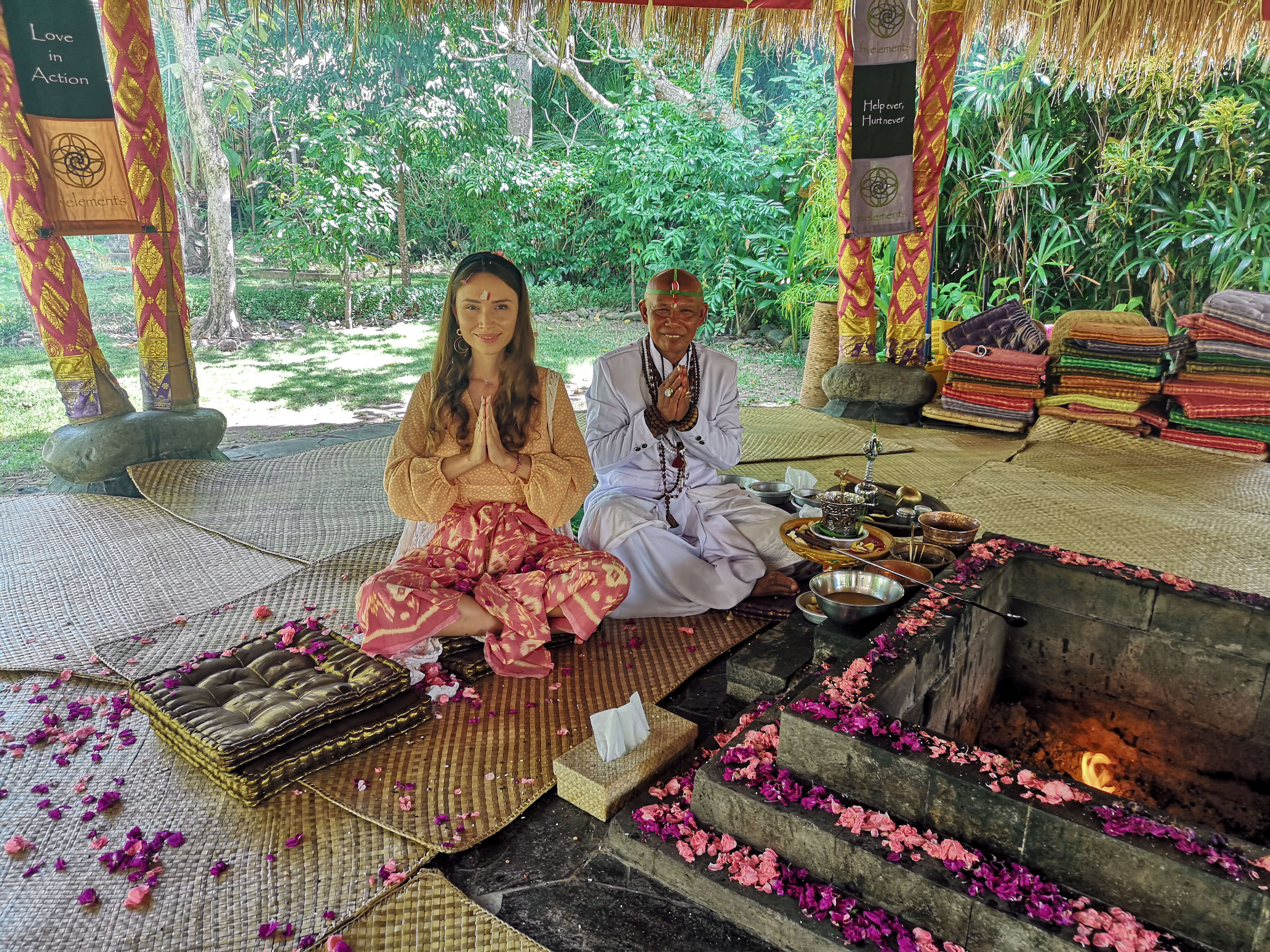 Romantic activities in Bali
Maybe you loved riding scooters as much as we did when you were young. That's why we like to rent a scooter when we travel, if the general conditions are right. The feeling of freedom is simply indescribable! The scooter is the most common means of transport in Bali and therefore you can easily rent a scooter on the island. This not only gives you excellent mobility, but also one of the fastest and cheapest means of transport on the island. nothing stands in the way of your adventures with a scooter (although it is advisable to be honest with yourself about whether you can handle the quite chaotic traffic in Bali).
How about waterfall hopping? One of the most romantic and beautiful waterfalls on the island is a bit hidden but it is worth visiting. The Nunung Waterfall is located in an enchantingly beautiful landscape like from the Jungle Book. Here you can take a refreshing shower together in the middle of nature. Because bathing and showering for two is more fun anyway 😉 If waterfalls are not your thing, how about a traditional flower bath together? These sensuous floral baths are hugely popular in Bali and are available at just about every good resort in Bali.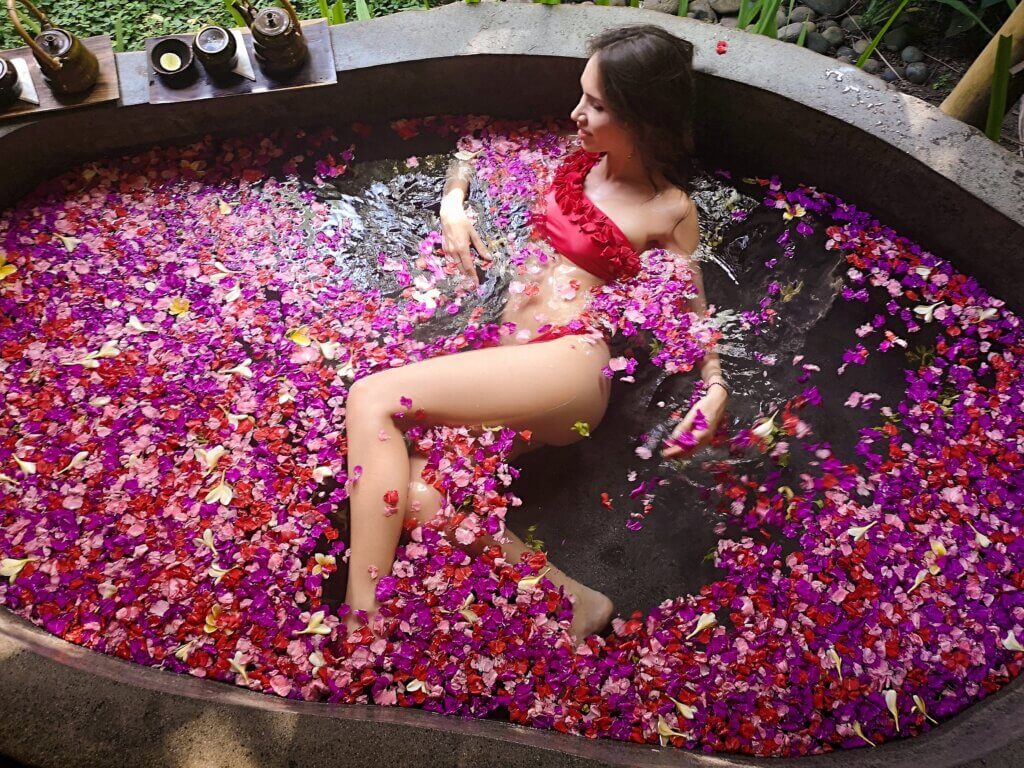 Water activities are generally very popular in Bali: Whether diving, free diving, snorkeling or even white water rafting on the Ayung River. Be sure to pack your bathing suit! We were particularly impressed by the Pura Ulun Danu Bratan water temple in the north of the island. The temple complex rises almost mystically in front of the mountain panorama and not only offers an ideal photo backdrop, but also quiet, unforgettable moments. The temple is very well visited, so it is worth going there either very early in the morning or in the evening.
The most beautiful beaches in Bali for your honeymoon
The beaches on Bali are just as varied as the vegetation, although the most beautiful ones are often not easily accessible, such as the Pandawa Beach. You can find ideal conditions for surfing on Blue Point Beach. A white dream beach that invites you to take romantic walks White Sand Beach (Pasir Putih). You can watch wild dolphins on the black volcanic beach Lovina Beach. If you want to follow in the footsteps of the film EAT PRAY LOVE, you can also follow the idyllic Padang Padang Beach to visit. The beach with an offshore coral reef is perfect for swimming and surfing. One of the liveliest reefs on the island is to the north of the island Amed beach. Therefore, this beach is particularly interesting for fans of snorkeling and diving.
Conclusion Honeymoon in Bali
With gorgeous beaches, extravagant resorts, breathtaking nature and a rich culture, Bali offers everything you could wish for in a romantic vacation. The many neighboring islands such as Nusa Penida, Nusa Lembongan or the Gili Islands can also be easily combined with a Bali trip.
Extraordinary and romantic honeymoon in Aruba
Now we come to our absolute honeymoon favorite: Aruba. Why We Crowned Aruba Our Honeymoon Favorite? Quite simply, if Aruba had been on our travel radar 9 years ago, we would have gone to Aruba on our honeymoon without batting an eyelid. For us, the island simply has the perfect mix of culture, dream beaches, untouched nature and probably the friendliest people we have ever met on our travels. For us, Aruba means pure joie de vivre! It's not called The Hapy Island for nothing. In addition, Aruba is not overcrowded despite the high number of tourists. Due to the manageable size of the island, there are hardly any long distances to cover on Aruba, so you can easily get from A to B with a rental car or the bus. A big highlight are of course the fantastic beaches of Aruba. Our top 4 most beautiful beaches on Aruba & the most exciting sights of the Caribbean island can be found in our extensive Aruba guide.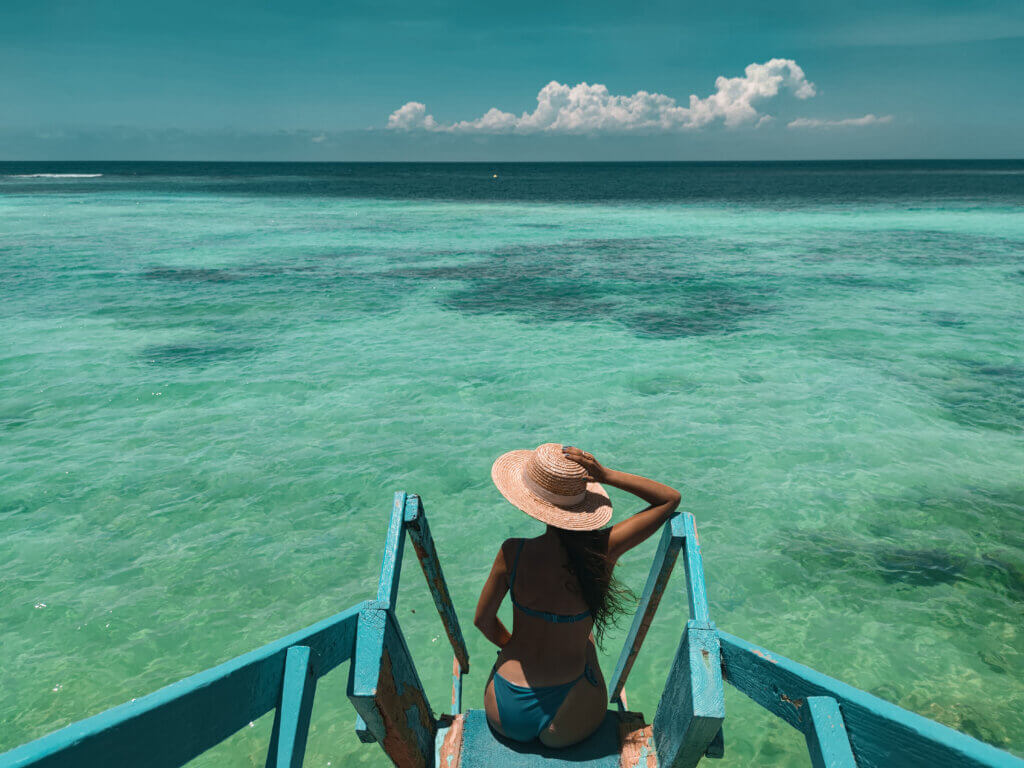 Biba dushi in Aruba - Romantic activities for your honeymoon in Aruba
Biba Dushi is the Arubian counterpart to La Dolce Vita. And for us, Aruba is the epitome of paradise Raffaello dream beaches, romance and lots of fun. Whether a romantic picnic with Picnic Aruba on the beach, snorkeling with turtles in Tres Trapi or a cozy candle light dinner in the fancy beach restaurant The Flying Fishbone right by the sea: Aruba simply has romance and pure joie de vivre! Butterflies in your stomach are definitely not the only things that await you in Aruba. You might even spot a hummingbird while having breakfast al fresco, or one of the many monarch butterflies native to Aruba, fluttering from flower to flower.
Natural pools, a historic lighthouse or would you prefer a sailing trip?
The choice is yours in Aruba. If you get bored of sizzling on the beach, you can explore the wild and romantic north of Aruba with your rental car. The recently discovered natural pool near the Bushiribana ruins offers you refreshment. Or you can combine your trip with a hike in the pristine Arikok National Park and hop in the Conchi Natural Pool.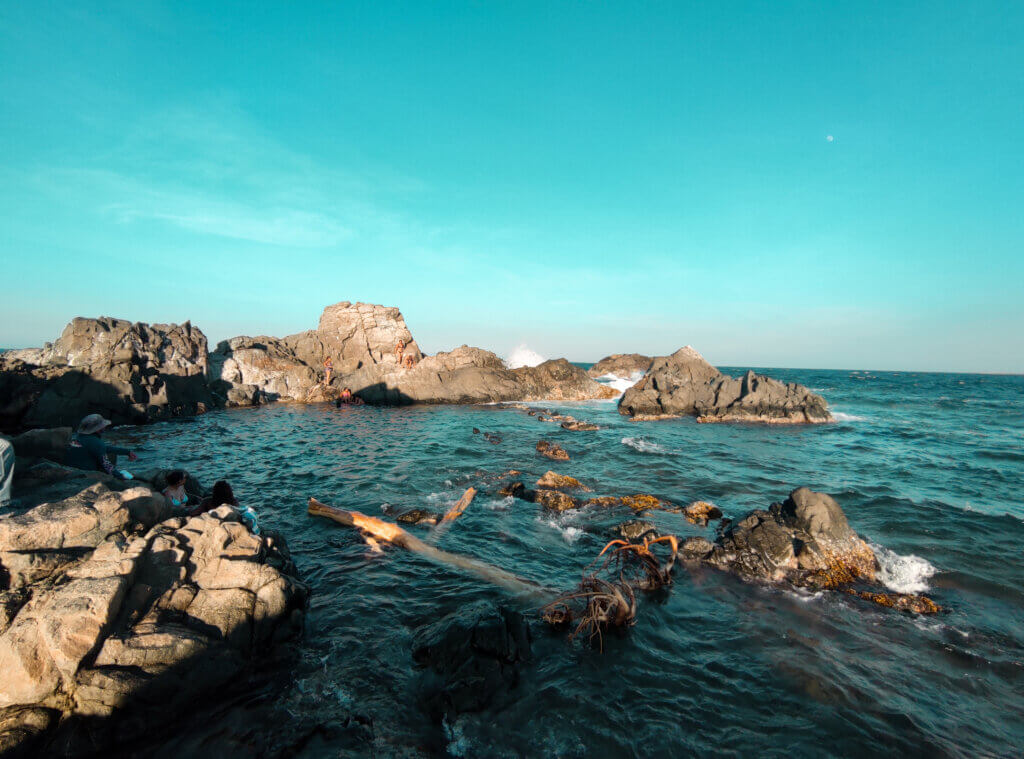 Attention now it might be a bit cheesy, but what could be nicer than a romantic sailing trip into the sunset? (By the way, we are of the opinion that nature can never be kitschy, but only fascinating, breathtaking and powerful, right :-)?) And the sunsets on Aruba are simply phenomenal. Thanks to the mostly calm seas and constant trade winds, Aruba offers ideal conditions for your sailing adventures. You also have a fantastic view of the sunset from the elegant white lighthouse California Lighthouse. If Aruba has made you curious now, then take a look at our big one Aruba guide over. There you will find all the important information about entry, Aruba's sights and exciting activities that await you in Aruba.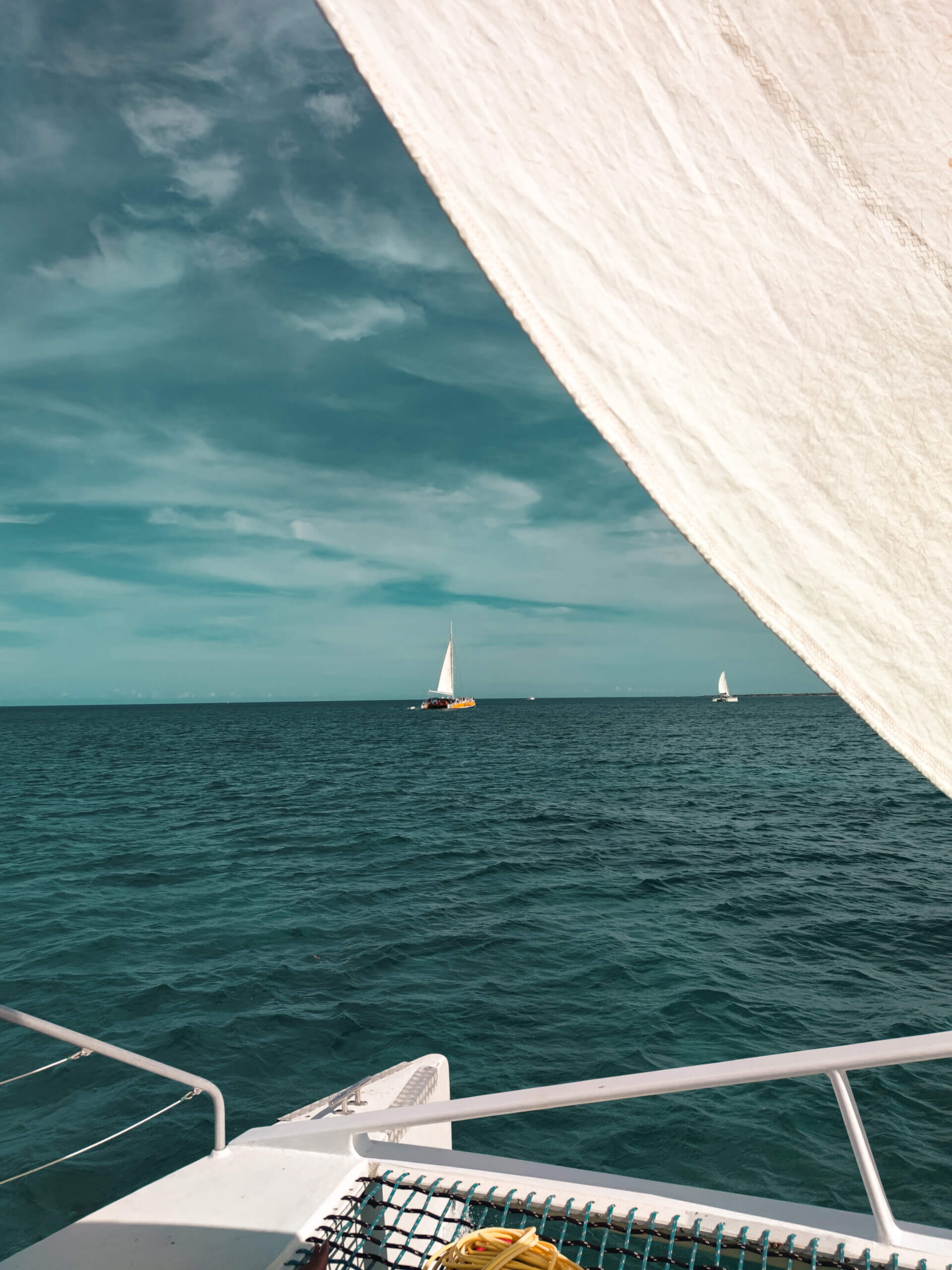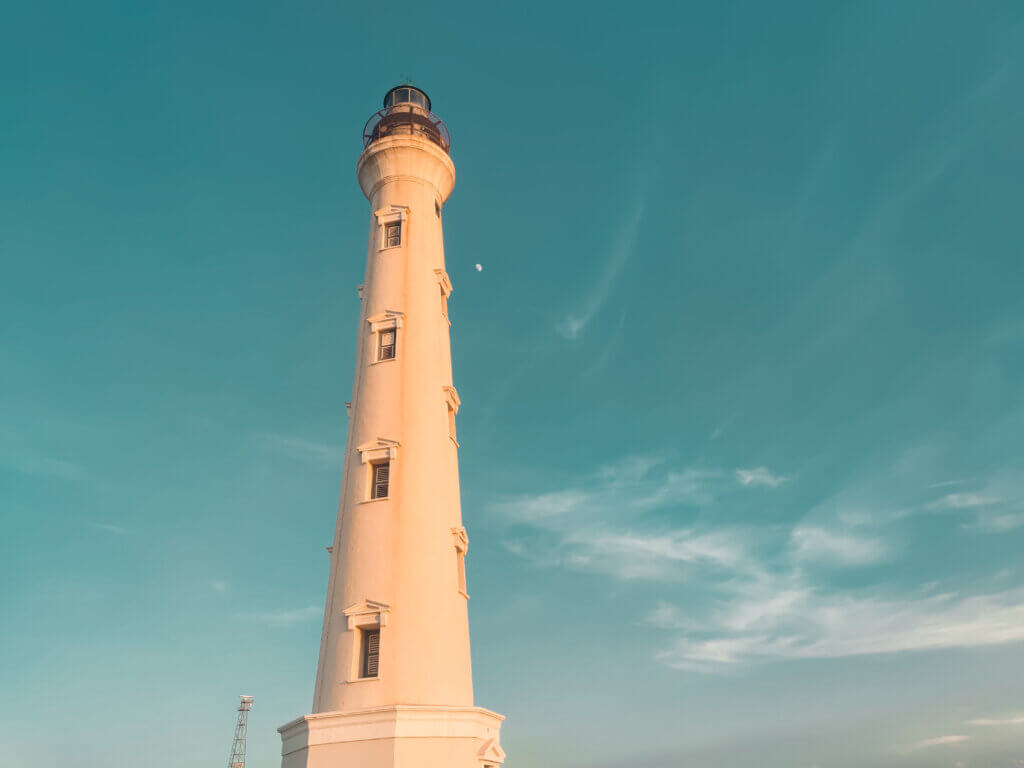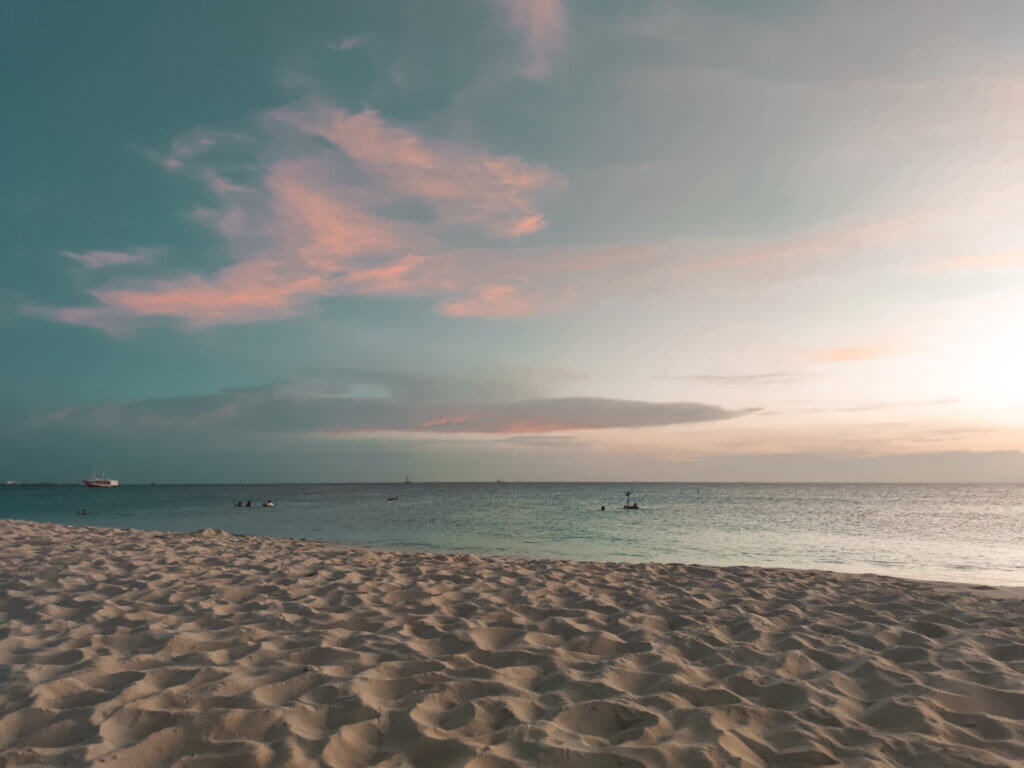 Conclusion Honeymoon in Aruba
It's not for nothing that Aruba is called THE HAPPY ISLAND. What particularly convinced us is the flexibility that we have on the island. If a pure beach holiday like on the Maldives is too one-sided, you will find the variety and freedom in Aruba that you often miss at destinations with dream beaches. In Aruba, you don't have to choose between dream beaches and active vacations, because both are abundantly offered. Just get a rental car and off you go!
Honeymoon in Japan – a good idea not only for the cherry blossom season
A truly extraordinary and romantic honeymoon destination is Japan. If you choose a Japanese airline before your trip to Japan, then your vacation begins with boarding. Rarely have we enjoyed a better flight experience than with Japan Airlines (and no, we are not sponsored by Japan Airlines). Even the flight route is scenically very exciting, so make sure you secure a window seat! We are then to Japan for the cherry blossom season traveled and were surprised at the quite moderate prices even in the high season, as Japan is one of the exclusive travel destinations in Europe.
But don't let that mislead you, because local prices for accommodation and food are often even lower than in Germany. Of course, as big Japan fans, we really wanted it experience the cherry blossom season in Japan and couldn't stop being amazed. Japan is full of contrasts and at the same time a very poetic country in which art and devotion to art and poetry are of great importance. Art and poetry can be found here in the architecture, in the way food is prepared, in the traditional festivals and of course in the historic temple complexes and gardens.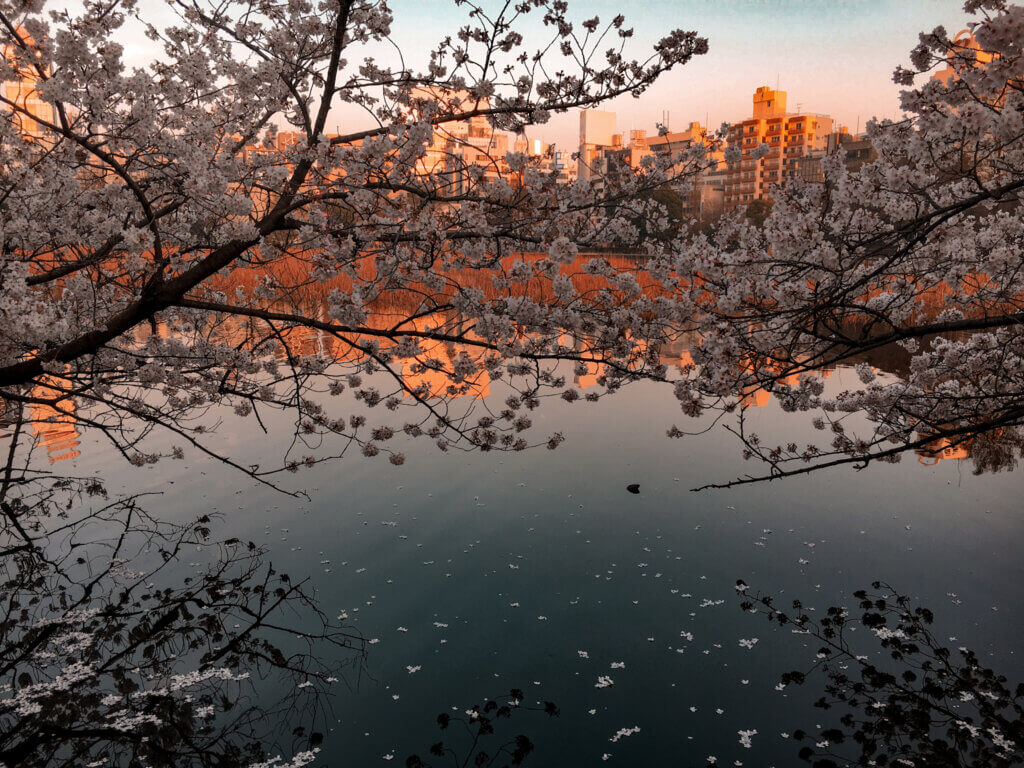 Did you know that it's five centimeters per second? - Romantic activities for your honeymoon in Japan
5 seconds - This is the average time it takes for a cherry blossom to land on the ground. Sakura - the pink cherry blossom is omnipresent in Japan. Do you decide to Cherry Blossom to Japan For example, you can enjoy a romantic picnic in Ueno Park and then take a boat trip on Lake Shiobazu. There is a cherry blossom trail along the lake in Ueno Park. The cherry blossom branches provide the perfect setting for the most beautiful souvenir photos.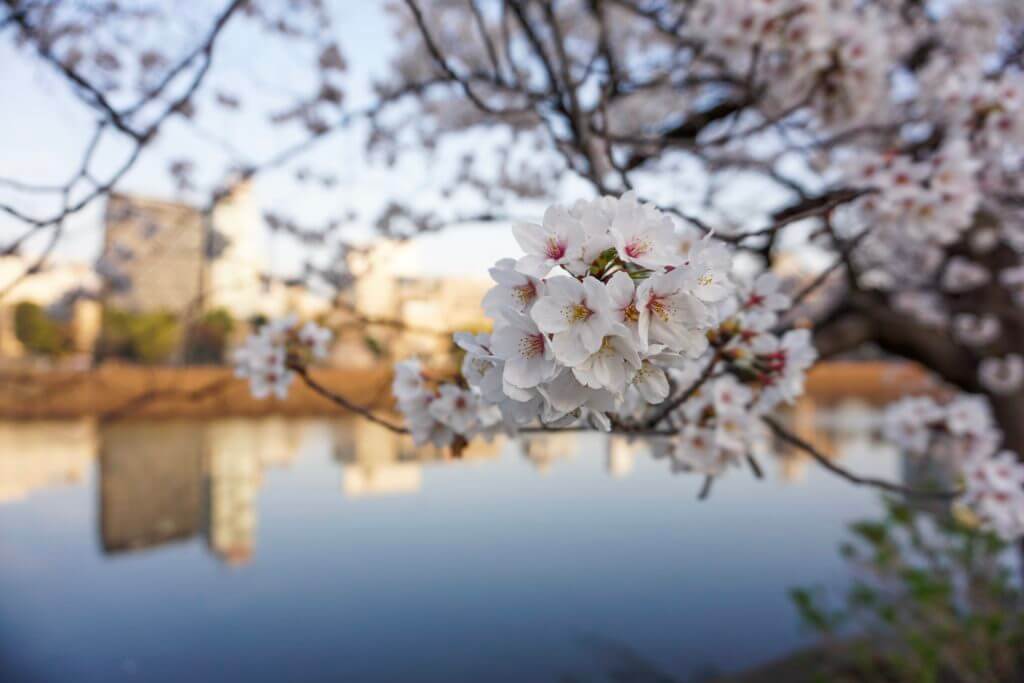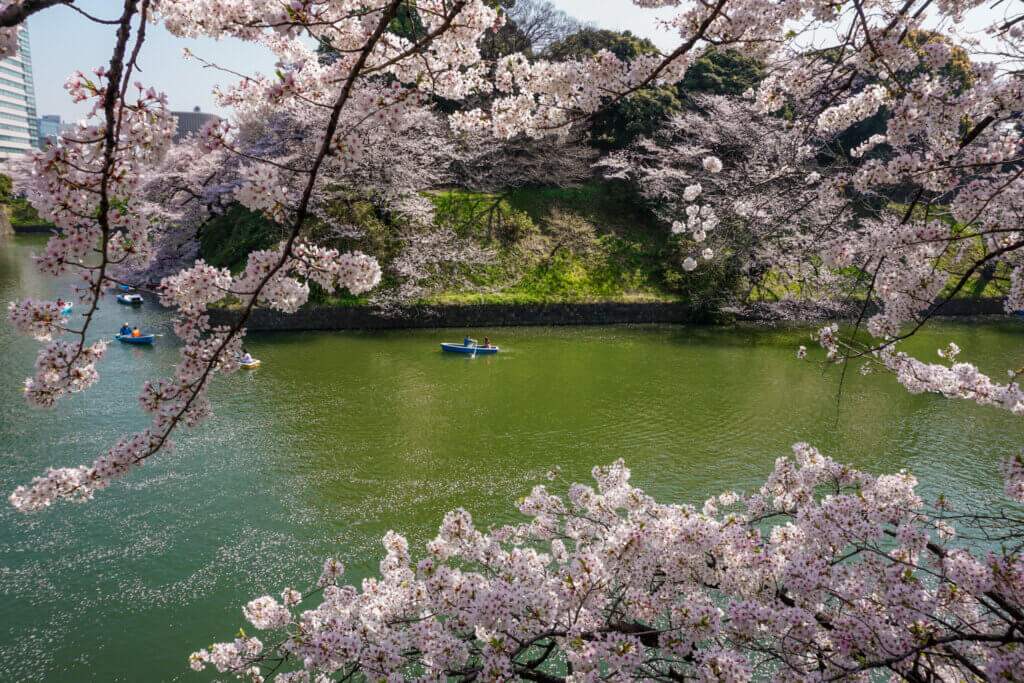 Many Japanese are real romantics, not only because of their adoration of the cherry blossom, but also when it comes to the content of the popular shojo manga. Although great emotions are rarely shown in public in Japan, they are expressed all the more in art and culture. Although Japan is one of the most modern and technologically advanced countries in the world, nature still plays an important role in Japanese culture. So I can only recommend that you explore more rural Japan and the region around Mount Fuji.
Hot Springs & Wellness in Japan – How about a romantic onsen weekend?
Hot springs called onsen are particularly popular in Japan. Onsen springs are everywhere in Japan. It is said that onsen springs can heal everything but lovesickness. But you will certainly be spared that on your honeymoon in Japan. Back then, we decided on a hotel with its own onsen with a direct view of Mount Fuji. Unfortunately, he was probably a bit shy at the time and hid behind a thick layer of clouds. Our onsen time was nonetheless relaxing and definitely an interesting experience. Normally, women and men bathe separately in onsen. If you want to visit an onsen together, there are also mixed baths called sentos. It is best to inform yourself in advance.
Open-air baths are called rotemburo and are often embedded in a picturesque landscape. There are cities in Japan that are completely dedicated to onsen holidays, such as Hakone Yumuto Onsen, Ginzan Onsen or Shimoda Onsen. A particularly romantic bathing spot is the Yufuin Onsen on the island of Kyushu, at the foot of Mount Yufu. Many traditional ryokans but also modern hotels await you here.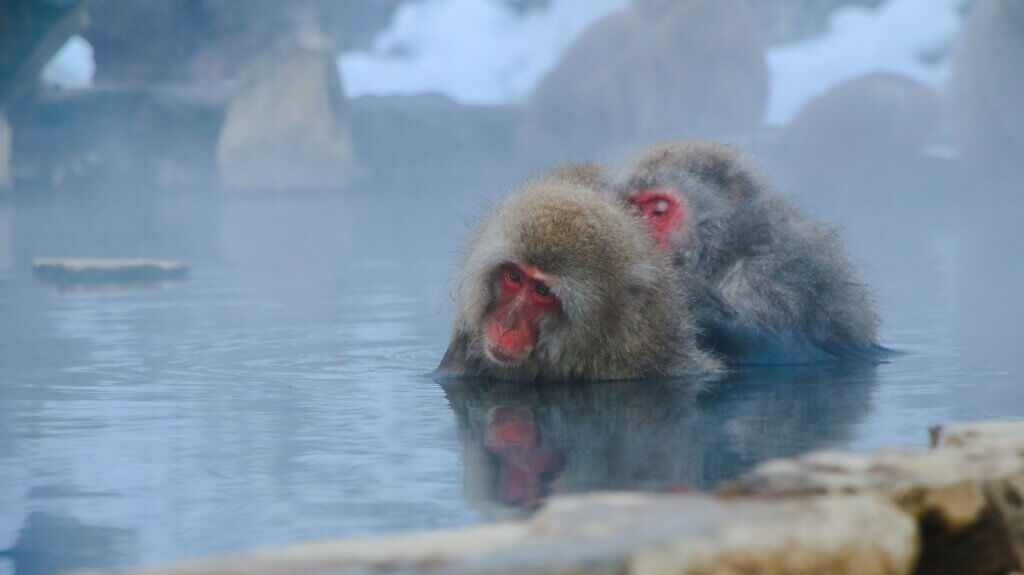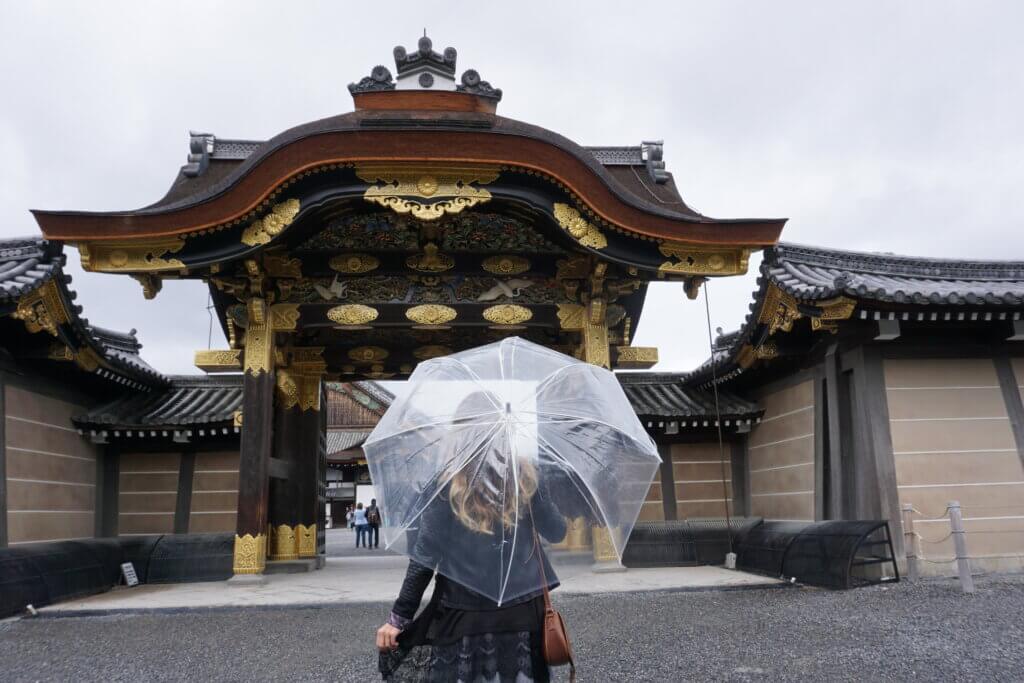 Caribbean feeling in Japan? – Island hopping on Okinawa
Did you know that you can also spend a real dream beach holiday in Japan? Maybe you are already busy googling Okinawa and see pictures that remind you of the Maldives or the Caribbean. Yes, this is Japan too! Okinawa has mild temperatures all year round. The best travel time for your honeymoon in Okinawa is from early July to late September. But the months from October to April are also popular travel times. In Japan's southernmost prefecture, which consists of over 150 islands, you can go snorkeling, diving or visit the second largest aquarium in the world.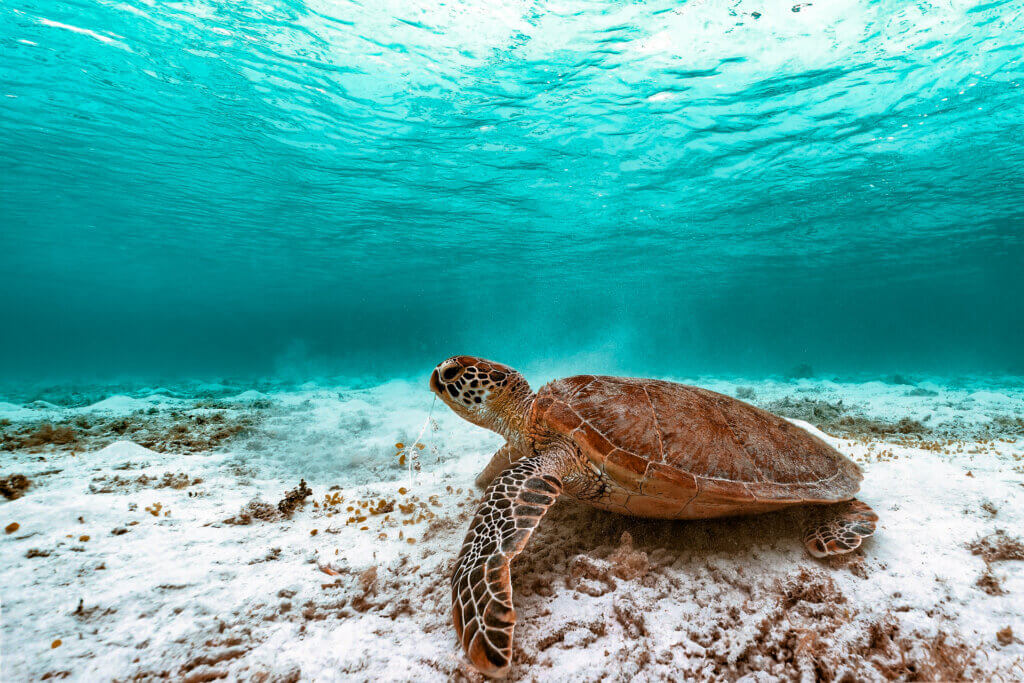 Conclusion honeymoon in Japan
If you decide to honeymoon in Japan, you will make memories for life because a trip to Japan is simply unforgettable! Hardly any other long-term destination has impressed and fascinated us as lastingly as Japan. Maybe it's also because it's always been my dream to travel to Japan. Those who are still unfamiliar with Japanese culture will experience a great adventure in Japan. The country offers an impressive combination of fascinating, traditional culture and modern technology. Someone traveling to Japan for the first time may even feel transported to another world. In Japan, you can enjoy the beauty of nature in the form of lakes, mountains, forests and beautiful beaches while also exploring metropolises like Tokyo and Kyoto, both known for historical sights and lively street scenes. A highlight is definitely the diverse food in Japan. And as is well known, love also goes through the stomach 🙂
You can find more information about our Japan trip in the articles Last minute vacation to Japan: is that possible? and At the table in Japan
Looking for even more extraordinary and romantic honeymoon destinations?
We hope that we have given you even more desire to travel with our top 5 honeymoon destinations. If your dream honeymoon destination isn't listed here, then it is Sign up for our free newsletter and never miss a message in a bottle again. Soon we will be going to Asia again, to a country that has a very special place in our hearts. Because exactly 10 years ago we went there for the first time. If you've been following our blog for a while, you probably know where we're going. This time we will mainly examine the country for honeymoon qualities. What we can already reveal: It will be adventurous!