In friendly cooperation with Mosellandtouristik
Welcome to the Moselland: where wine is a cultural asset
The more often I travel abroad, the more I learn to appreciate the beautiful corners of Germany. All the great landscapes and places that we have here really strike me now. I was in one of these places 9 years ago in winter, but I had no idea at the time that I would only return so many years later.
However, in the past I wished to visit this place again sometime in the summer and imagined what the city might look like on warm summer days. We're talking about Bernkastel-Kues, a truly fairytale town on the Moselle. Colorful half-timbered houses like in a picture book are lined up here. Framed by lush green, high vineyards, the Moselle shapes the landscape and life here.
The Moselle region: Known for excellent wines and the impressive landscape
The area around the Mosel is known for its excellent wines and an impressive landscape. In the midst of this breathtaking natural scenery, we made a 3-day road trip to the Moselle in June. Within seconds I felt like I was on vacation there. You can find out everything I experienced on the Moselle here! Have fun!
A long weekend on the Moselle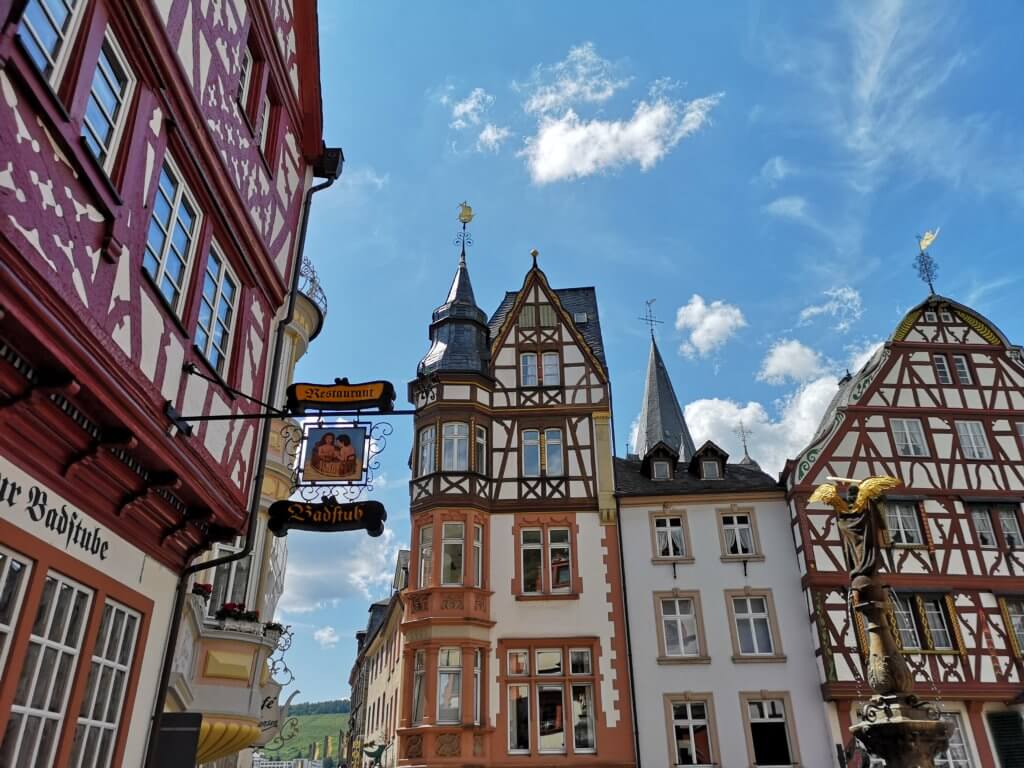 Day 1: Bernkastel-Kues - fairytale town full of surprises
The starting point of our road trip was Bernkastel-Kues. Although the weather looked rather cloudy in the morning for our upcoming Moselle trip, all the clouds later cleared and we were spoiled with sunshine. We were accommodated in the charming Fairy Tale Hotel, a themed hotel in the heart of the picturesque old town of Bernkastel-Kues. From the hotel you have a fantastic view of the vineyards and the cozy streets of the old town. After checking in we went to pick up our bikes. Then an exciting city tour was on the program. Now I also know where the term "rich as a buck" comes from. Hundreds of years ago, the massive stone houses could only be afforded by wealthy people and they liked to show off their prosperity and wealth in this way.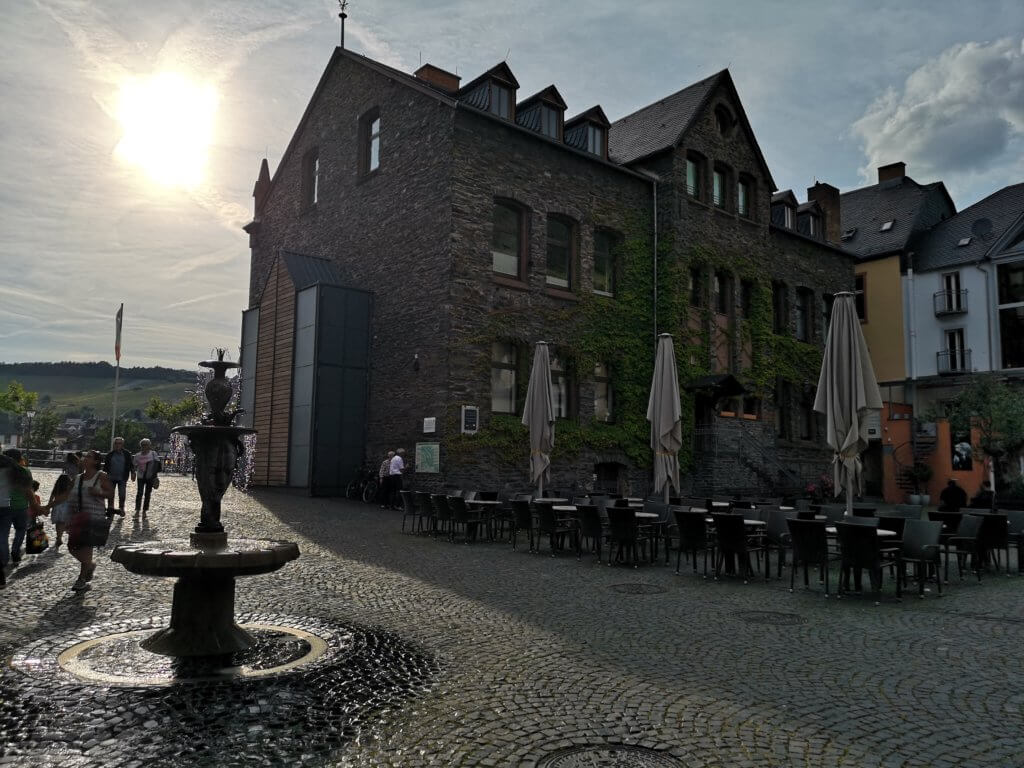 Mediterranean lifestyle on the Moselle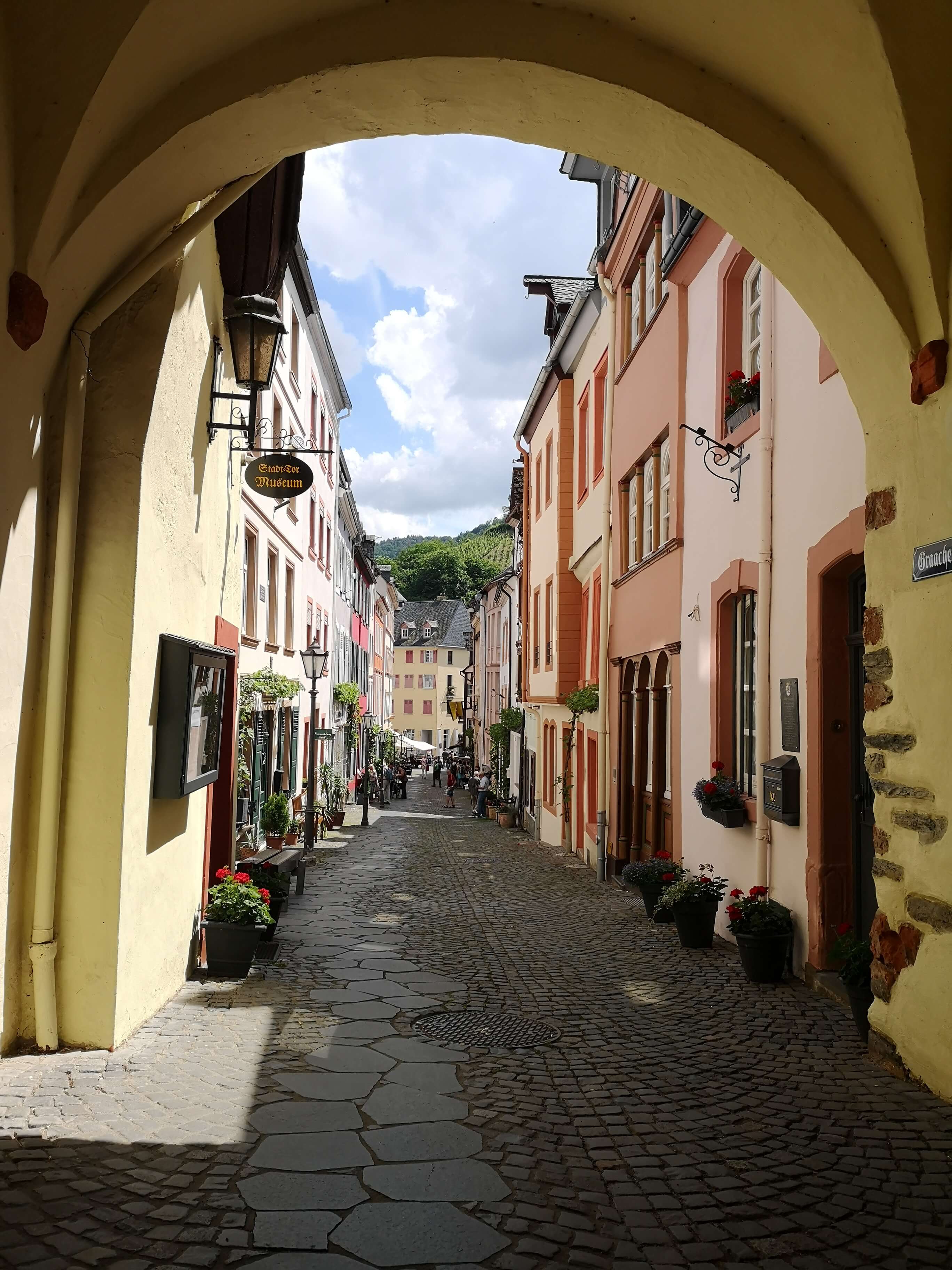 The lively atmosphere in Bernkastel-Kues reminds me of those small, cute Mediterranean vacation spots. I immediately noticed how touristy Bernkastel-Kues has become compared to my first stay. Nevertheless, I found the rush of visitors to be quite pleasant and the small town did not seem too crowded. Above all, there are a lot of day tourists who leave before 16 p.m. However, I am not surprised that Bernkastel-Kues is now so popular with travellers.
Leisure program for every taste
I'm much more surprised that still very few young people visit Bernkastel-Kues. The city now has so much leisure time to offer for every age group (and above all incredibly great photo locations that almost nobody knows! But more on that later...). Be it a party boat trip on the Moselle or a romantic bachelor party in a VW bus. There is something for every taste.
Despite modern and contemporary leisure activities, the city still wants to preserve its unique cityscape and still attaches great importance to authenticity. In Bernkastel-Kues you literally feel like you are in a fairy tale. This is mainly due to the colorful, magical half-timbered houses. One of the highlights of Bernkastel-Kues is the medieval market square with its gabled half-timbered houses from the 17th century.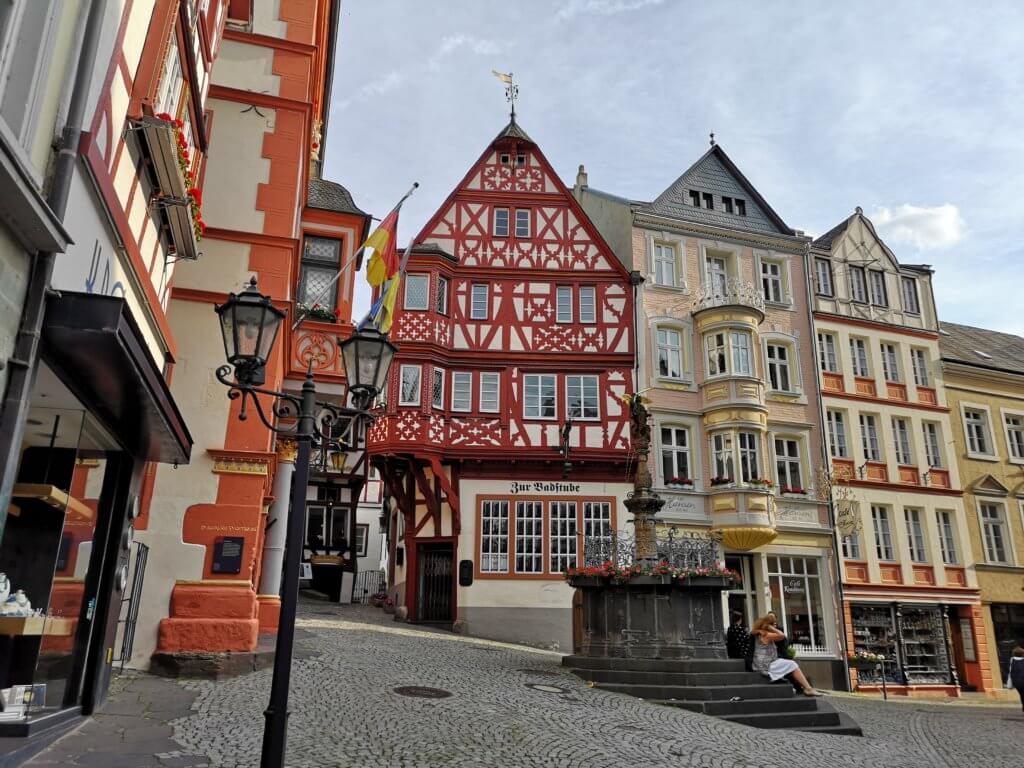 Instagram insider tip: Best photo location for bloggers & Instagrammers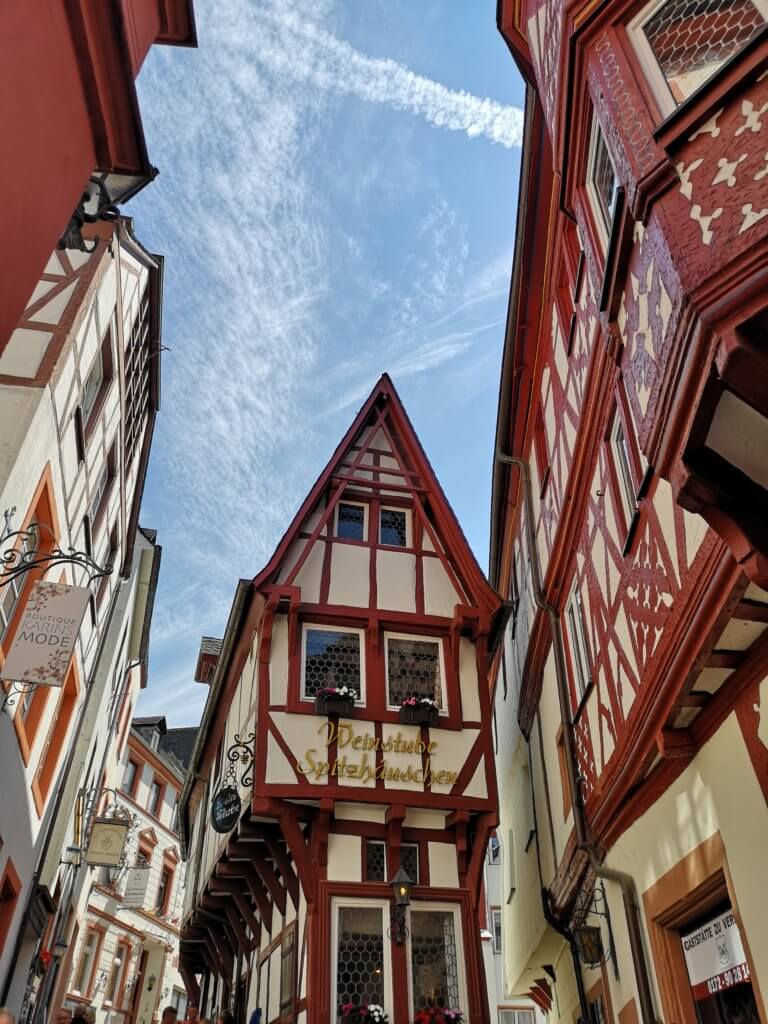 The most popular photo motif here is the narrow Spitzhäuschen from 1416. In front of this little house you can take really cool pictures that hardly anyone else has posted on Instagram. The famous Christmas market, which is one of the most beautiful Christmas markets in Germany, also takes place on the market square every year during Advent. The city is considered the home of many winegrowers and a lot has happened in recent years. Above all, many young winegrowers like to combine tradition and modernity here. Bernkastel-Kues is a true paradise for wine lovers! Numerous wine tastings are offered. And there will be a lot of celebrations! The middle Moselle wine festival takes place here at the end of August and beginning of September. And during the summer holidays there is a summer stage with lots of live music.
Moselle tour with a view
After the informative city tour, we went on the ship for the Moselle tour. Small round trips are offered in Bernkastel-Kues from 11.00 a.m. A beautiful panorama awaited us behind every bend in the river. We particularly liked the landscape with the picturesque, small towns on the Moselle, which you can see during the boat trip. After the river trip, equipped with the camera, we went back to the old town of Bernkastel-Kues to take a few photos in the evening sun. We ended the day with a delicious 3-course menu in the fairy tale hotel.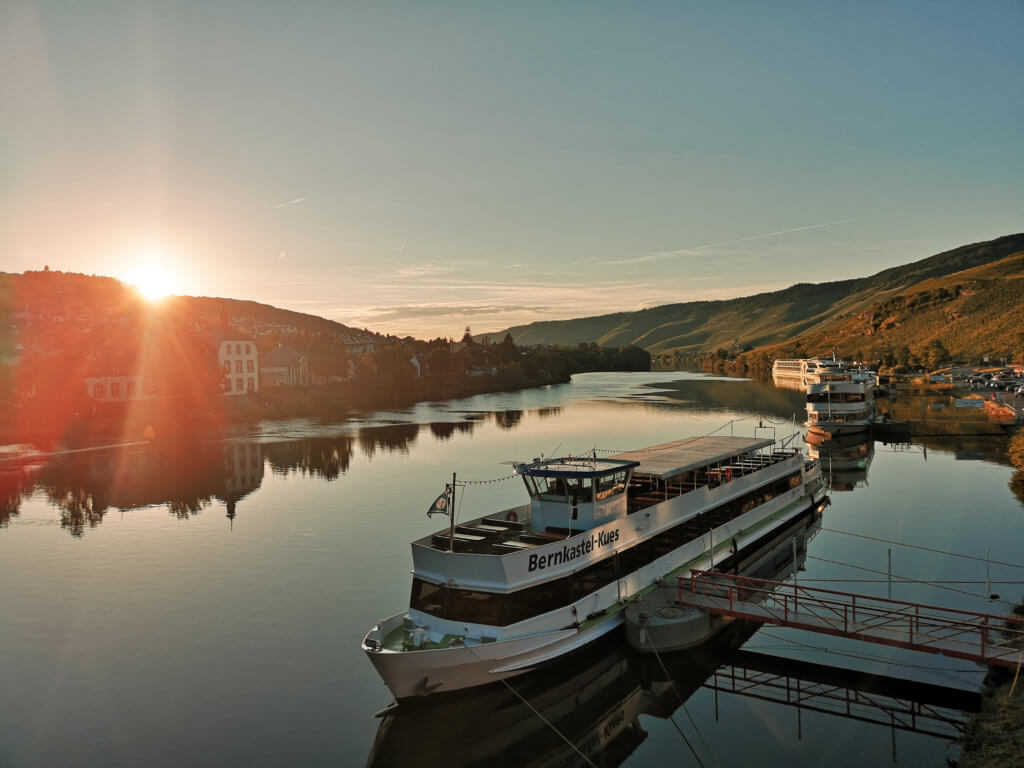 Day 2: Mythos Moselle bike tour, High Moselle bridge and wine tasting with a view
On the second day of the trip we went on a bike tour Traben-Trarbach. This route along the Moselle is 25 km long and passes many small, picturesque towns. But it should not just be an ordinary bike tour. We made our way to Myth Moselle, a famous Riesling tour in the region. Mythos Mosel is a vintage tasting of about 120 participating wineries, which takes place in 30 host wineries. There are also three on-site restaurants per winery, so that around 24 different wines can be tasted at each station. The weather seemed to be on our side, so after a delicious breakfast we got on our bikes straight away.
Surrounded by water and mountains, I'm not surprised that this premium cycle route is one of the most popular in Germany. Although I like to travel by bike, I am sometimes a little annoyed by the non-existent or poorly signposted bike paths. That can't happen to you on the Moselle. Here the bike tour becomes a pleasure! We cycled past camper caravans, RV Eldorados and above all a lot of natural idyll. One building in particular stands out in this almost untouched landscape: The High Moselle Bridge. With a height of 160 meters, the bridge even towers over Cologne Cathedral. Embedded in the beautiful vineyards, the 1,7-kilometer-long bridge is a real sight and seems almost surreal in the harmonious landscape. It is still in a "summer sleep" but from autumn 2019 up to 25.000 cars are expected to drive over the High Moselle Bridge every day.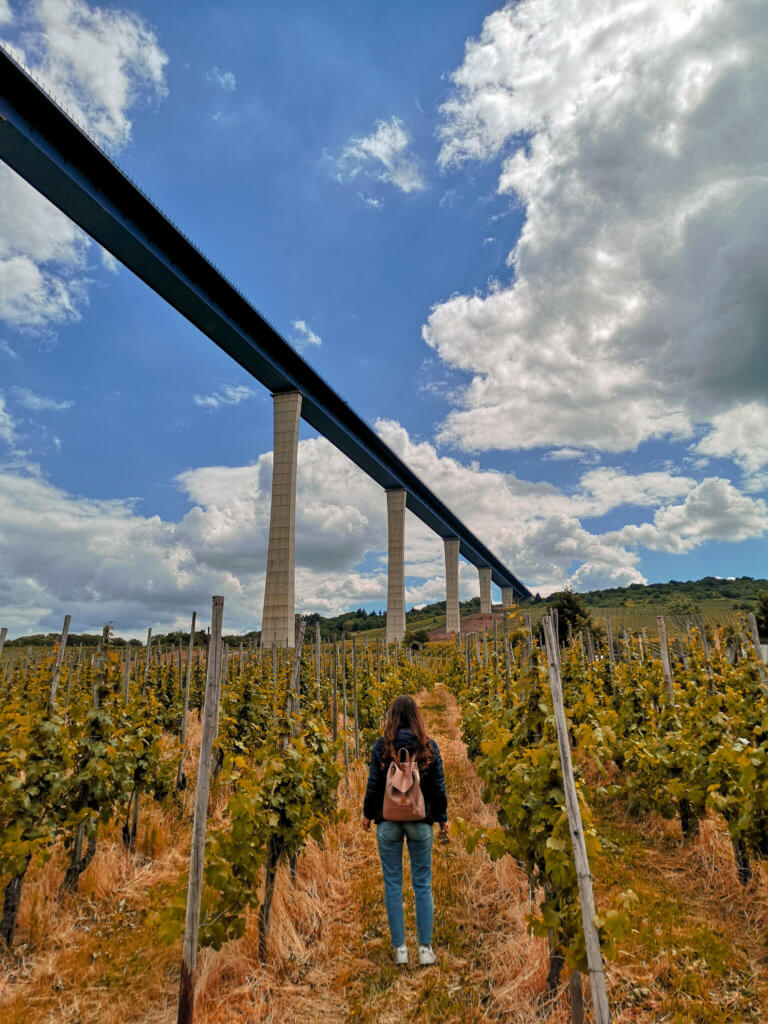 The wineries on the Moselle
That was our first stop Lotz winery in Erden, where a fantastic view of the high vineyards awaited us. Since I wouldn't necessarily call myself a wine connoisseur, it was particularly exciting for me to try the different wines and to taste the small but subtle differences. Sometimes there were only subtle nuances in taste. Precisely because only excellent wines are offered on the Mythos Mosel Riesling Journey, I find it fascinating how a layperson can slowly develop a feeling for the individual aromas. Incidentally, my fears that I might still be able to ride my bike after a wine tasting were completely unfounded.
Approx. 60-75 ml are poured into each wine glass. I made sure that I could try about 2-3 different wines per winery (of course in trial quantities), with a few breaks in between. I particularly liked the concept that so many participating wineries can be found on the route and you can "sniff" at each one.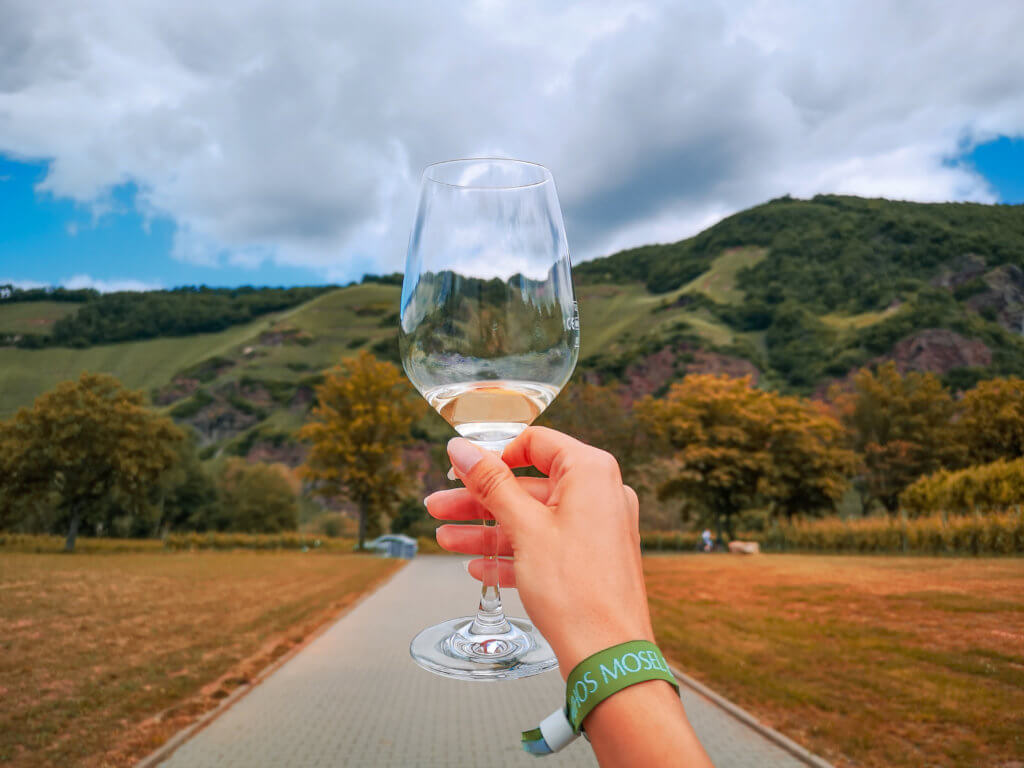 Young Talents: The Simon Brothers Winery
In Lösnich we stopped at his Winery Brothers Simon. With the special category "Young Talents", the Mythos Mosel Reise also offers the opportunity to taste the wines of young winegrowers. Incidentally, it was in this winery that I discovered one of my new favorite wines, the "Buttertopf" Riesling Spätlese off-dry.
Art Nouveau charm with tradition: Villa Huesgen winery in Traben-Trarbach
Probably the most romantic winery on our trip is the historic one Villa Huesgen in Traben-Trarbach. The Middle Moselle town of Traben-Trarbach is full of Art Nouveau treasures that still bear witness to the prosperity of the 19th and 20th century wine merchants. Almost every building in Traben-Trarbach was created from the plans of the famous architect Bruno Möhring (1863-1929). Magnificent buildings such as the Villa Huesgen, the former spa and lodging house Wildstein (today Parkschlösschen), the stylish Hotel Bellevue (formerly Hotel Clauss-Feist), the Villa Breucker, or the imposing bridge gate are impossible to miss when you are traveling in Traben-Trarbach .
In addition to the excellent wines, the Villa Huesgen with its small park and unusual architecture is a real sight. The magnificent villa, which is less reminiscent of a castle and more reminiscent of a fairytale house like something out of a fantastic picture book, has an almost unreal beauty.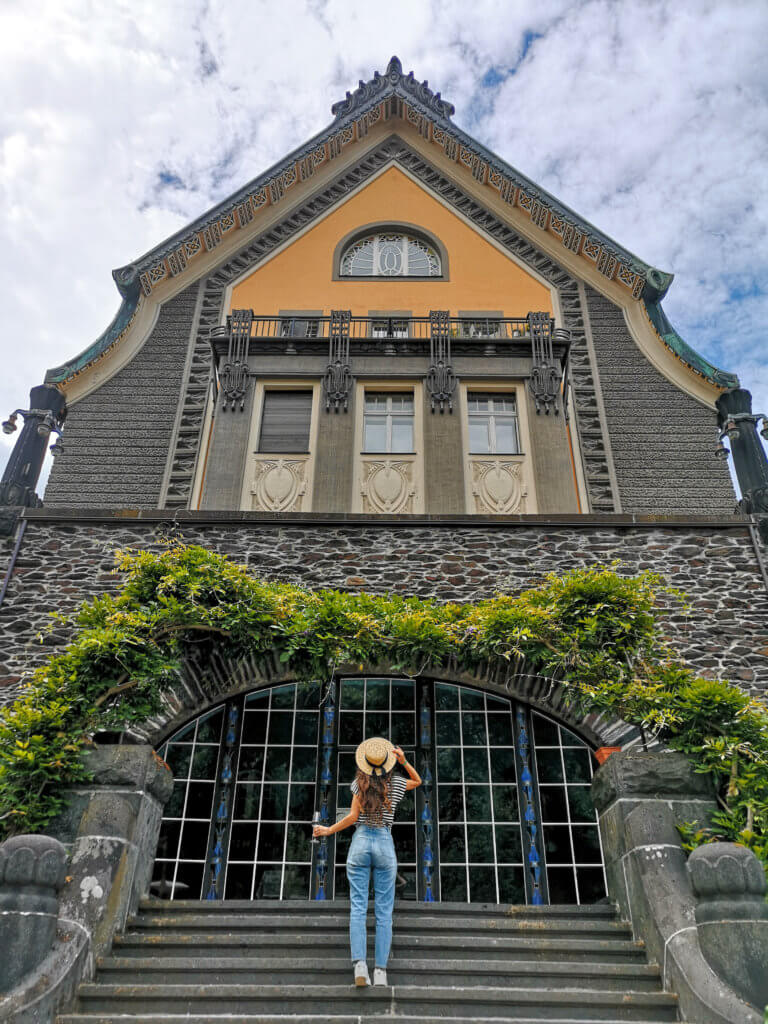 Day 3 Landshut Castle, Traben-Trarbach and the Moselle loop
Cusanusstift: Here you will find one of the oldest libraries in the world
After breakfast we made our way to the Cusanus chapel. The late Gothic abbey complex dates back to 1458, when the scholar, cardinal and prince-bishop Nikolaus von Kues built a hospital for the poor. To this day, the monastic complex offers housing and care to the elderly. The foundation also houses a world-famous Library, which is considered one of the most valuable private manuscript collections today.
Minimalist & elegant: Burg Landshut Restaurant
After our visit to the Cusanus Stift, we went on to the Landshut Castle. The castle ruins can be seen from afar on the horizon both up and down the Moselle. As the saying goes: All roads lead to Rome. In this case, many paths lead to Landshut Castle. In a short hike of about 20 minutes you can reach the castle on foot. If you have problems with the ascent, you can use the sunny yellow, open vintage bus and take part in a tour.
this side you will find the timetable of the Burg Landshut Express as well as information about the prices. Unfortunately, since we didn't have too much time and a pretty busy schedule, we drove up to the castle by car. But be careful: the tunnel in Bernkastel-Kues is currently closed. You can find up-to-date directions and detours to the castle here .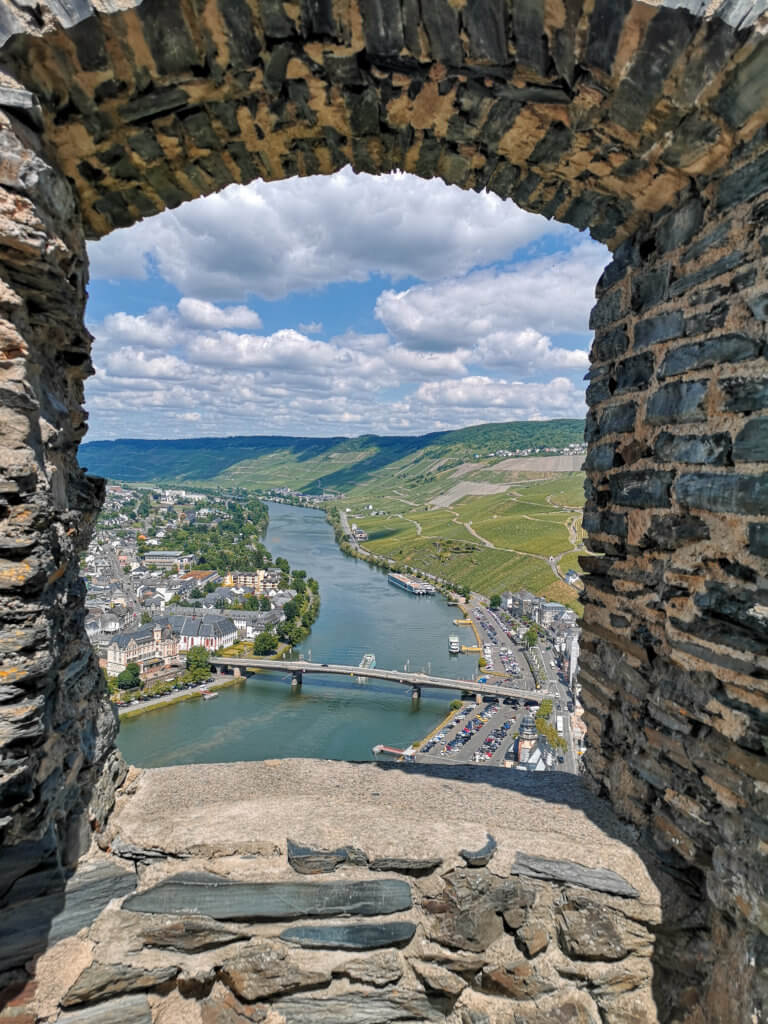 Arriving at the castle, we were amazed at the breathtaking view of the Moselle. This is a very special highlight Restaurant Burg Landshut, which, with its modern architecture, does not seem to fit into the "Mosel charm" landscape at first glance. But as soon as you enter, you are instantly enchanted by the interior, the floor-to-ceiling windows and the fantastic view. It seems as if there is no glass between the restaurant and the sky. Instead of outdated Moselle romance and old-fashioned furnishings, modern comfort and stylish design await the guests here. It is also worth noting that both the restaurant and the courtyard Disability Access are accessible. If I didn't live so far away, I would love to celebrate one or the other party in the Burg Landshut restaurant. Because the view and the unique atmosphere are simply terrific!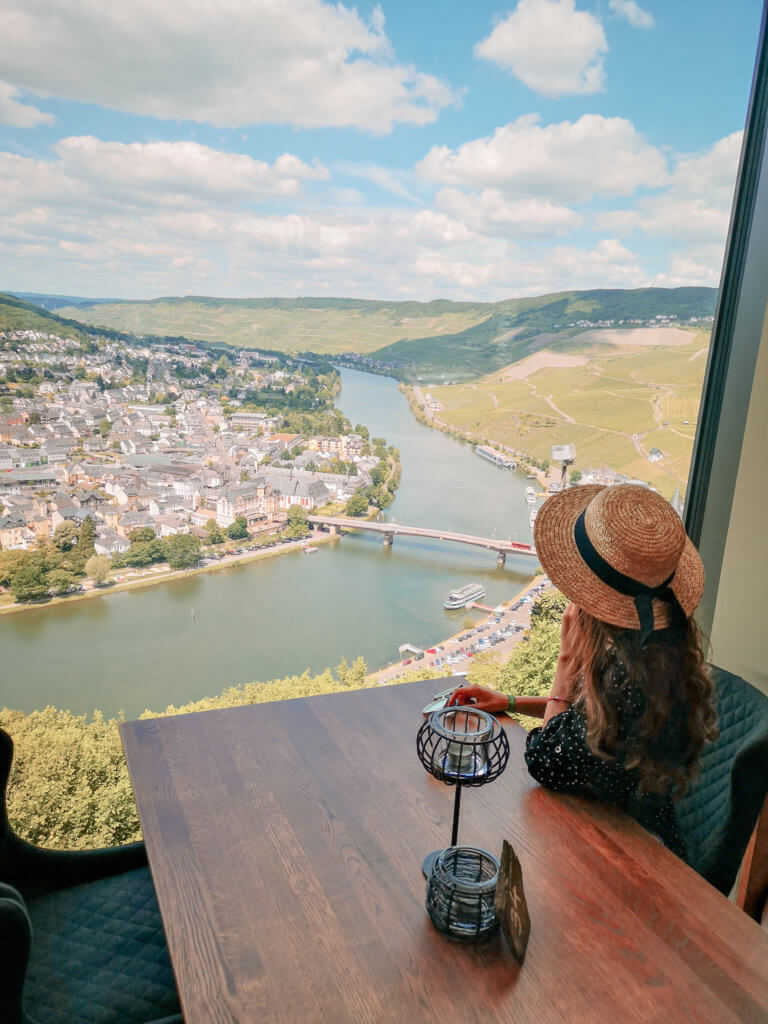 Traben-Trarbach: Travel back in time with flair to the Hotel Bellevue
After cooling off a bit, we slowly made our way to Traben-Trarbach. Since we were surprised by a heavy rain shower shortly before Traben-Trarbach on our bike tour, we didn't have much time left in the city and decided to visit it again the next day. That was the first stop Romantic Art Nouveau Hotel Bellevue. With the impressive wooden staircase and the many Art Nouveau details, as a guest you feel transported back to the Belle Epoque.
Then we strolled through the romantic, rustic streets of Traben-Trarbach and tried to capture the very special atmosphere of the city on photos. In fact, the city feels almost Mediterranean with its mild climate, cozy alleys and colorful cafés.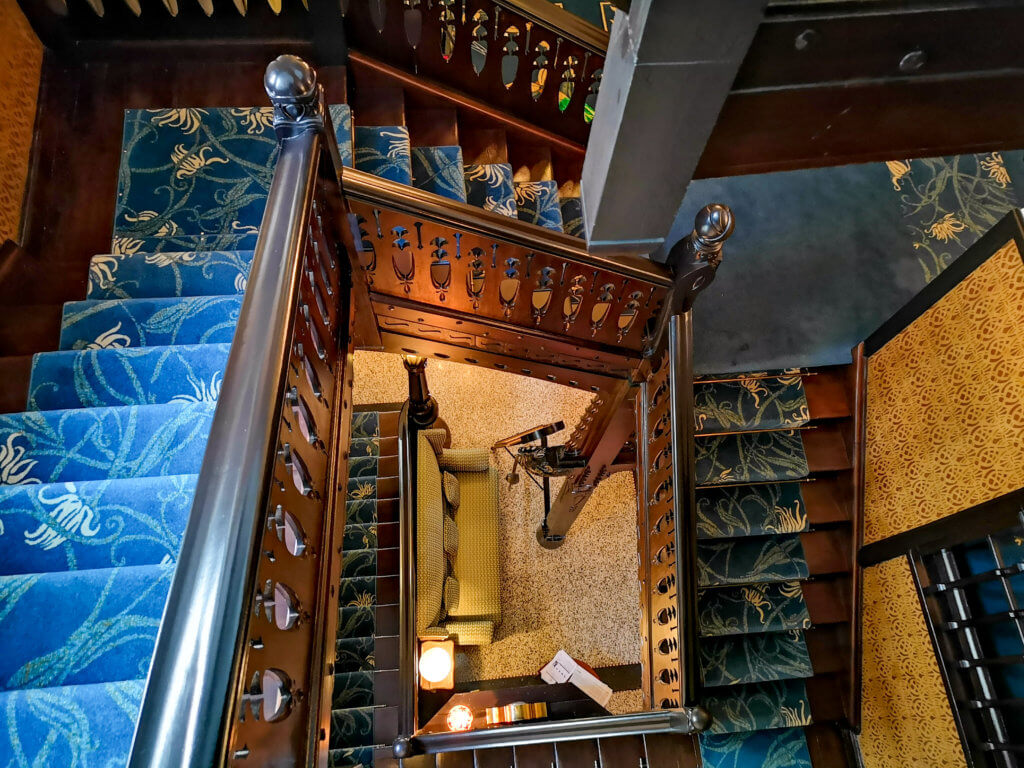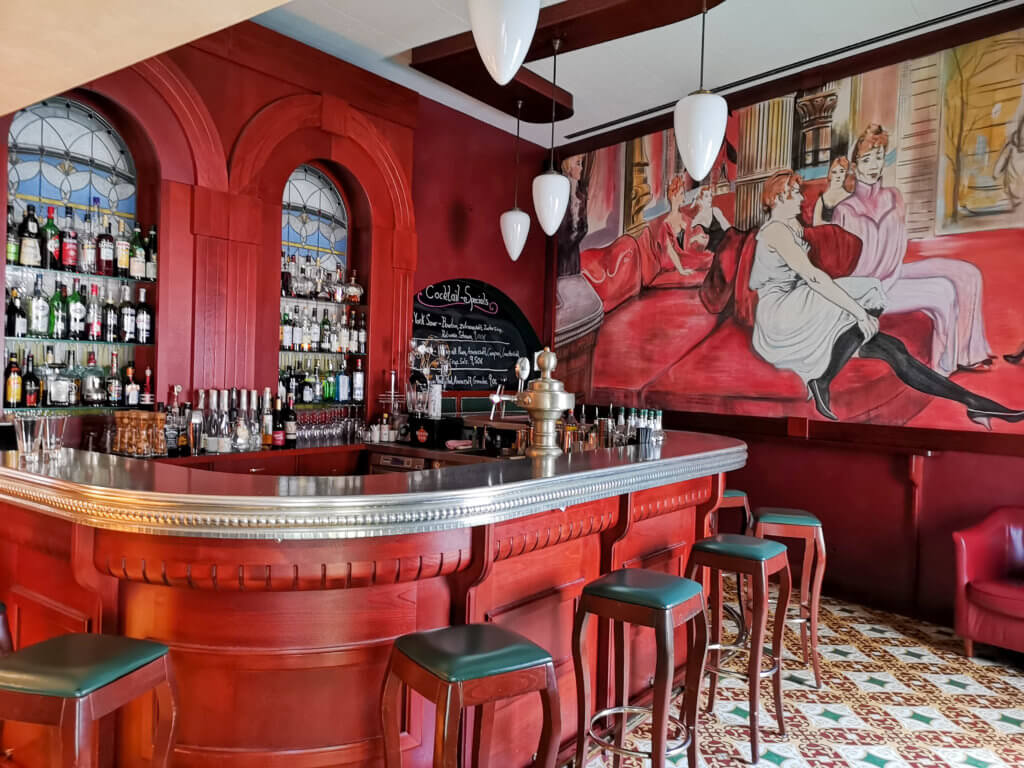 Calmont on the Moselle: amazing view of the Moselle loop and breakfast above the clouds
The next direction was for us Calmont to the Moselle loop. I had known these famous photos of the Moselle loop at sunset for a long time and really wanted to experience this view live. So it was clear to me that I definitely didn't want to miss this view. At Bremm, the Moselle winds in a 180 degree curve around the beautiful monastery ruins of Stuben. Incidentally, the Calmont is the steepest vineyard on the Moselle. There are many vantage points and some of them can be easily reached by car almost up to the summit cross.
If you bring a bit of stamina and a lot of time, you will be rewarded with incomparable views when hiking. The fresh forest air alone immediately filled me with longing and my hiker's heart beat faster. I would have preferred to have stayed there all day, but unfortunately it was already quite late and we were supposed to be heading back home in the evening. Anyone who has always wanted to have breakfast above the clouds can fulfill their wish at the Calmont summit cross. Every Saturday and Sunday there is a Breakfast offered under the motto "enjoyment with vision". Spectacular view guaranteed! Larger groups can also call for weekday reservations. In my opinion, breakfast above the clouds is also a great gift idea?
We decided to have a little picnic and watched the paragliders, who initially waited in vain for the right gust of wind. Then a summer breeze finally came and one by one they slowly slid away. For me, this moment was definitely a successful end to our little road trip along the magical Moselle.
More Attractions
Central Moselle Museum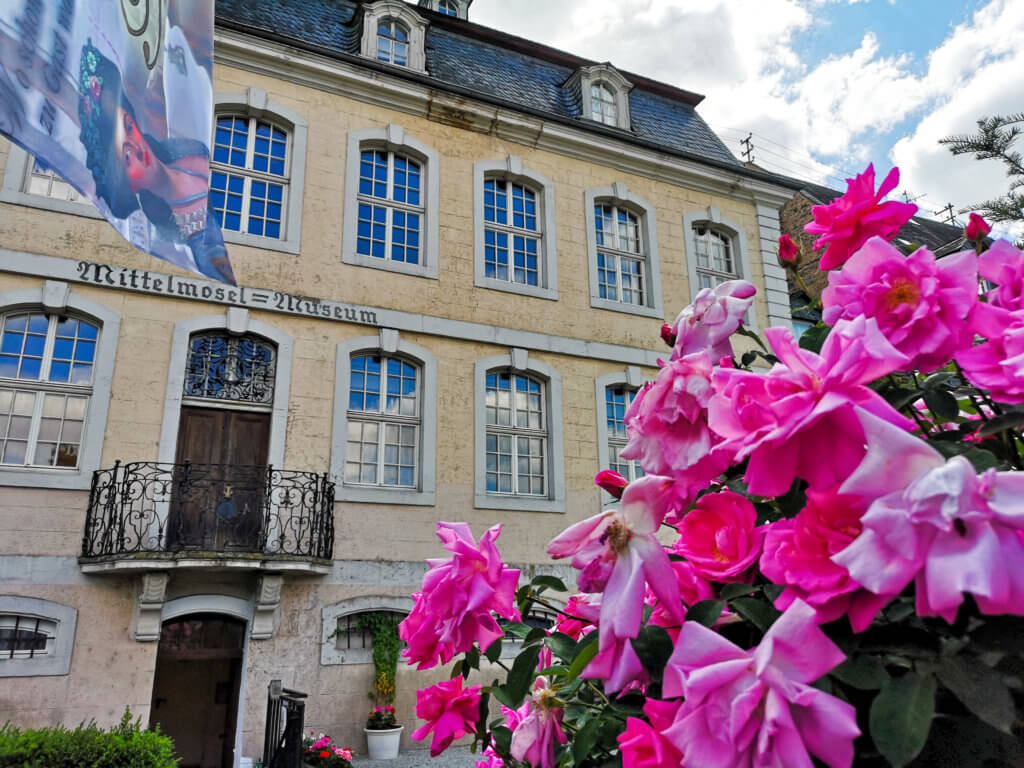 Goethe and the French poet Apollinaire were already welcome guests in this romantic baroque villa. Goethe is known as a great wine connoisseur. It is even said that he was particularly enthusiastic about the delicious Moselle wine. If you are interested in the exciting city history of Traben-Trarbach and would like to immerse yourself in another time, this is the place for you.
Opening hours
July to October
daily: 10.00 a.m. to 17.00 p.m
closed on Mondays
Guided tour of the Mittelmosel Museum
Appointments: 18.07. / 15.08. (Assumption of Mary) / 19.09. / 27.09. / 17.10.
Time: 19.00 clock
Price: €5,00 per person (incl. entry)
Mittelmosel Museum
In the baroque villa Haus Böcking
Casinostrasse 2
56841 Traben-Trarbach
Tel .: 06541 - 9480
e-Mail: mittelmosel-museum@traben-trarbach.de
Buddha Museum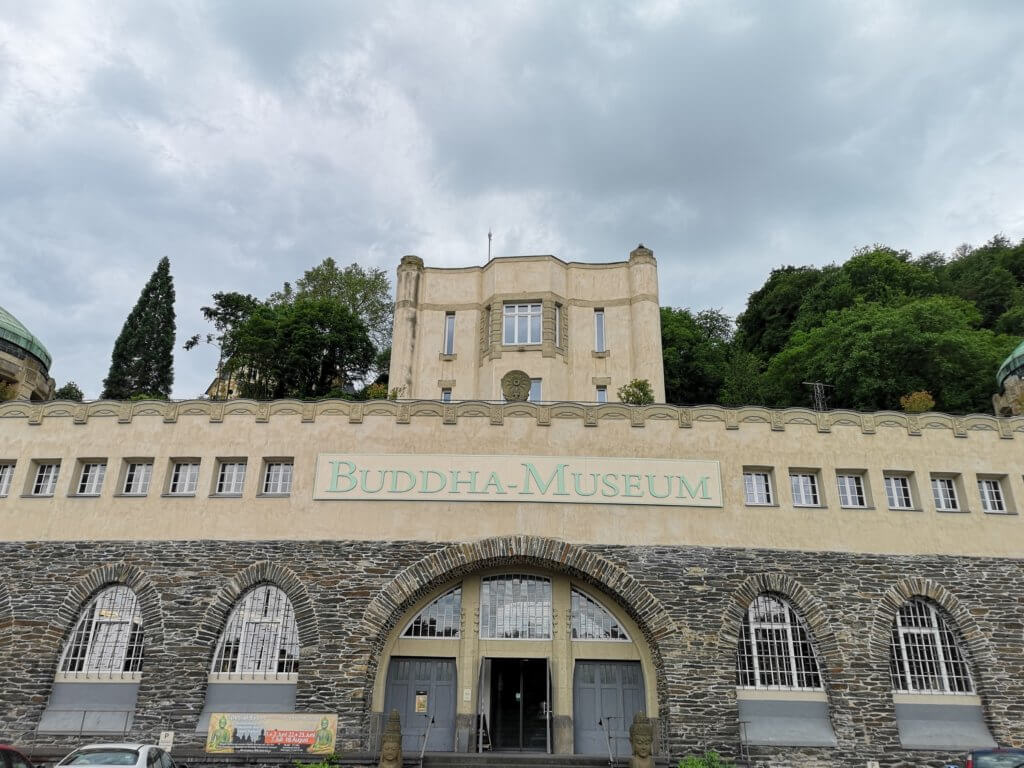 The Buddha Museum was of particular interest to me personally and I wanted to visit it at first. In my opinion, however, the entrance fee of 15 euros is a bit too high for a museum in a relatively small town. So I left it out. Everyone can of course decide for themselves. There was a family in front of me who would have liked to go in but decided against it because of the price. However, there are always events where entry is free.
Buddha Museum
Bruno Möhring 1st place
D 56841-Traben-Trarbach
Tel: + 49-6541-8165180
Fax: + 49-6541-8165188
Email: info@buddha-museum.de
Opening hours
Open Tuesday to Sunday from 10 a.m. to 18 p.m.
Last admission 17 p.m
Closed on Mondays
Everything at a glance
Accommodation: Be a frog!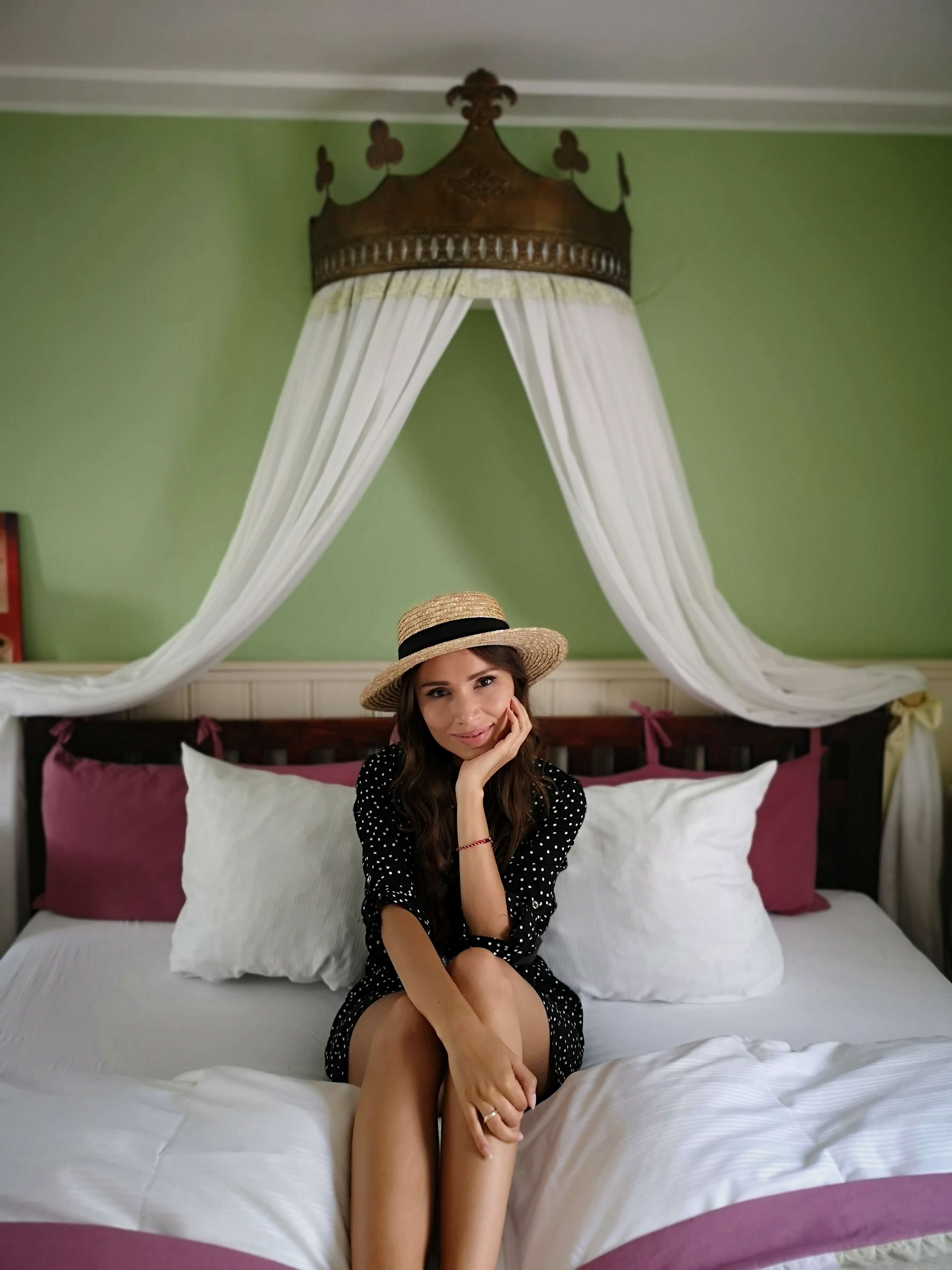 We were very happy to be guests in the fairy tale hotel again on our road trip to the Moselle. in the Frog Chamber Room we felt very comfortable. Each room in the hotel is unique and individually designed and furnished depending on the theme. Since we were guests here almost 10 years ago, we noticed that the hotel is now being re-managed. But this time we liked it even more! The staff is warm, courteous and very friendly. In addition to the perfect, central location in the old town of Bernkastel-Kues, we were also impressed by the quiet, lovingly prepared breakfast and the fantastic view of the vineyards. We would definitely come back!
Fairy Tale Hotel
Kallenfelsstr. 25-27
54470 Bernkastel-Kues
Germany
Phone: + 49 6531 96550
Fax: + 49 06531 1432
E-mail: info@maerchenhotel.com
Website: www.maerchenhotel.com
Bike Rental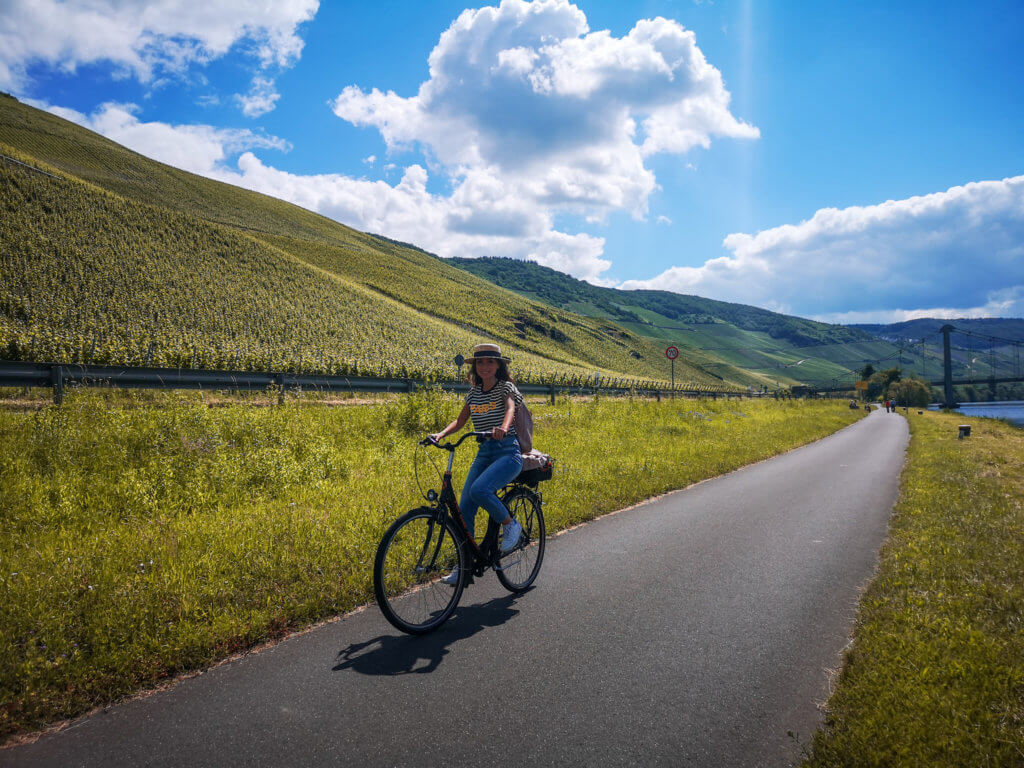 We have our rental bikes with us fun bike team borrowed. Collection and return went flawlessly.
Fun Bike Team Bernkastel-Kues
Schanzstrasse 22, 54470 Bernkastel-Kues
Myth Moselle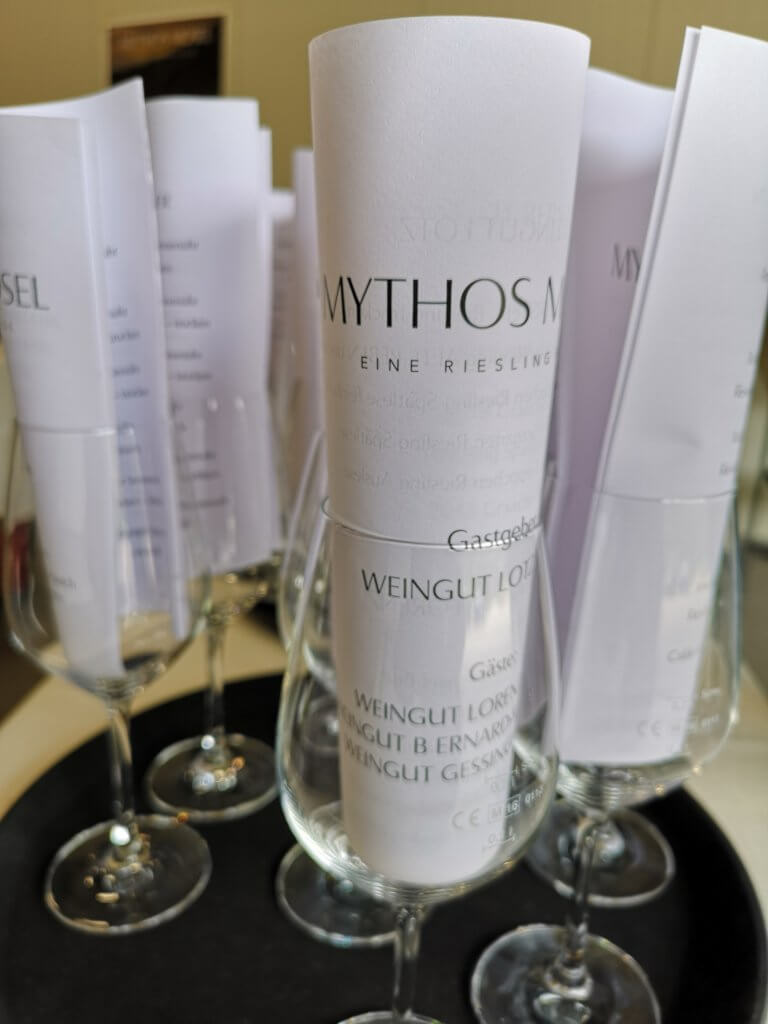 When?
Every year on the weekend after Pentecost
Where?
There are three approx. 20 km long Moselle sections that alternate according to rotation:
1. Ürzig to Briedel (2019)
2. December to Piesport (2020)
3. Kesten to Zeltingen (2021)
What does the entry cost?
Sample (VVK): Saturday = 40€, Sunday = 30€, 2 days = 55€
This includes access to all wineries, all tastings, water and bread, and the shuttle bus that connects the wineries.
Depending on the year, the opening ceremony costs between €150 and €200. (Tickets for the opening ceremony are limited)
You can find more information about the myth of the Moselle here
Restaurants & Culinary
We ate at the hotel's restaurant Year: 1640 and in the Taj Mahal eaten dinner. In both restaurants it tasted very good. Bernkastel Kues offers many regional dishes in the restaurants, such as "Gräwes" (a typical, hearty wine dish from the Moselle).
Since I mainly eat vegetarian food, I was happy to find a large vegetarian selection on the menu in the Taj Mahal. The food was incredibly tasty, fresh and you could choose the degree of spiciness when ordering.
Anno1640
Fairy Tale Hotel
Kallenfelsstr. 25-27
54470 Bernkastel-Kues
Germany
Phone: + 49 6531 96550
Fax: + 49 06531 1432
Taj Mahal - Indian & Pakistani cuisine
Hebegasse 1
54470 Bernkastel-Kues
Moselle loop Bremm vantage point
Events
Wine festivals, gourmet shows and events: we celebrate all year round! The Moselle region offers a variety of different events for all ages and tastes. Here you will find the event calendar of the Bernkastel-Kues holiday region with all events for the year 2019.
Summary
Holidays in Germany are always possible! And how! The Moselland has once again really convinced me of this. I could imagine spending a whole week on the Moselle. Because there really is something for everyone: whether cycling, hiking, taking part in wine tastings, boat trips, trying out new culinary dishes, attending the many festivals and events or simply enjoying sightseeing. It definitely won't be boring! Our Moselle road trip in June was a complete success!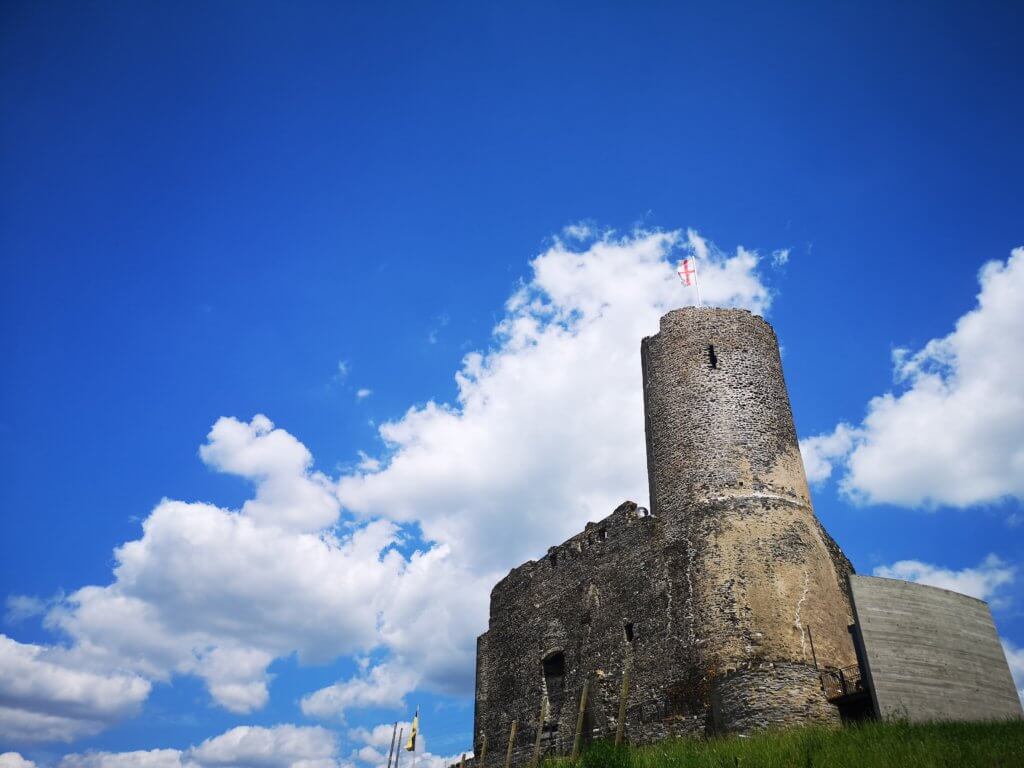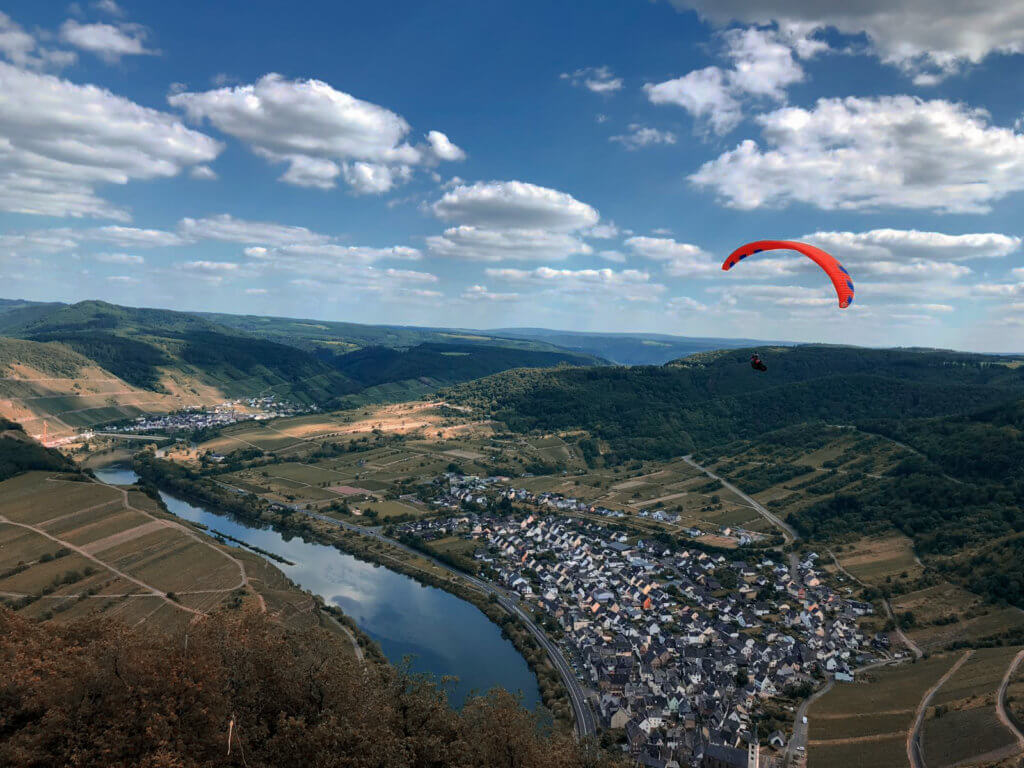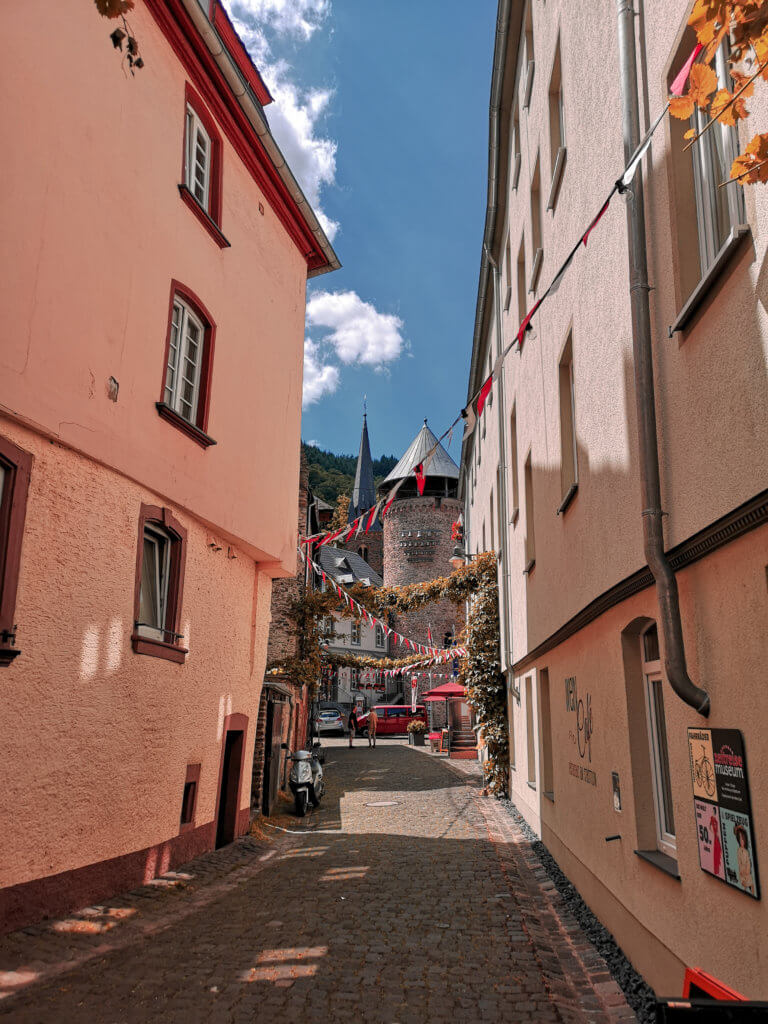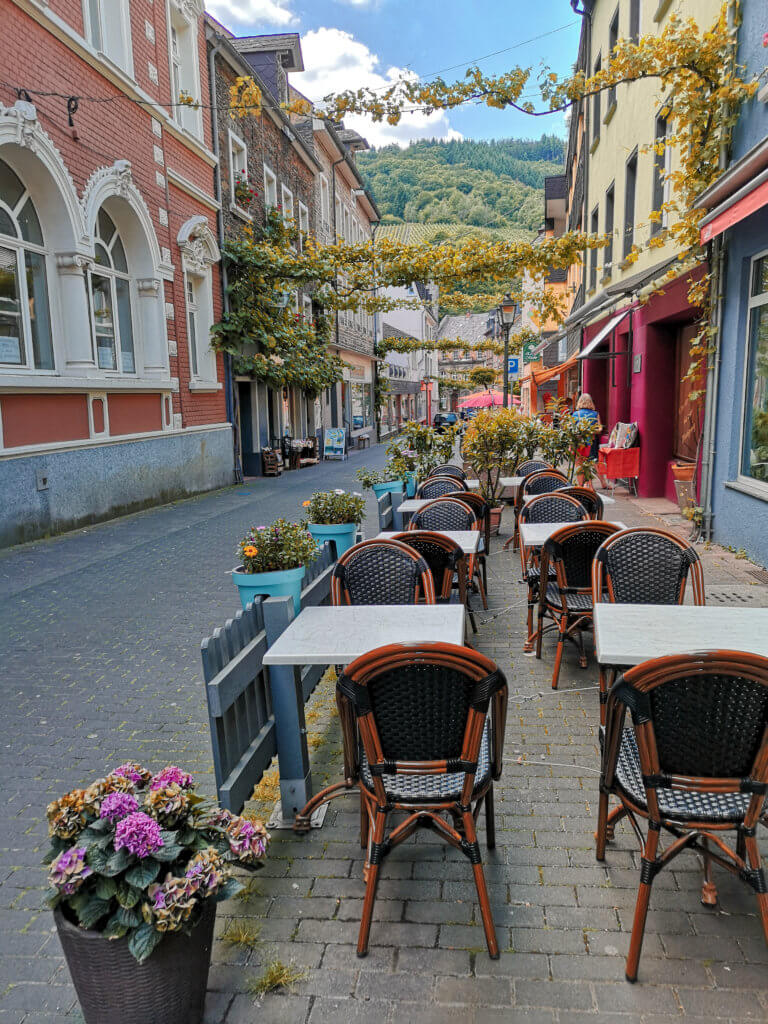 Related posts
Digital message in a bottle
Subscribe to our newsletter now and never miss an article again. In addition, you will receive exclusive travel tips, announcements and the latest news on the topics of personal development, spirituality and mindset.