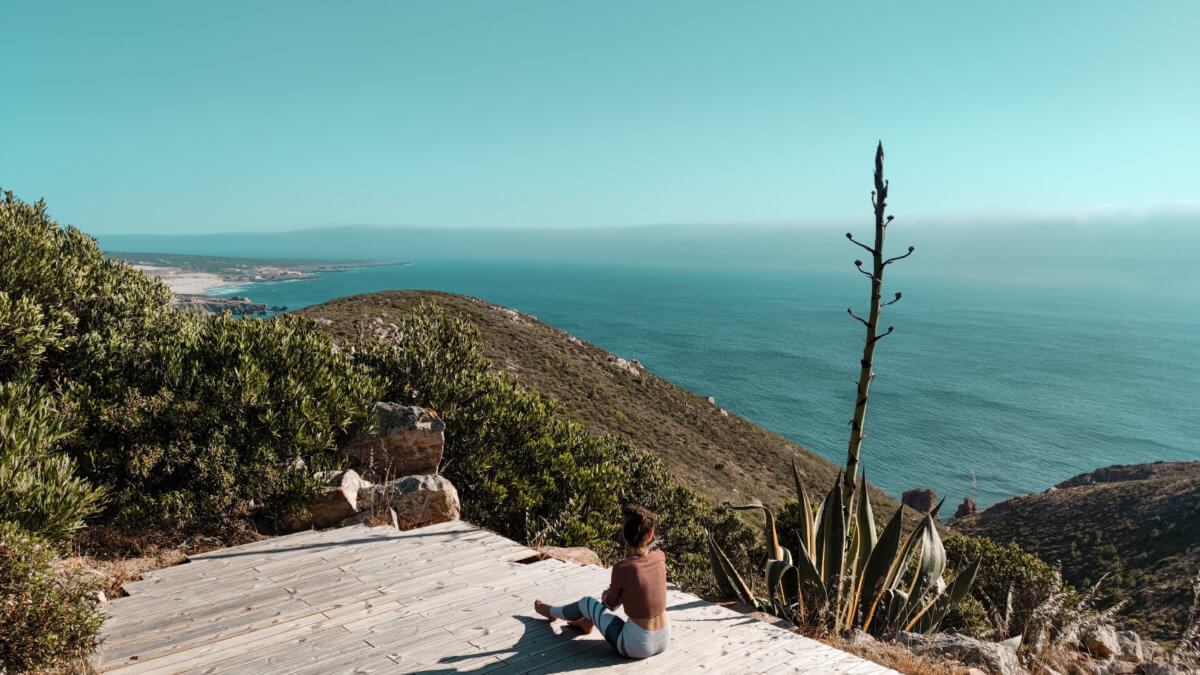 A week of yoga & surfing near Lisbon
Finally feeling sand under your feet again, getting a light sunburn on your nose and looking at the sea for hours. Is there anything nicer? For a week I have in Karma Surf Retreat spent in Figueira do Guincho. A week full of relaxation, sunsets, incredibly good food, wonderful people and breathtaking nature. In the 7 days, however, I was not just lazy. But on the contrary. As the name Karma Surf Retreat already suggests, you can go surfing here, but not only that. You can find out what I experienced at Karma Surf Retreat and why it was difficult for me to leave this place in my new article.
Surf Retreat Trio in Portugal – concept & surf retreats in Lisbon and the Algarve
Founded by the two Berlin school friends Timo and Jens, since 2013 a total of three chic surf retreat villas in Portugal have been inviting you to unforgettable yoga & surf experiences. You have the choice between the two villas Guincho Villaadding Guincho Bay Villa in the Lisbon area and the Algarve villa in the southwest of the Algarve. Around twelve guests share a villa in a relaxed atmosphere. The retreats include surfing, yoga, hiking, climbing and mountain biking. Waking up with breathtaking views included 😊 Founded in 2013 Guincho Villa located in Malveira da Serra about 10 minutes drive from the Guincho Bay Villa away, and also offers an enchanting sea view.
Karma Surf Retreat in Guincho Bay Lisbon
I was accommodated in the beautiful new Guincho Bay Villa, which opened its doors in 2018. The modern and at the same time cozy property is enthroned on a large rock in the picturesque Figueira do Guincho, in the Serra de Sintra nature reserve, only approx. 35 minutes by car from Lisbon. The unique view with an unobstructed view of the Atlantic Ocean and Praia do Guincho is simply terrific! I could have spent all day watching the surreal cloud formations slowly blend into the sea, bathing the area in a sea of ​​clouds and shimmering in myriad shades of blue. As soon as I arrived, I was reminded of Hayao Miyazaki's film Castle in the Sky.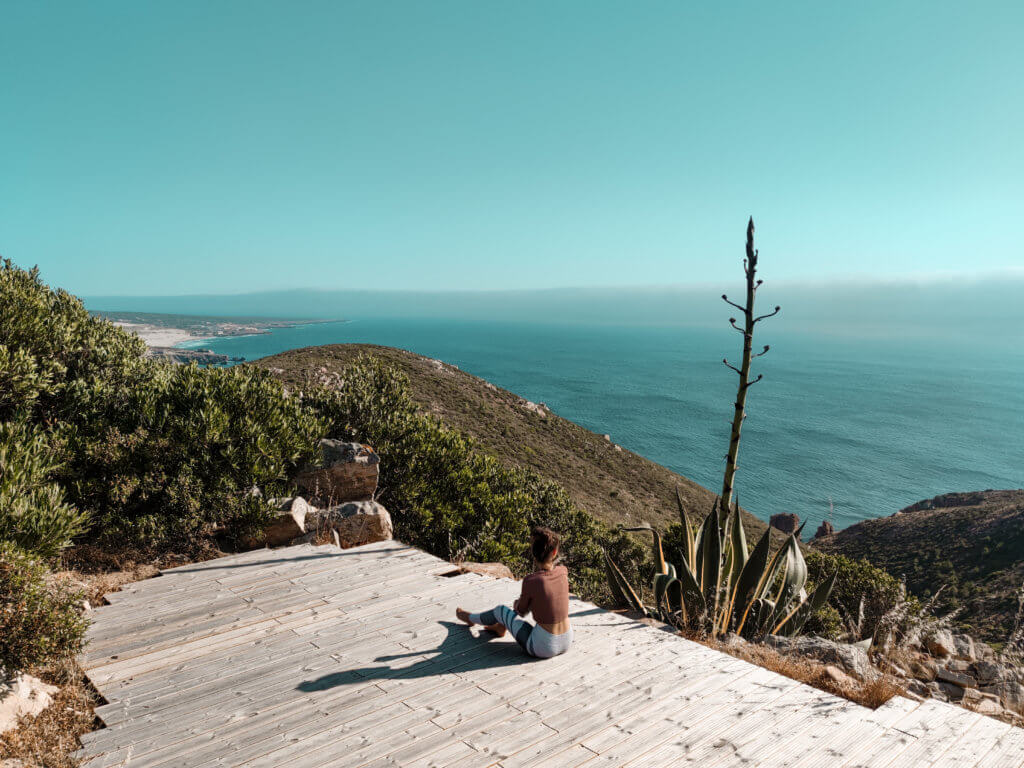 The Guincho Bay Villa – Heavenly Beautiful in 50 Shades of Blue
The villa has 5 rooms and one apartment. A beautiful panoramic view of the wild coastal landscape can be enjoyed from every room. The magnificent south-facing location ensures pure sun all day long, provided it is cloudless. But even with clouds, the location has its charm, with the fantastic and almost mystical view of the cliffs and the ocean, which shines together with the sky in countless beautiful shades of blue. The property with a natural garden is surrounded by a wild and romantic coastal landscape.
Small chill-out oases and retreats can be found in the middle of this natural space, such as the wonderful meditation deck, the large open-air yoga platform with sea views, or the hammocks by the pool. Every now and then peacock calls can be heard from the neighboring property, which almost gives the property an exotic touch. At the large pool area there is also a cozy wooden sauna and a whirlpool with - how could it be otherwise - a view of the ocean. In the large garden, they grow their own vegetables and herbs, which Leonor uses in their delicious dishes.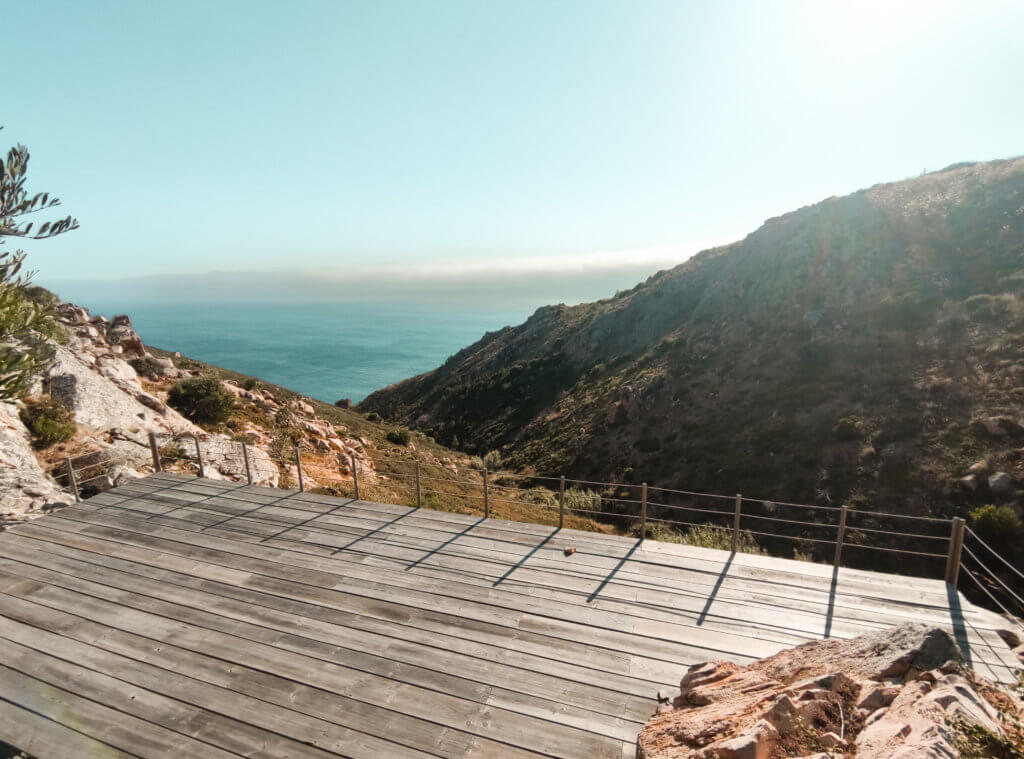 Coliving & Coworking near Lisbon - Work from anywhere at Karma Surf Retreat
Not only for surfers & yogis, but also for digital nomads the Karma Surf Retreat is an interesting address. If you can work remotely and want to live near Lisbon and Cascais for a while, you can stay at Karma Surf Retreat for a longer period of time and enjoy the fabulous sea view every day. It definitely won't be boring, because for the perfect work-life balance you can do yoga, go surfing, use the sauna, pool and jacuzzi, explore the varied area and get to know like-minded people.
Furnishings - modern, comfortable & with attention to detail
As soon as I arrived I felt at home. This was mainly due to the warm welcome from the wonderful Leonor, whom I will present in more detail in a moment, as well as the bright, friendly rooms of the villa. Each room is tastefully furnished in a Mediterranean, casual style and with great attention to detail, neither overloaded nor too cold. As soon as you enter, you immediately have this wonderful "house by the sea" feeling. This is due in particular to the spacious Ocean Lounge with a large dining table and lounge terrace. While sipping a glass of wine, tea or coffee, you can look out of the huge picture windows directly onto the ocean and the Praia do Guincho. Splendid!
The living and dining area consists of two large rooms. A super-comfortable, large couch is available for guests in the entertainment room. The room is also equipped with a video projector, PC, TV, jukebox, SONOS sound system and pool table. So nothing stands in the way of cozy game and film evenings 😊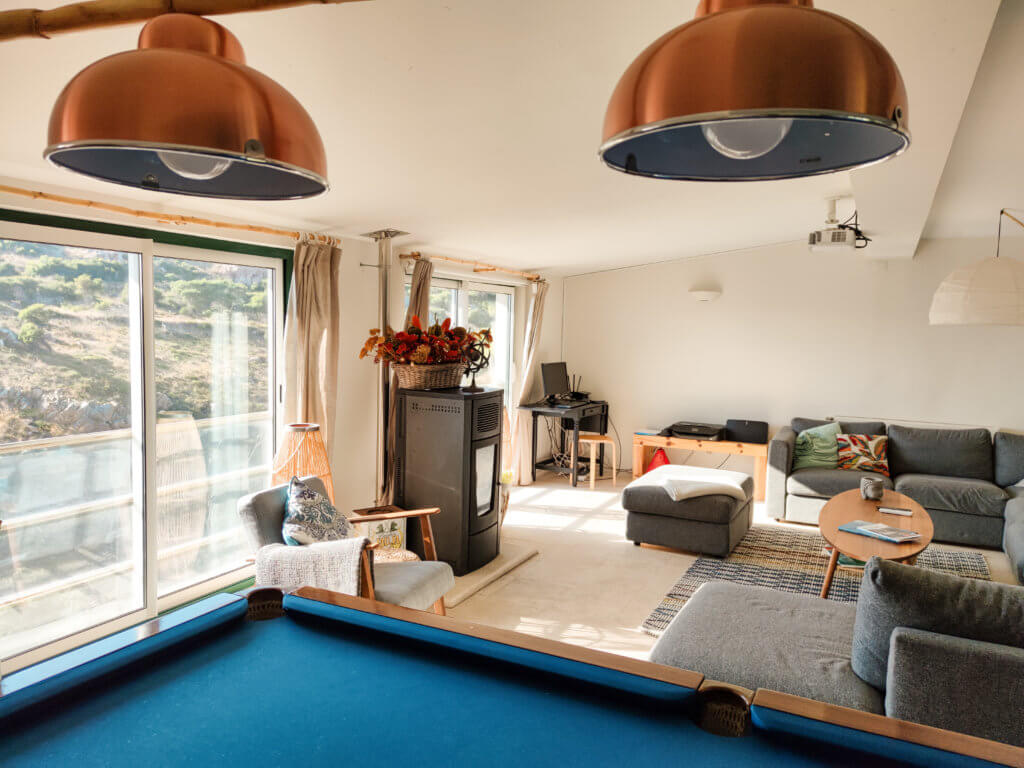 Karma Surf Retreat Rooms at Guincho Bay Villa - No fuss, with heart & great views
The rooms in the Guincho Bay Villa, like the living and dining area, are furnished with love and in a Zen style - simple, cozy and without fuss. 3 of the rooms offer a wonderful sea view. I was lucky enough to stay in room 4 - with a fantastic view of the pool area and the ocean. Two rooms have their own bathroom, others have shared bathrooms, i.e. bathrooms that are shared with other guests. The villa also houses a separate ground floor apartment with its own entrance - ideal for families or remote workers planning a longer stay in this magical place.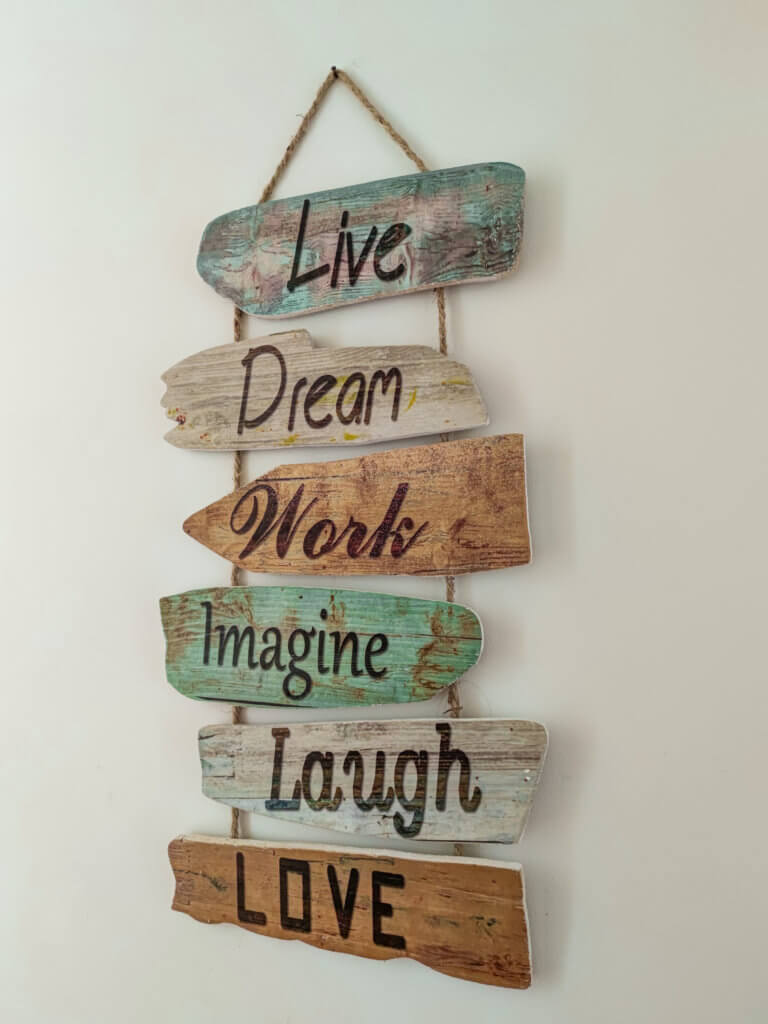 Atmosphere – Not at home and yet at home
Now we come to the special atmosphere in the Karma Surf Retreat. As soon as I arrived, I felt "at home" in a way I've rarely experienced in a new place. This is mainly due to eating together with the other guests, as if you had rented a house with good friends. On the other hand, the wonderful Leonor in particular helps to make you feel comfortable in the retreat right away.
Healthy food: Feast like at mom's
Leonor is not only a gifted cook, but also the good soul in the house. Everything she prepares is incredibly delicious and cooked with so much love. The kitchen is always open and Leonor always has an open ear for a chat. And I think this good energy of a loving household is also noticeable in the taste of the food. That's why the OM is often replaced by an enjoyable "Mmmmh" at breakfast, lunch and dinner. Every Wednesday there is also an excellent seafood dinner with several courses. Every day she conjures up fresh delicacies and also takes into account vegetarian and vegan dietary requirements. Only fresh ingredients are used, lots of vegetables, fruit and herbs. The breakfast is a dream: homemade porridge, lots of fruit, including papaya, homemade jam and much more.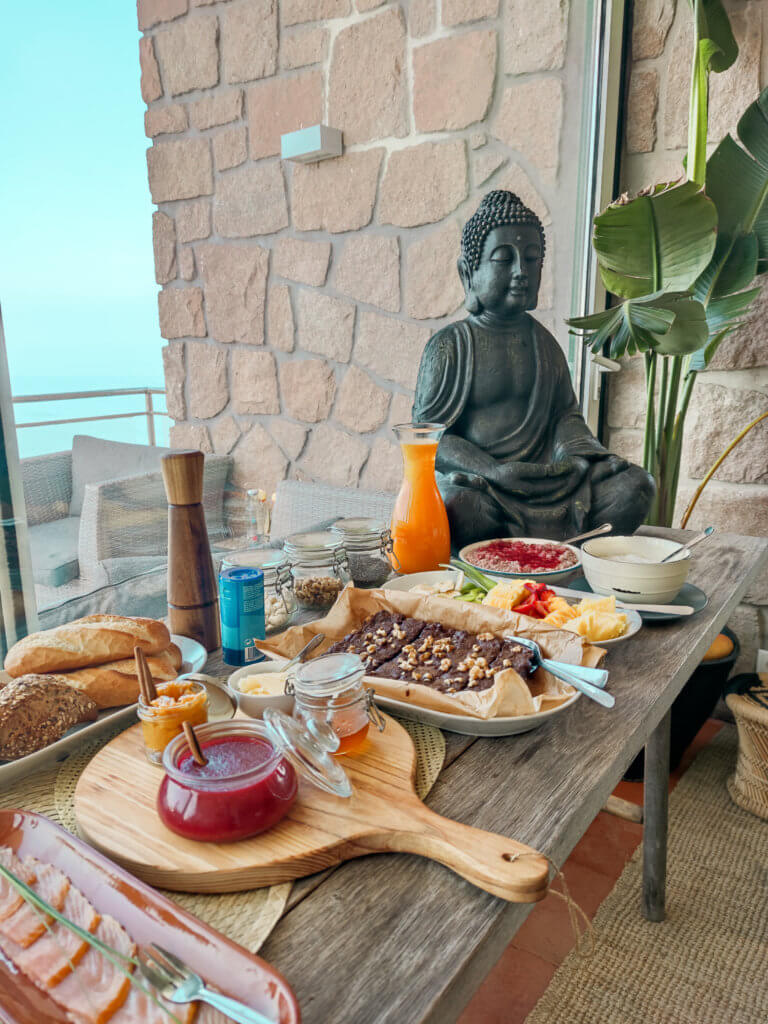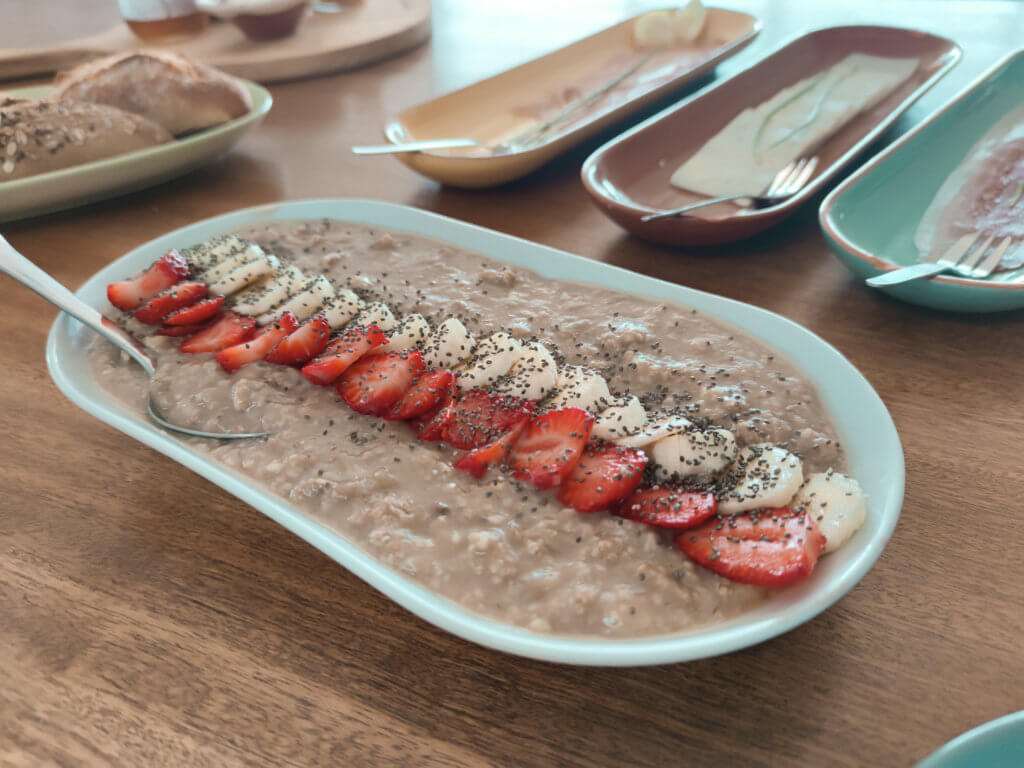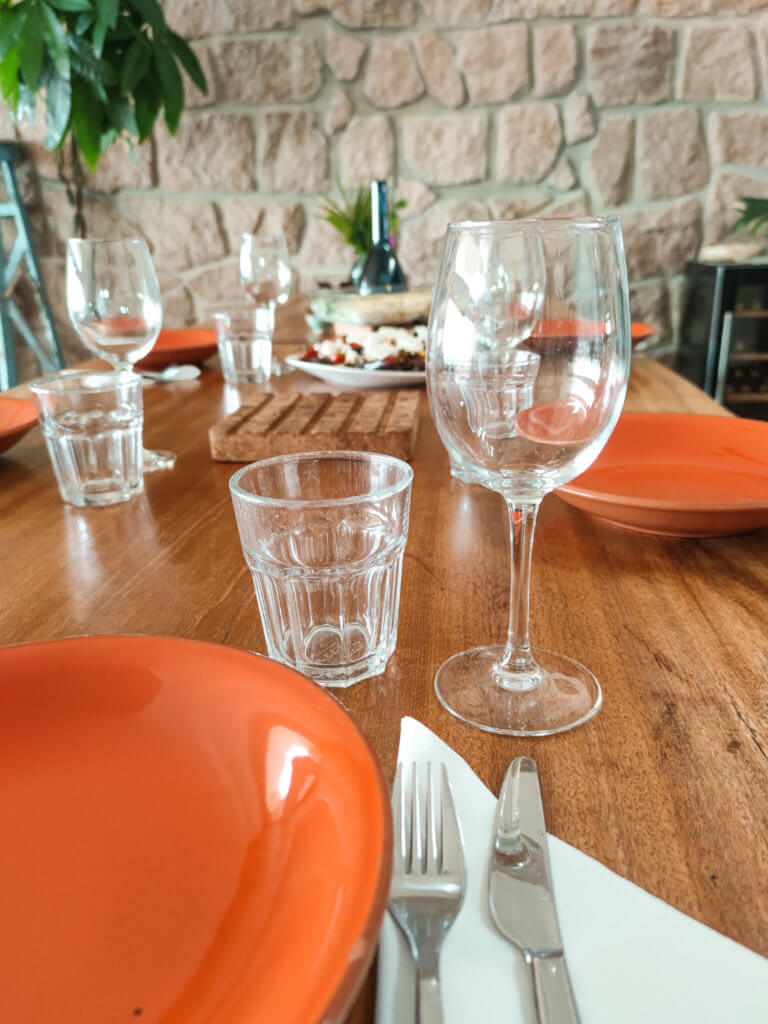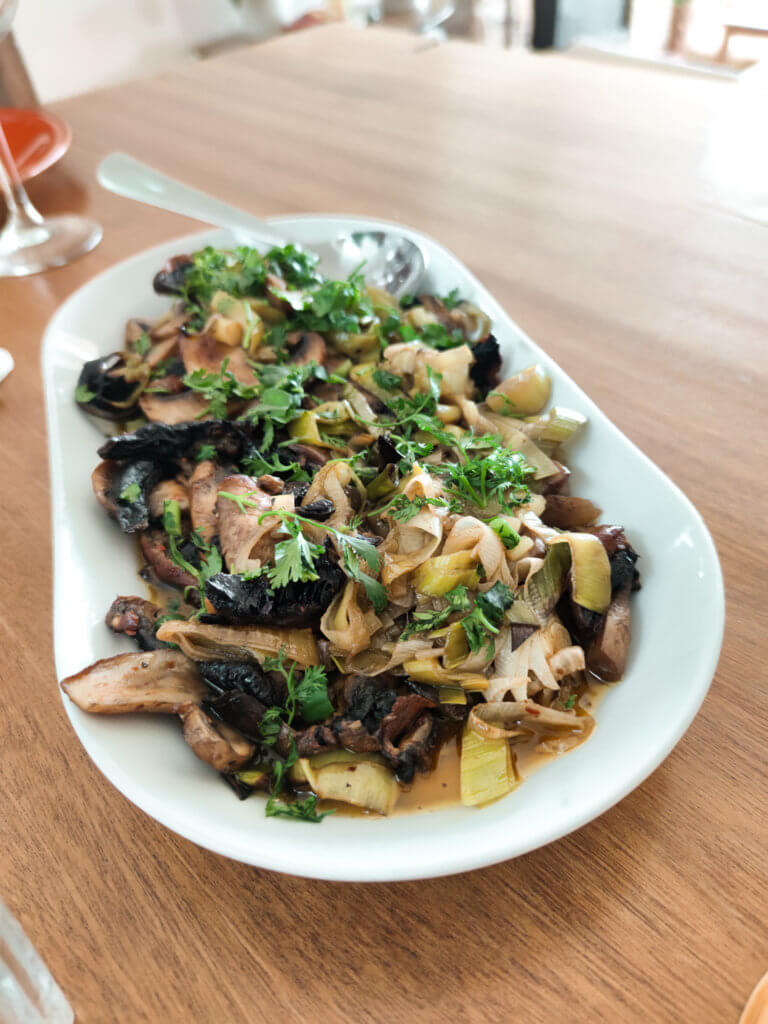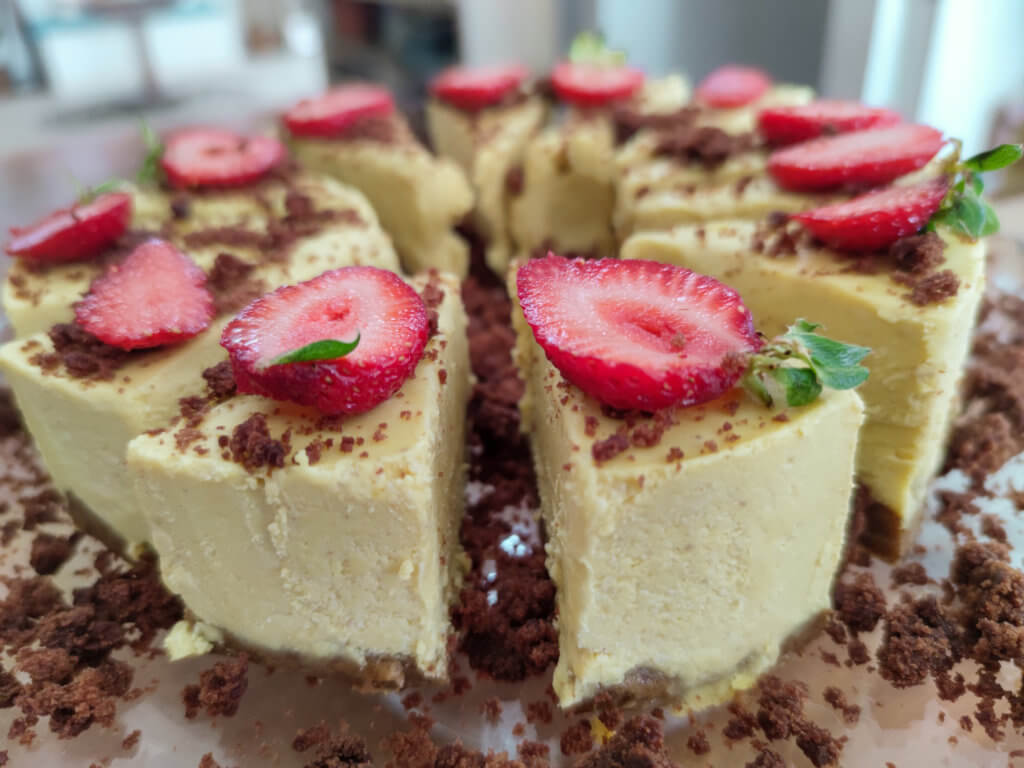 Ideal for solo travellers, couples and families
Peace seekers will definitely find what they are looking for here without feeling lonely or bored. The informal, relaxed atmosphere makes that possible Karma Surf Retreat therefore especially for solo travellers Interesting. If you travel alone, you will quickly make new friends, but you also have the opportunity to be on your own at any time and to pursue your own activities and travel plans. The Guincho Bay Villa is also great for couples and families. Because if you only think of party-mad youth when you think of "surfing", you haven't been to a Karma Surf Retreat. Families and travelers with children can book the Yoga & Surf Family package. While the parents relax and enjoy the surf lessons, the offspring are looked after in the villa or on the beach. Or you all go surfing together. Depending on the age of the children, the little ones can also learn to surf here.
Yoga at Karma Surf Retreat
Yoga takes place five days a week, mornings and evenings. The morning yoga session is perfect for waking up and warming up before surfing. The evening yoga round, on the other hand, is an ideal balance to rest and relax. Incidentally, yoga and surfing complement each other perfectly, since the basic requirements are the same in many respects. Both activities are about balance, flexibility, coordination, strength, rest and endurance.
I'm still blown away by them fantastic yoga teachers, which could not be more different. But it is precisely this mix that makes every yoga session exciting and unique in its own way. For example, Lisette focuses on the principles of hatha and yin yoga and also takes into account the spiritual side of yoga practice. With Silvia, the day is particularly powerful and full of energy. Her smile is simply contagious! And Isa gave me so many valuable tips and helpful corrections along the way that I definitely want to continue to integrate into my yoga practice. And yes, an intense soreness was my faithful companion for several days. Because suddenly I noticed muscles in places that I didn't even know were there.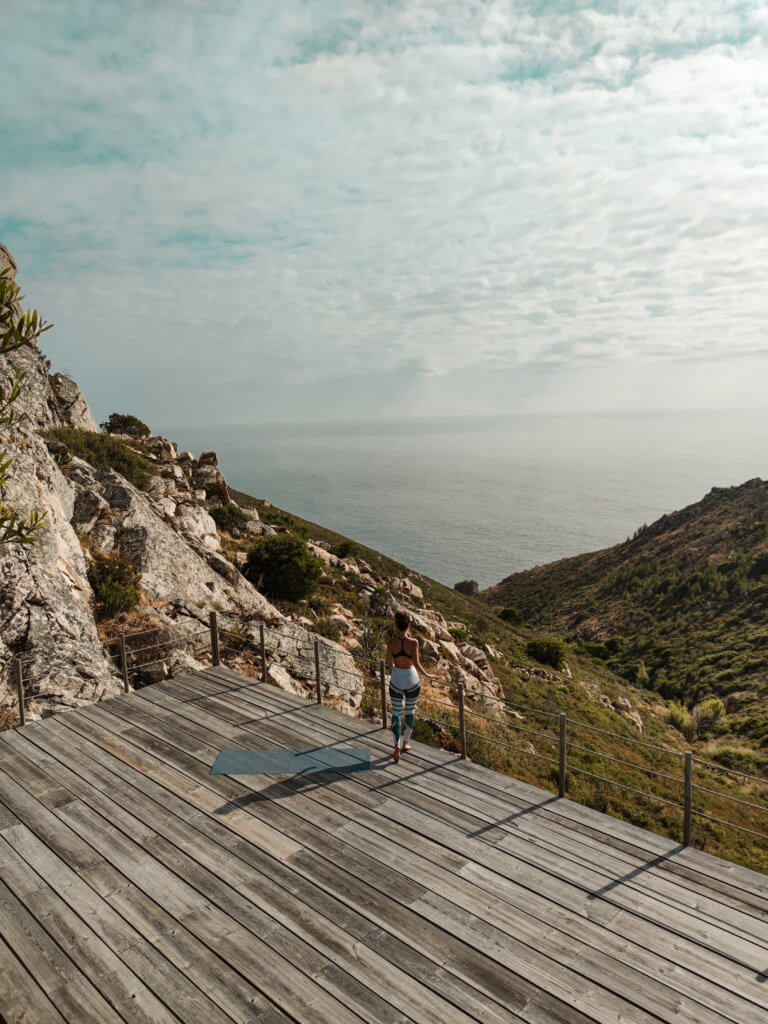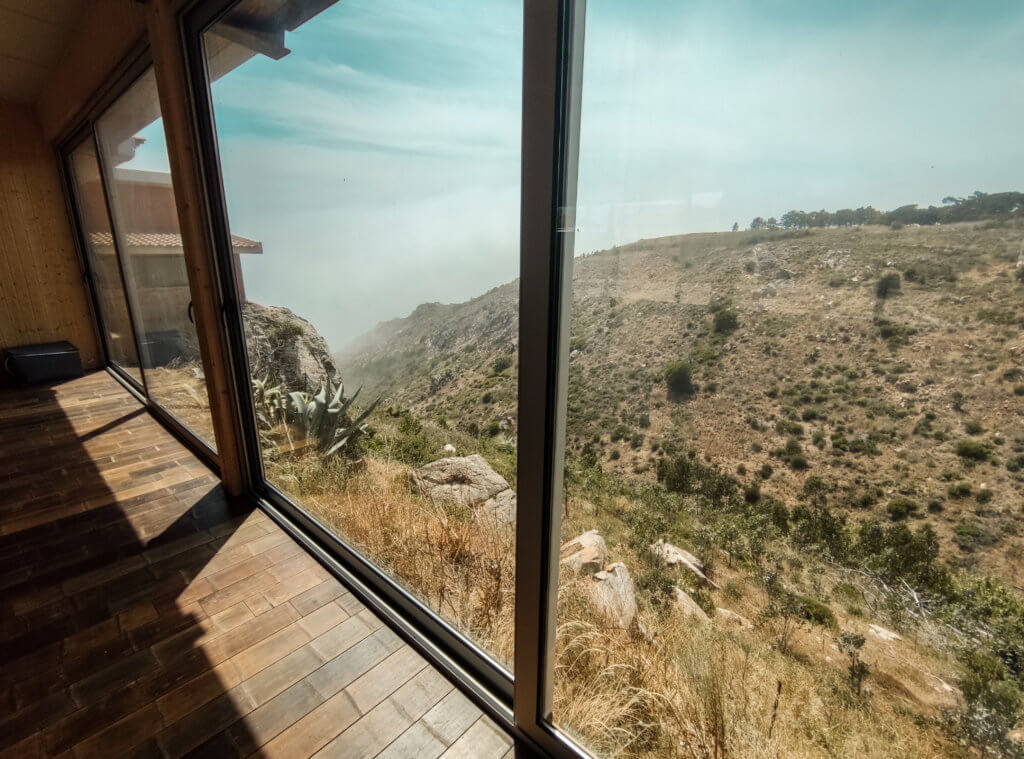 Surfing at Karma Surf Retreat – Of bruises and feelings of happiness
Before staying at Karma Surf Retreat, I had only surfed once in my life, back in Morocco over three years ago. But that felt like an eternity ago and I had almost forgotten how much fun it is! Again my heart was pounding in the waves. But my excitement slowly subsided, wave by wave. But that was mainly due to the patient and experienced surf instructors Joao and André. "Play a song in your head!" André said to me and thanks to his tip I actually managed to surf my first small wave. Above all, surfing should be fun. It felt good to encounter the sea in a playful way and to let go of all the tension of everyday life, to keep falling off the board and trying again.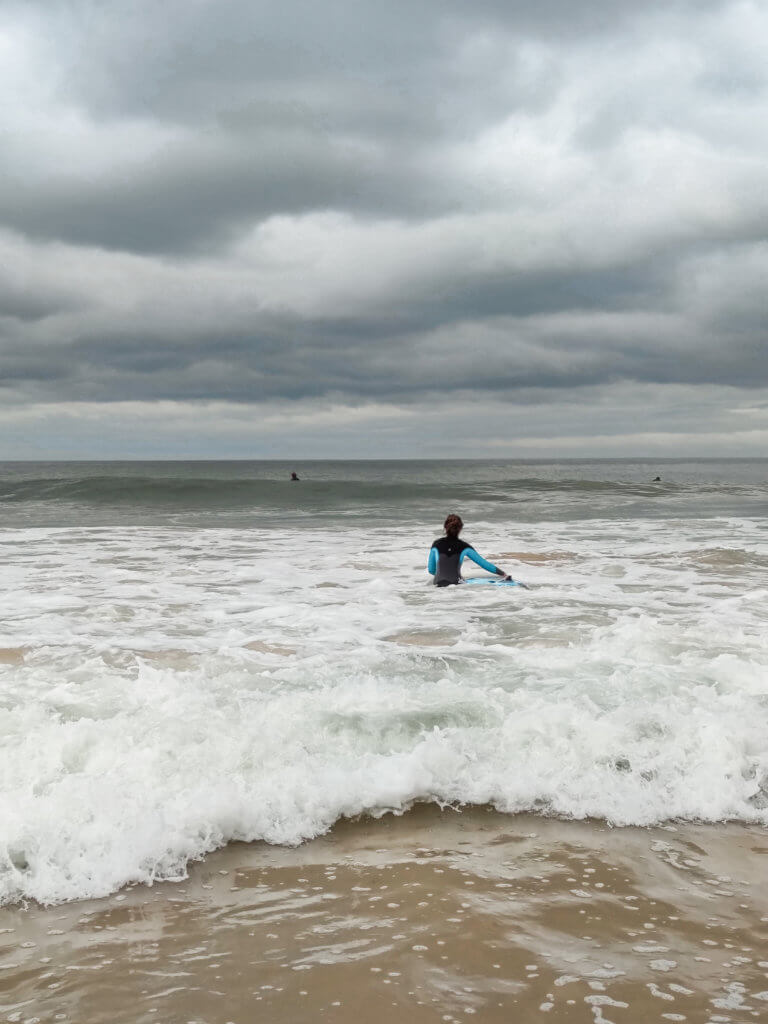 Wellness for body and soul
The following days I was back on the board, at least I tried. Of course I got a bruise or two as a souvenir, but it was definitely worth it to me. Because the rest of the day after surfing I was beaming. There is just something invigorating about being in the water for several hours that is almost impossible to put into words. After surfing, I always felt a bit like a spa treatment.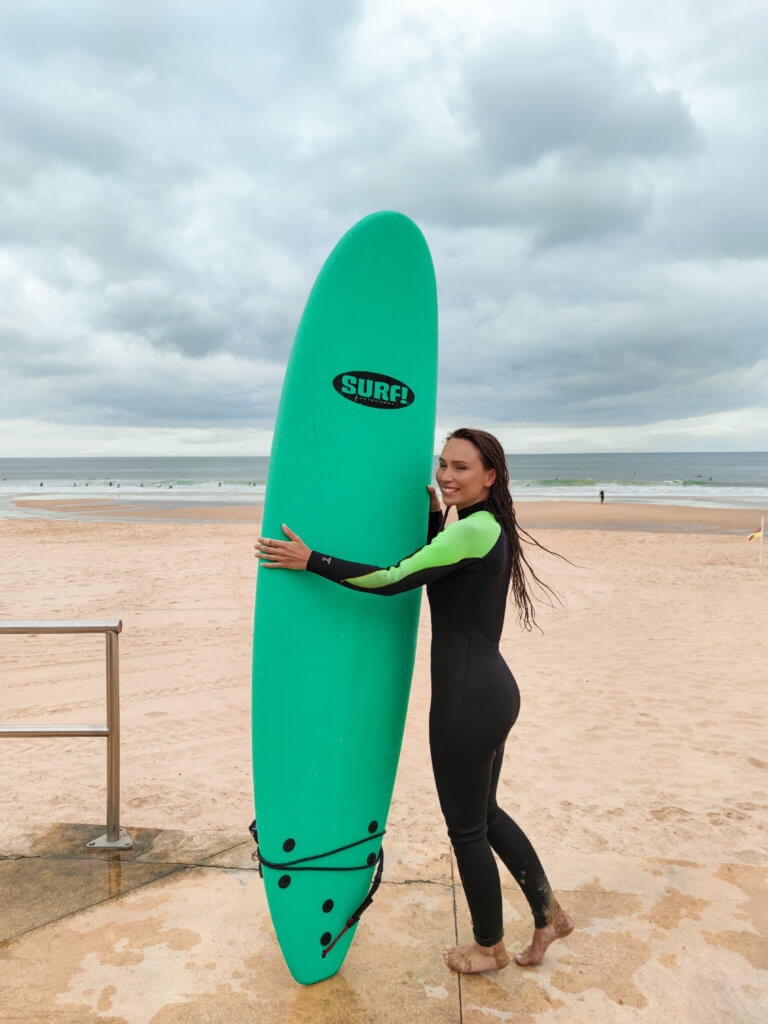 Climbing in Guincho and surroundings
Rugged cliffs and huge granite rocks make the area around the Guincho Bay Villa an exciting adventure area for climbing fans. I didn't go climbing myself, because I just don't want to be a climber anymore in this life, but if you enjoy it, you can go climbing at great locations right on the coast.
Hiking - The Sintra Cascais Nature Park makes hikers' hearts beat faster
On the second day of my trip, two other guests from the villa went on a hike to Praia do Guincho. Along the coast there were wonderful panoramic views of the sea, lonely fishermen and deserted bays. After about 1.30 a.m. we arrived at Praia do Guincho and strengthened ourselves in the Bar do Guincho. So at the ocean, sipping fresh watermelon juice, you could bear it well and life almost felt normal again despite the pandemic.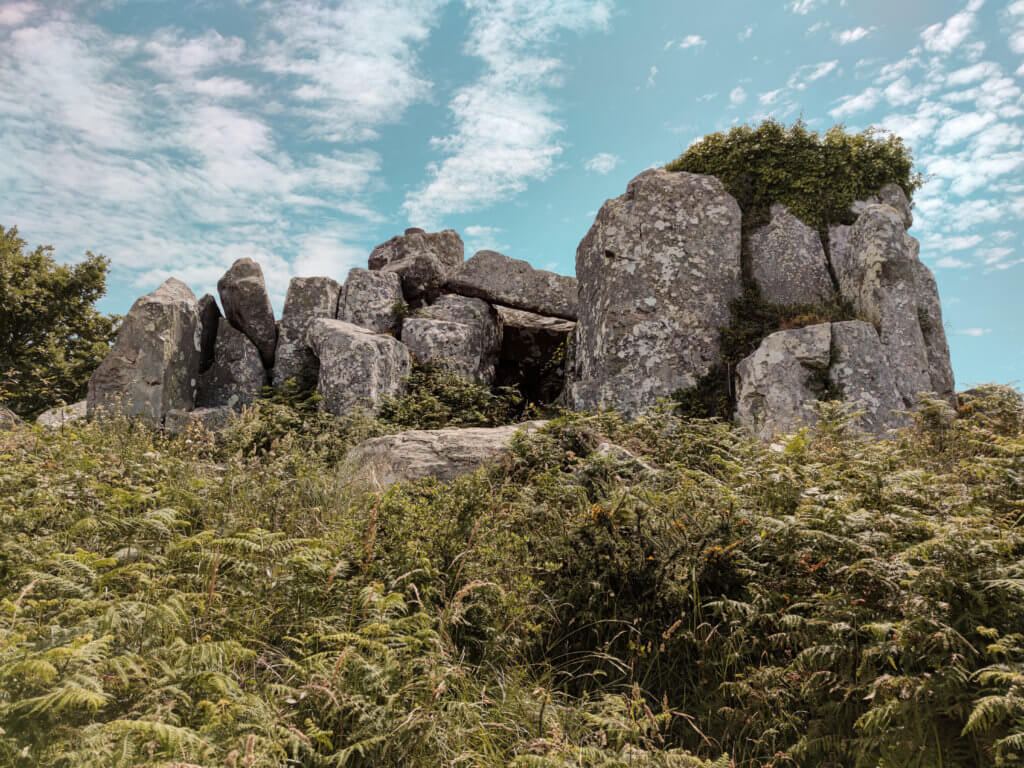 Selection of sights & excursions in the area
The Guincho Bay Villa is a good starting point for numerous excursions. However, you are most flexible with a rental car. You can find out where and how you can book a cheap rental car here read. I was particularly impressed by the variety of sights: travelers can expect a colorful range of historic cities, lots of culture and history, varied nature and dream beaches.
Sintra and probably the most colorful palace in the world
Located in the mountains of the Serra de Sintra, Sintra is one of the most historic cities in Portugal and a popular day trip destination. The cultural landscape of Sintra has been a UNESCO World Heritage Site since 1995. Rightly so, because Sintra invites you to take a journey through time, which can sometimes last longer than just one day. The city's landmarks are the Palácio da Vila and the colorful Pena Palace, which is just outside the city.
And the Palacio de Pena is definitely the most colorful palace I've ever seen, provided that the sun is shining. During my visit I was able to experience a rather rare picture, because the palace was shrouded in fog and haze. The sight was almost eerie and at the same time overwhelmingly atmospheric, how the colorful little towers rose up out of the wafts of fog. It is not only the many colors of the castle that are striking, but also the different architectural styles that have been deliberately combined.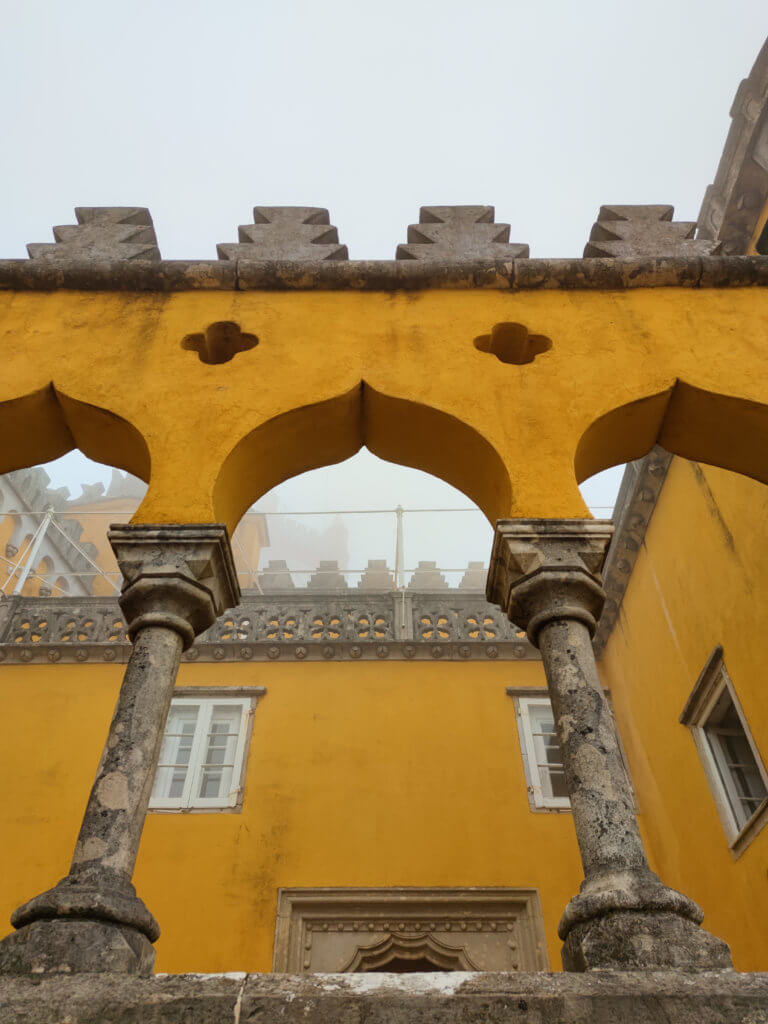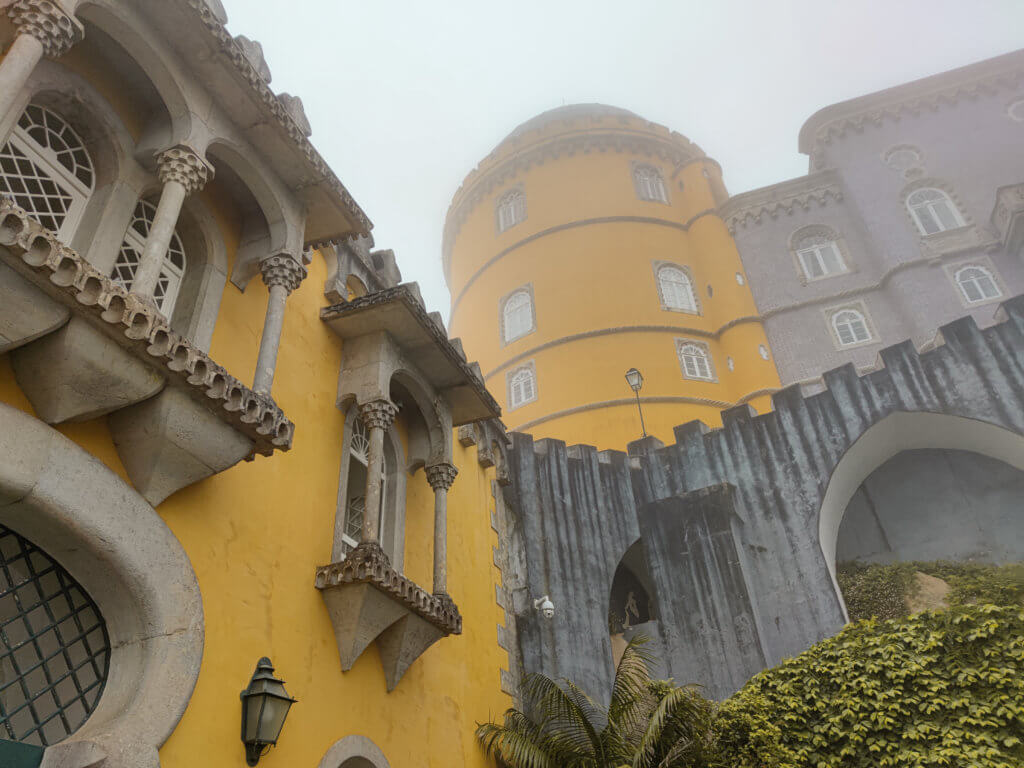 The 85-hectare park that surrounds the palace is also a must-see. In particular, the exotic plants and trees, such as the giant sequoias but also the Tuia giants, also called giant trees of life, are impressive. Unfortunately, I was not so lucky with the weather on my trips to Sintra. It was very foggy and rainy on both days, but the park unfolds a very individual magic even when the weather is gray. In places I felt like I was in an exotic rainforest.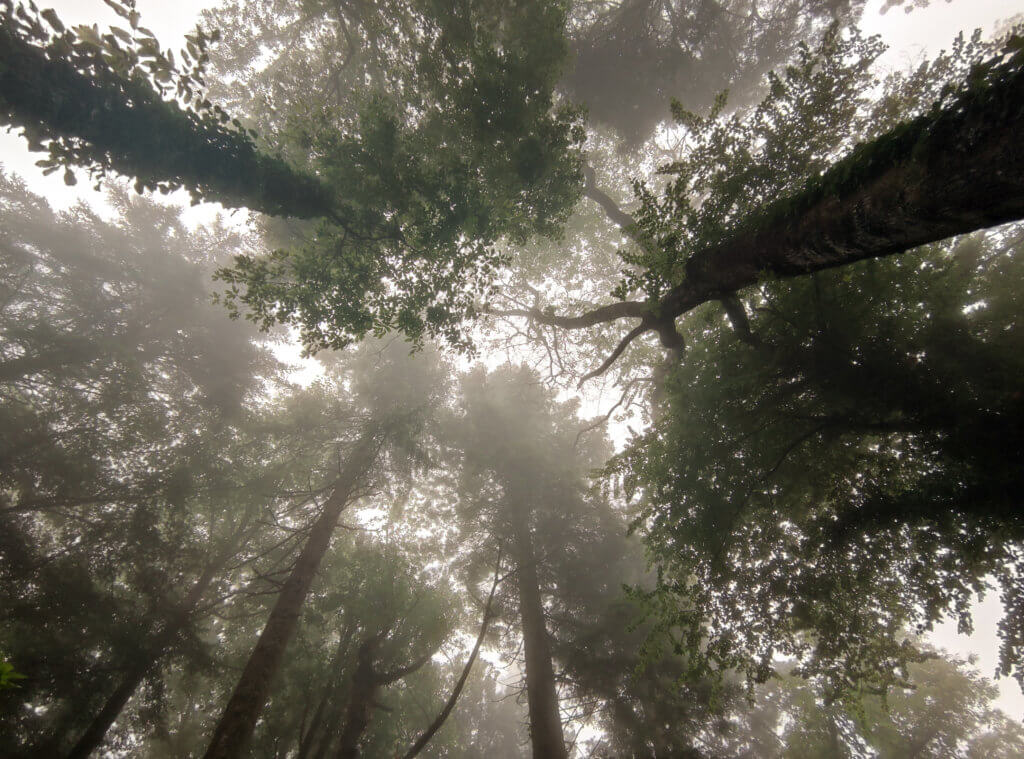 Insider tip Peninha Monastery and "Fairy Tale Forest"
When I think of Portugal, images of lively, colorful cities by the sea, surfers and miles of dream beaches immediately come to mind. But the country has many more facets. Such as this insider tip pearl in Pena. The Santuário de Peninha is a former Capuchin monastery and is located on one of the highest points in Serra de Sintra. You can find the monastery on the road from Guincho to Colares, a scenic route along the coast with lush vegetation that is rather rare to find in the area.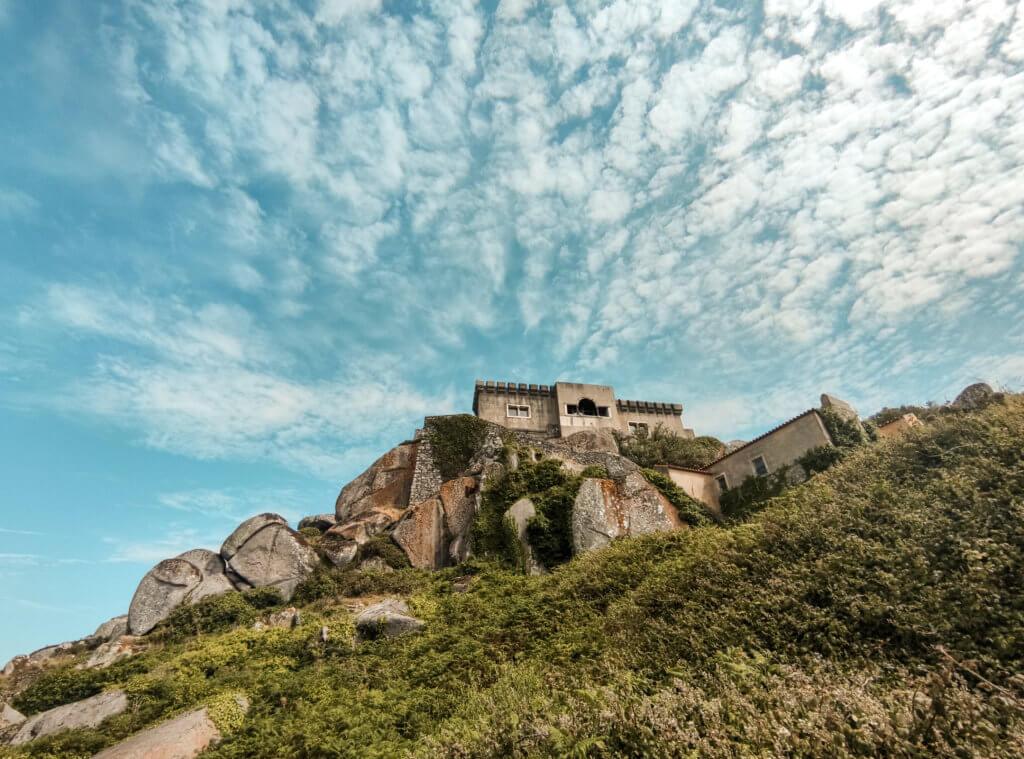 The Santuário da Peninha consists of a chapel, several stables and a palace. The visit is free, unfortunately the palace is closed to the public but it is definitely worth taking a stroll around the grounds. In such a lonely location, the monastery offers a lot of peace and fantastically beautiful views over Pena, Cabo de Roca, Cascais, Praia do Guincho and, if the view is particularly good, even over Lisbon. In the old chapel there is a special atmosphere full of silence and the past. On the floor was an old, yellowed photo that probably wants to stay there. In the immediate vicinity of the monastery there is a beautiful forest, which is ideal for refreshing hikes. An almost enchanted place, filled with the scent of pine and eucalyptus. A humid microclimate allows for this large forest, which definitely stands out in the landscape of the region. Ever since I moved to the Black Forest, forests seem to have followed me. But that's probably selective perception 😉
Anta de Adrenunes, an unusual dolmen, is also exciting, with scholars differing as to whether the large blocks of stone really are megalithic complexes or whether the positions of the stones came about naturally.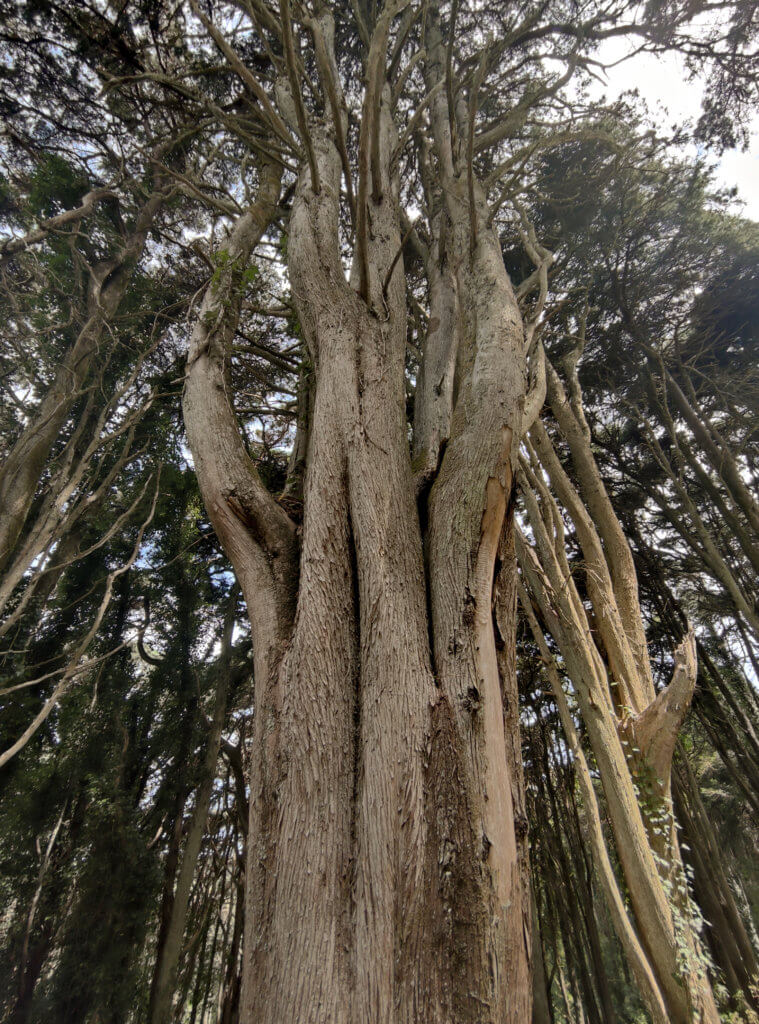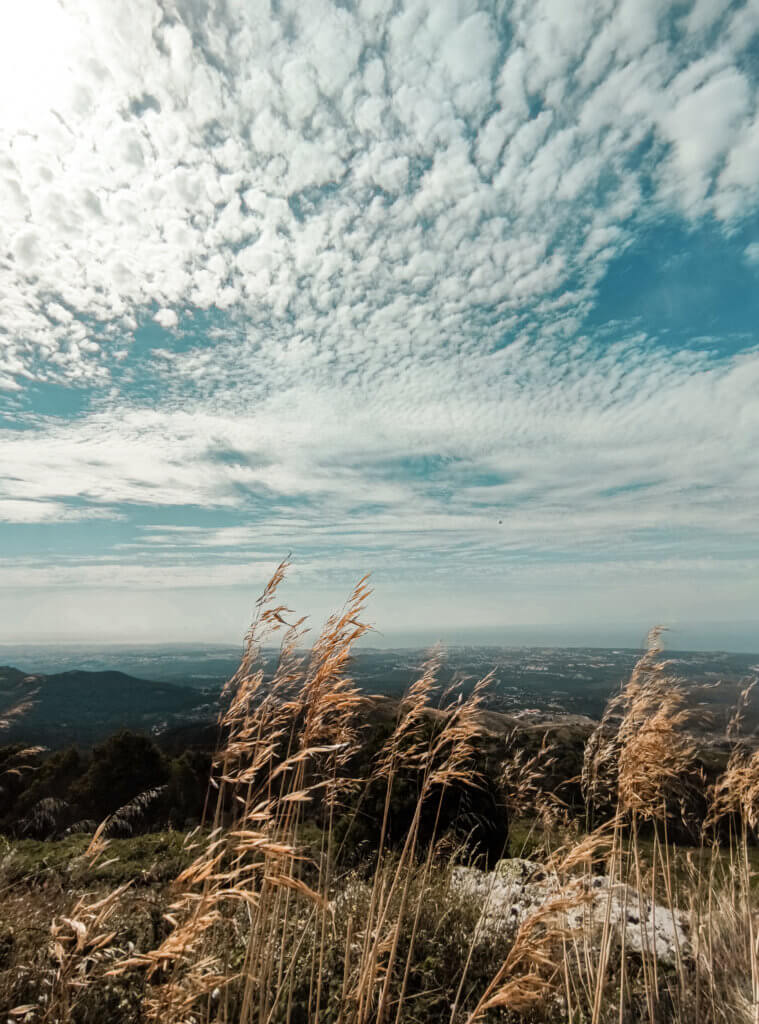 Lisbon – metropolis, river & sea
Colorful tiles on the house facades, crooked Alleyways and the famous yellow tram 28: Lisbon is a sight full of sights in its own right! The city, built on seven hills, offers a program rich in contrasts between the past and the modern. From Karma Surf Retreat in Guincho Bay you can reach Lisbon in just 35 minutes by car. There is also a train connection from Cascais to Lisbon. The imposing suspension bridge, which always reminds me of the Golden Gate Bridge, can be seen from the plane.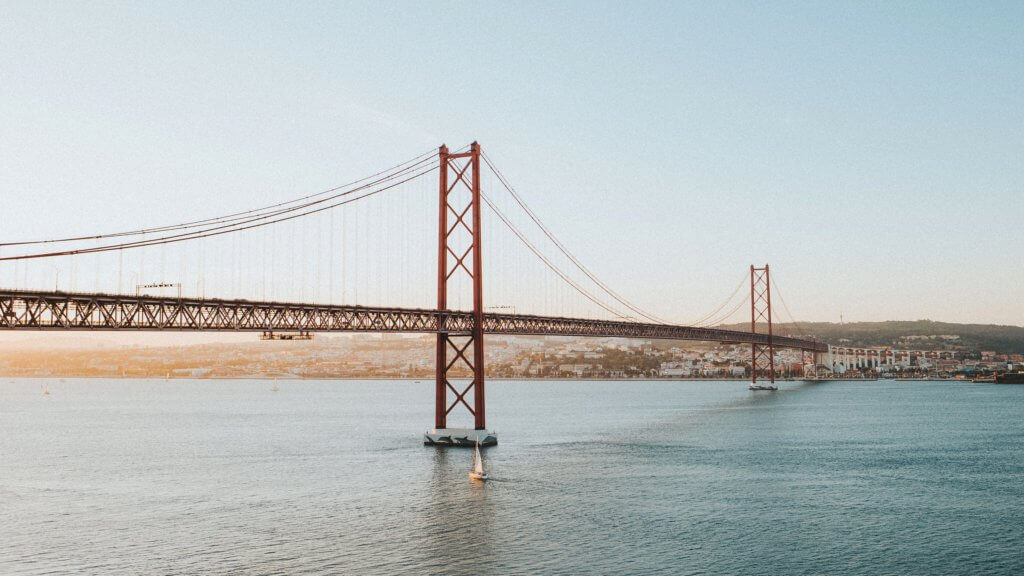 Cascais - Charming little seaside town
Cascais is just 12 kilometers from Karma Surf Retreat. The former fishing village is now a picturesque town with many cozy restaurants, a cozy old town and a fishing beach with postcard potential. The direct beach location as well as the historical sights attract numerous visitors to Cascais every year. The town and the surrounding area are great for exploring by bike. Until 2016 you could rent bikes for free, but now there is a fee for bike rental, but at a price of €3,90 per day it is really very moderate.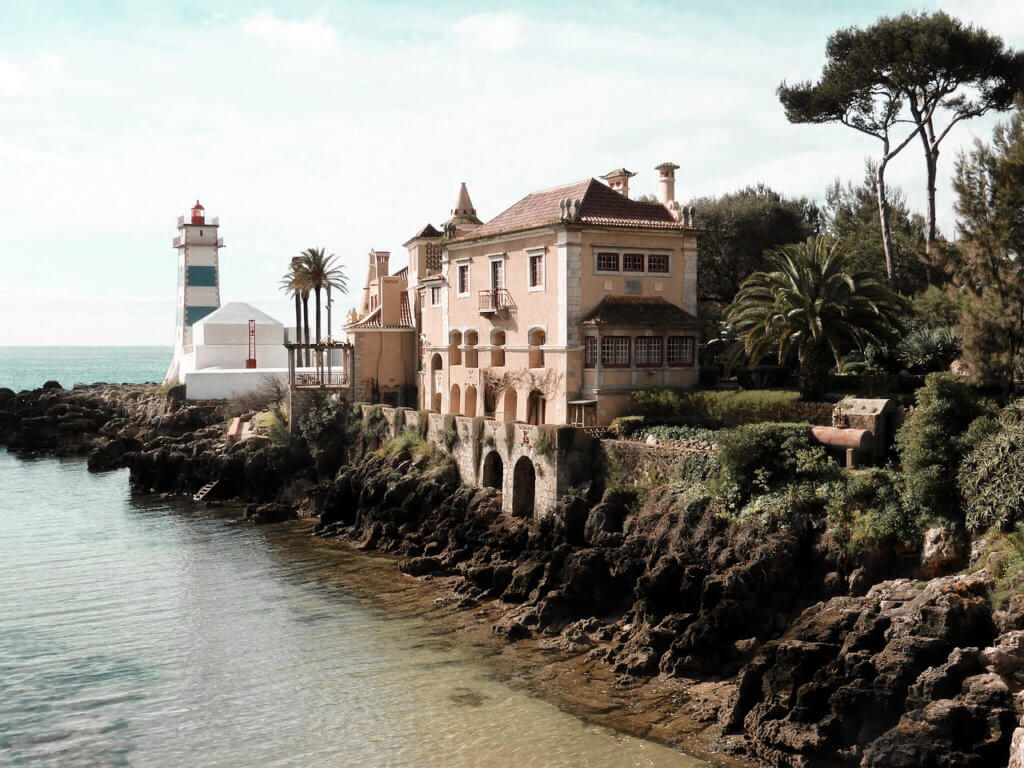 Cabo da Roca - Westernmost point of Europe
One of the highlights in the region around Lisbon is the Cabo de Roca, also known as the westernmost point of Europe and the end of the world. Wait a minute, end of the world? At least the supposed "end of the world" about 20 kilometers from Lisbon and not to be confused with Cabo de Sao Vicente the other "end of the world" near Sagres. Admittedly, the likelihood of confusion is high, because both sights are on cliffs and each have a photogenic lighthouse. However, the Cabo de São Vicente is the most south-western point in Europe and is located in the Algarve. But now back to Cabo da Roca.
If you've been reading my blog for a while, you know my fascination with lighthouses. This is also very easy to justify: because lighthouses are usually located in dramatically beautiful landscapes and stand for orientation, longing and hope. There is also usually great hiking and exploring around lighthouses. The same at Cabo da Roca. The best time to visit this cape is early in the morning before the tourists arrive. As is well known, tourists are always the others 😉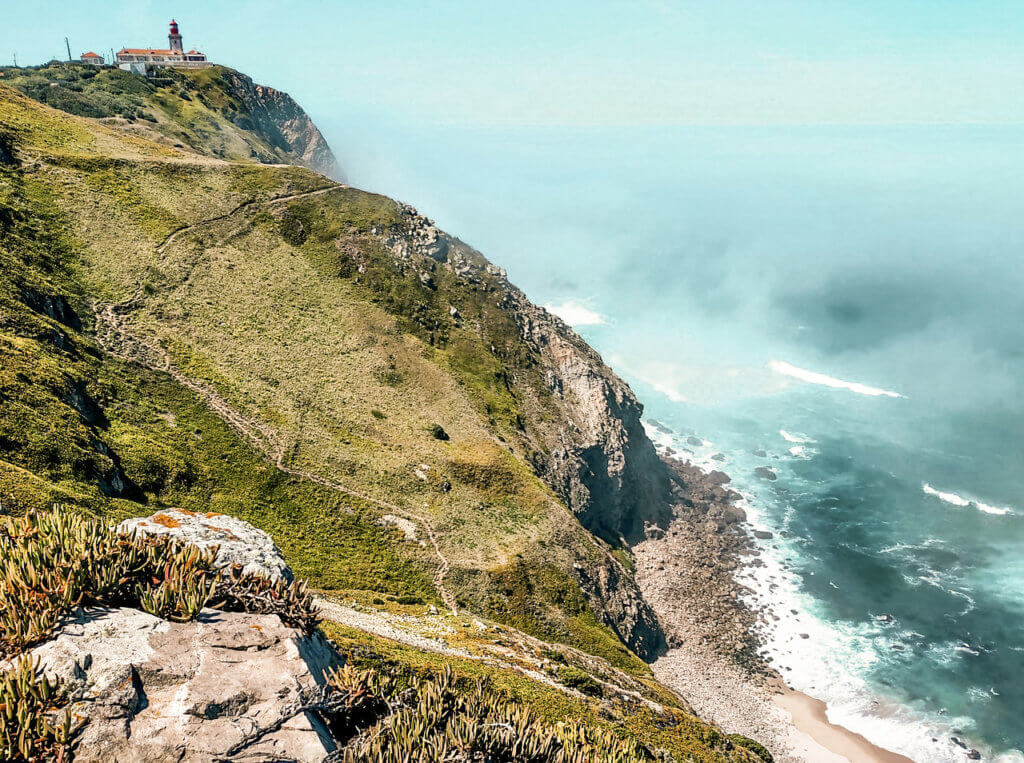 Beaches near Karma Surf Retreat
The Karma Surf Retreat is surrounded by several beautiful beaches and wildly romantic bays. Most beaches are easily accessible by car. You can also hike to the beautiful local beach Praia do Guincho. The hike leads past several picturesque bays. It took us about 1.30:XNUMX h.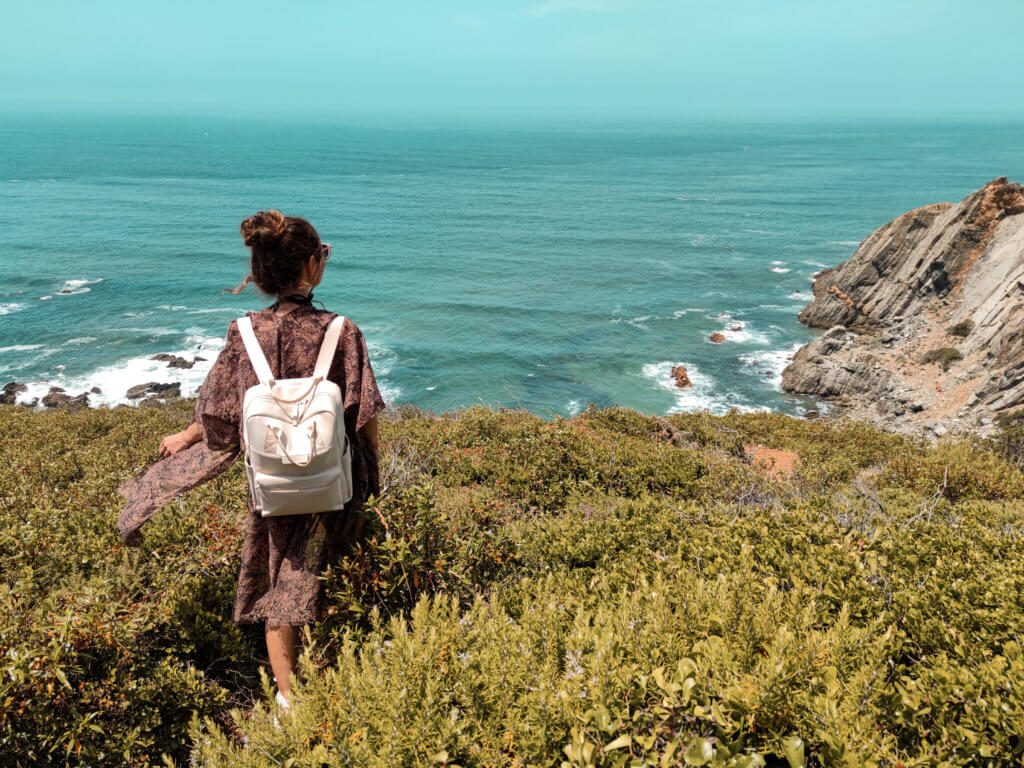 Praia da Ursa – Hidden Beach
I would have loved to see this beach because it is considered one of the most beautiful beaches in the region. Unfortunately, it had rained on the day we wanted to hike there. The descent to the beach should not be easy, but it should be doable in dry weather and with sturdy shoes. Good physical fitness is still a prerequisite, as the descent is said to be very steep in places. You can get to the beach by car (13 minutes from Guincho Bay Villa) or by bus from Sintra to Cabo da Roca. The bus ticket costs about 4 euros. From there you can look for the "Praia da Ursa" sign and follow the walking path to the beach.
Praia do Guincho – pure Atlantic!
The house beach Praia do Guincho is only about 5-10 minutes by car. There is parking directly in front of the beach. Due to the high waves and the fairly fresh water temperature of max. 19 degrees in summer, the beach is not ideal for swimming. But it's fun to watch the surfers and enjoy the scenery. The pretty beach bar Bar do Guincho is located on a dune overlooking the ocean. In a beautiful ambience and sheltered from the wind, there is delicious food and refreshing drinks for small or large appetites. The prices are a bit higher due to the good location.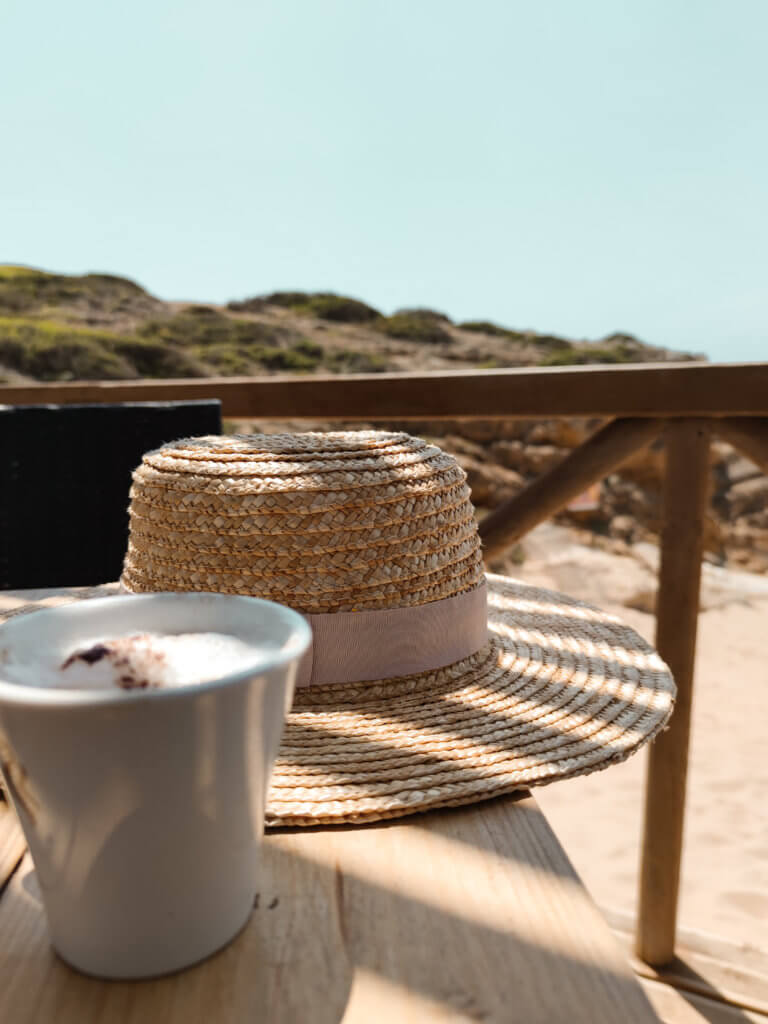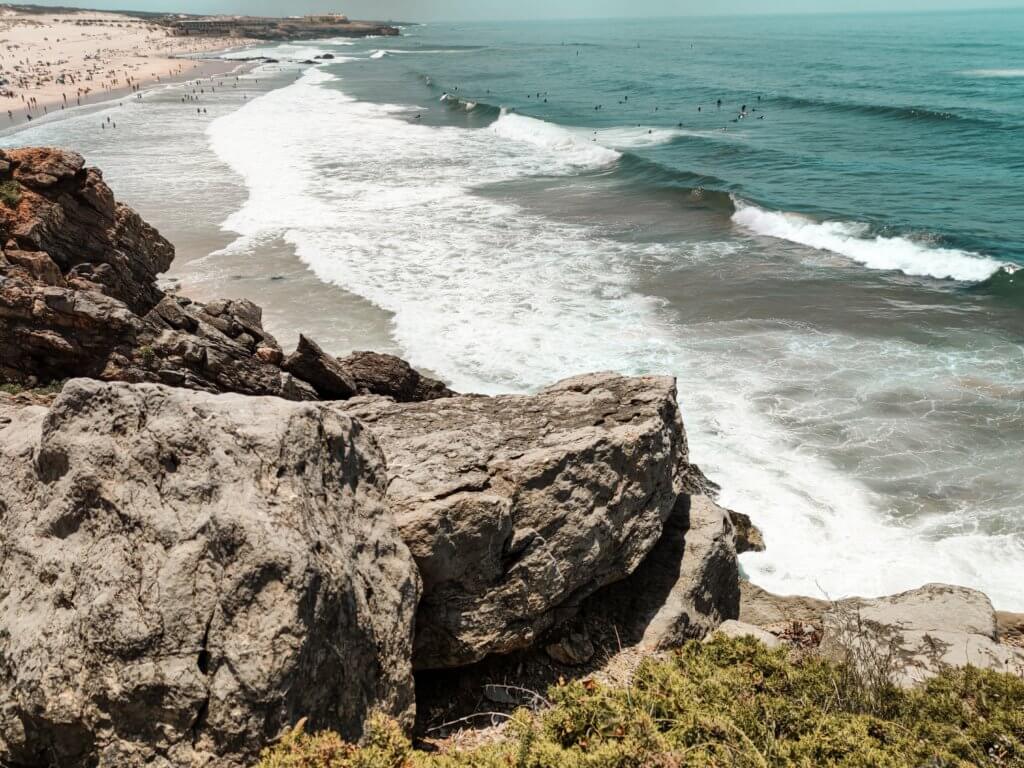 Other beaches can be reached by car within a 20-30 minute radius and there should be something for everyone.
My stay at Karma Surf Retreat Portugal
As you can probably imagine, I didn't want to leave at all, because I can't get enough of this wonderful view. But I also really enjoyed surfing and already miss the Atlantic. I am amazed by the hospitality, the warmth of the hosts and how much I have experienced and seen in just one week. So it is only understandable why so many guests keep coming back to this beautiful, special place. It was definitely not my last stay at Karma Surf Retreat for me either. Next time I would also like to visit the Karma Surf Retreat in the Algarve.
My top 10 activities at Karma Surf Retreat
Gazing at the sea with a glass of wine or a cup of tea
Getting hit by a wave
Yoga in the morning
Breakfast with loved ones
Go hiking in the magically beautiful nature of the Serra de Sintra
Reading on the meditation deck
Watch the cloud formations by the sea
The conversations with Leonor
Enjoy the sauna with a view
Cool off in the pool
More impressions from my trip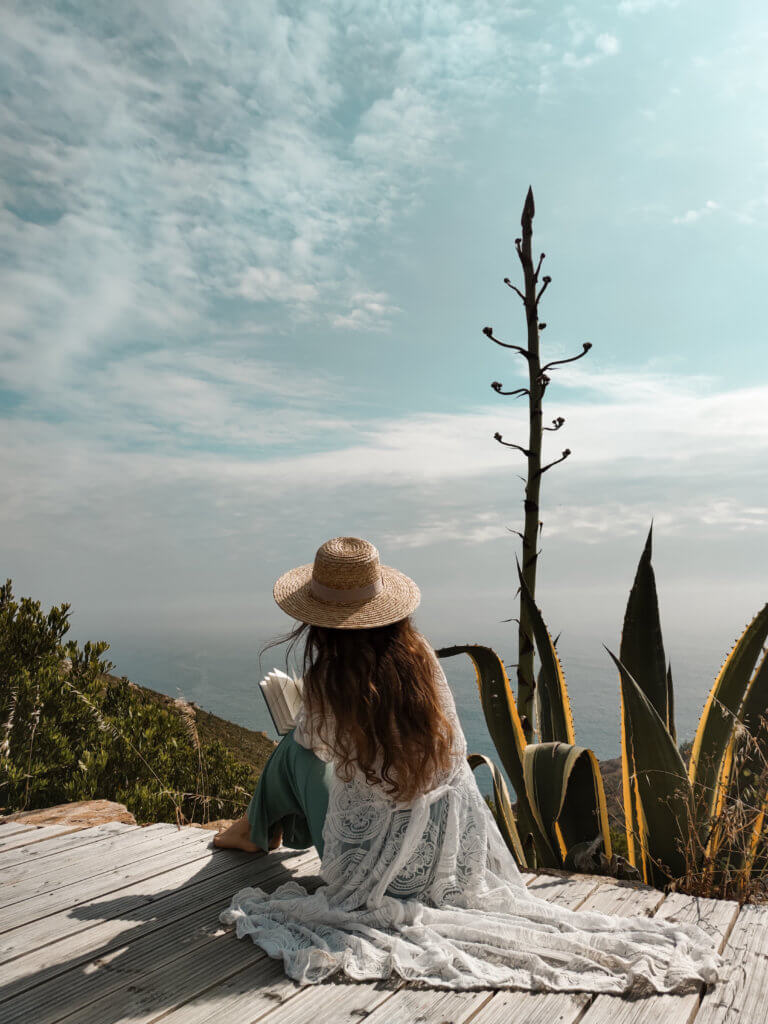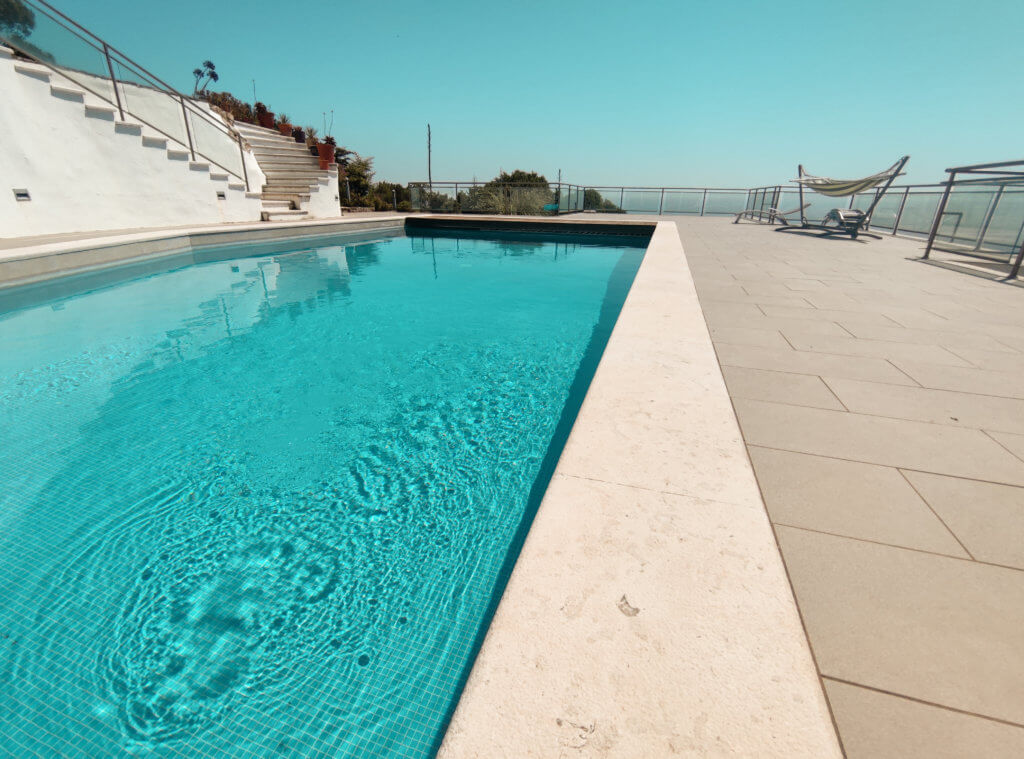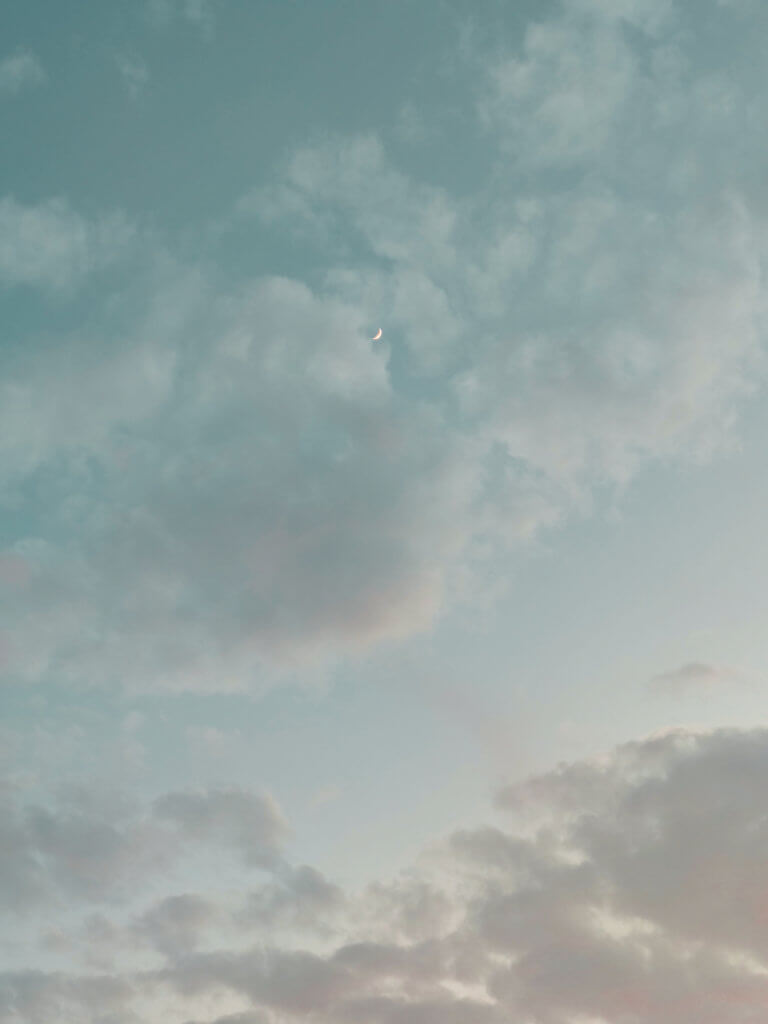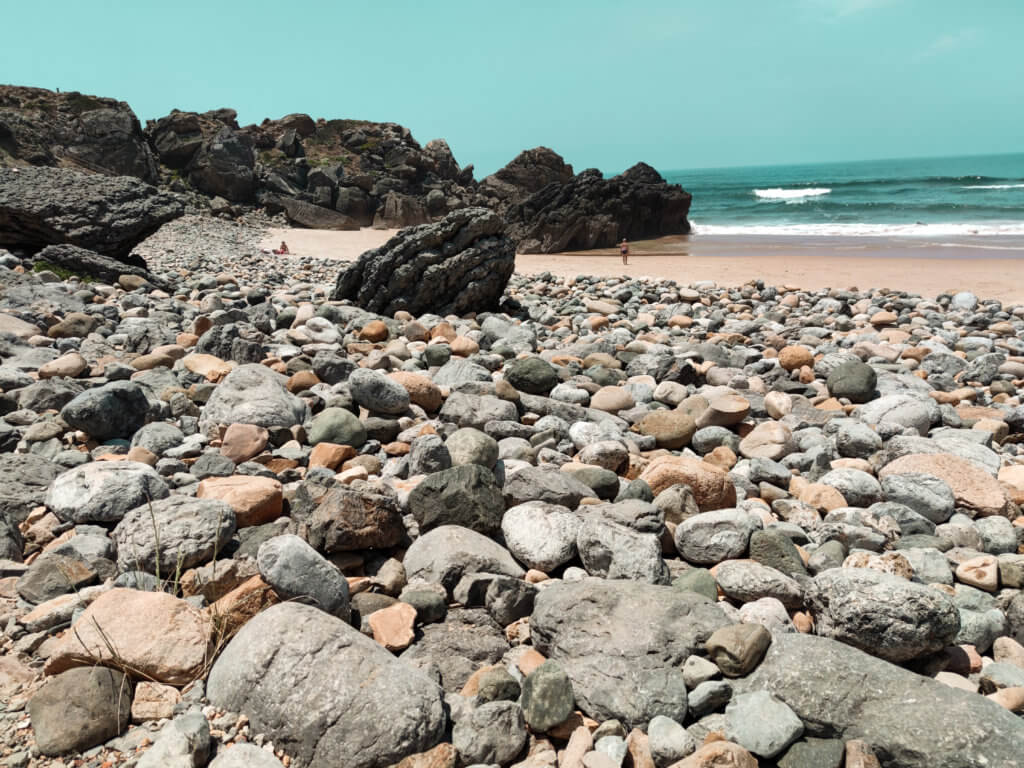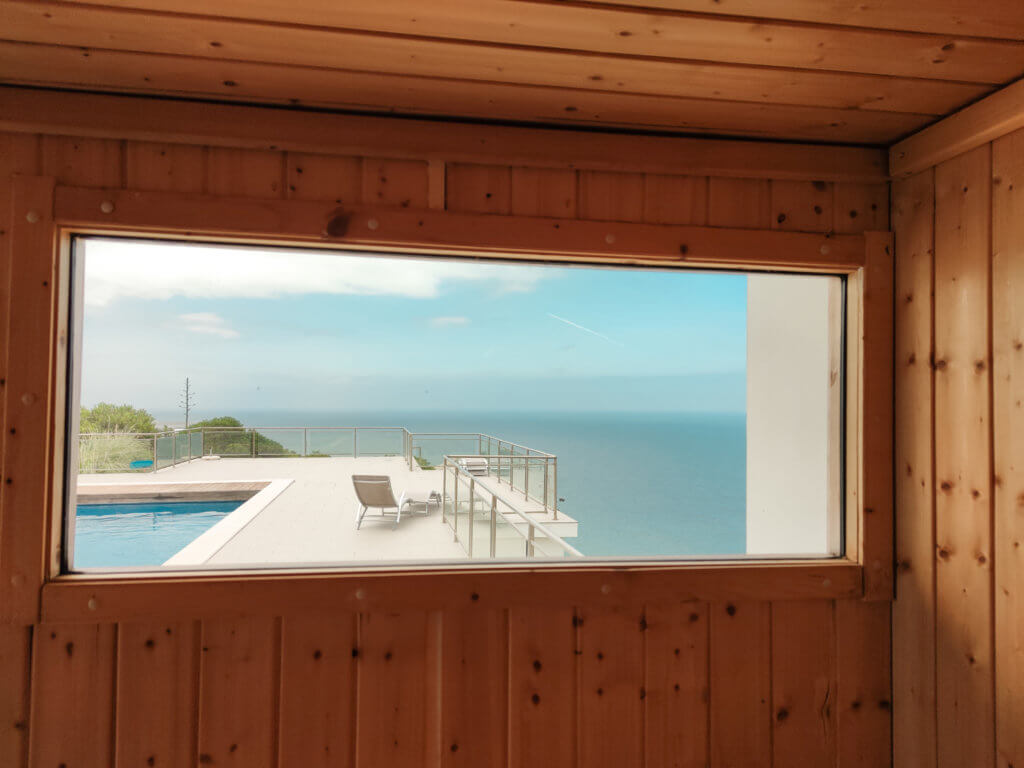 This article is in friendly collaboration with the Karma Surf Retreat developed. Many thanks for the invitation!
Lina
Hi! I'm Lina, a blogger, translator, podcaster and travel photographer by profession. I was born in beautiful Tajikistan and currently live in Bad Wildbad in the Black Forest. Thanks to my many trips, I now feel at home almost anywhere in the world. I've been blogging regularly since 2017 Petit Chapeau.
Related posts
Free newsletter
Subscribe to our newsletter now and never miss an article again. In addition, you will receive exclusive travel tips, announcements and the latest news on the topics of personal development, spirituality and mindset.