Food in Japan: So much more than sushi
Before my trip to Japan, I was particularly excited about one particular topic: And that was the EATING! I already had a first impression of what to expect from the numerous books I've read, but also from various movies and anime. Because yes, Japanese food is so much more than sushi. I had already tried ramen in Düsseldorf and had eaten Japanese food several times in Vietnam, but I was still full of anticipation to be able to try Japanese food locally in Japan.
Eating out in Japan: one restaurant after another
Already a short time after arrival we noticed that food is very important in Japan *yippy*. One restaurant follows another. Every space, no matter how small, seems to be used for gastronomy. To our great surprise, however, it seems that vegetarian and vegan food has not yet quite caught on in Japan as it has in many metropolitan areas in Europe, for example. Although I eat mostly vegetarian, preferably even vegan, at home, I am relatively open to dishes from other cultures and countries when I travel. A country's cuisine can tell so much story while offering insight into its culture. When I'm abroad, I want to get involved with the country and its people, get to know them and try to understand them. And understanding, like love, often goes through the stomach.
Japanese food culture: more than just gyoza
Still, I was a bit surprised how many meat dishes are offered in Japan. Gyoza is offered on almost every corner (gyoza are small dumplings filled with minced pork). Somehow I always had the idea that Japanese cuisine consists mainly of fish, rice and vegetables. It's not that there is less fish than meat on offer, but nevertheless meat also seems to play quite a dominant role in Japanese gastronomy, which I personally as a vegetarian found a bit of a shame but was also happy to learn a bit more about Japanese food culture and history. This may be because eating meat was forbidden in large parts of Japan for several centuries due to Buddhist teachings. Nowadays, the ban has not been in place for a long time, but I had the impression that today's high meat consumption in Japan was a kind of after-effect of it.
The traditional Japanese cuisine
Traditional Japanese cuisine tries to intensively emphasize the natural and original taste of the ingredients used instead of altering it, as is often the case in Western cuisine. Therefore, as a rule, special attention is paid to the quality of ingredients. And you can taste that too! But back to the topic. I truly tried my way through every opportunity that came my way. Some people may find the shape and color of the food in Japan strange, but almost everything "appealed" to me visually. After all, I am relatively receptive to the language of food. As you know, the eye eats with you and that's why I personally think that the food in Japan is particularly "kawaii".
It starts with the bento (how often did I wish for a bento like that when I was a kid) and continues with real little works of art like rice balls with seaweed faces or matcha ice cream with gold chips. There are really no limits to creativity. In Japan's major cities, most restaurants present dishes from the menu in pictures or the popular, lovingly handcrafted plastic models. Oh, and while we're at it, that's exactly what I appreciate about the service in Japan: The attention to detail! Just like the room layouts, every dish, no matter how simple, seems to have been carefully thought out. Here are my personal favorite dishes from Japan:
1. takoyaki (Japanese octopus balls)
I already knew Takoyaki from various books and mangas. There was hardly a dish I would have preferred to try than Takoyaki. Takoyaki are hot octopus balls and one of the most popular street food snacks from Japan. Originally, the balls come from Osaka, more precisely from Kansai, and have enjoyed great popularity throughout Japan for many years. They are often sold at train stations, schools, festivals and amusement parks.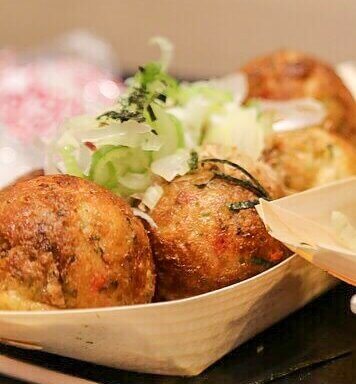 Although they are considered a Japanese street food snack, the portions are quite large with at least 8 pieces and were for me at least a whole lunch because they also make relatively long full. Meanwhile, there are already modified forms of Takoyaki without octopus. The Japanese associate Takoyaki with conviviality, joy and warmth. This is mainly because the balls are served very hot and warm from the inside in winter. Many Japanese seem to have as intimate a love affair with food as I do. One more reason why I immediately took the country to my heart.
"If you stay true to yourself and live your life courageously, you may eventually meet the person who is dying to eat takoyaki with you."

Natsuki Takaya
2. okonomiyaki: the Japanese pancake
I will definitely never forget our okonomiyaki experience. It was the last evening in Fujiyoshida when we decided to try an okonomiyaki restaurant. The "Airaguma Rasukaru", a human-sized raccoon figurine in front of the restaurant, literally charmed us, so we just went inside the restaurant. We were obviously the only foreigners and didn't quite know how an okonomiyaki restaurant worked.
Traditionally, okonomiyaki is prepared at the table on a teppan, or hot iron plate. Before entering the restaurant, the shoes are traditionally taken off. You sit down at the low table and choose okonomiyaki according to your personal taste. The basic ingredients are usually water, cabbage, flour, egg and dashi but there are few limits to creativity. The special thing about okonomiyaki is that you can fry the mixture yourself at the table. Of course, this is especially fun in a sociable group. Especially for children, a visit to an okonomiyaki restaurant is an exciting experience.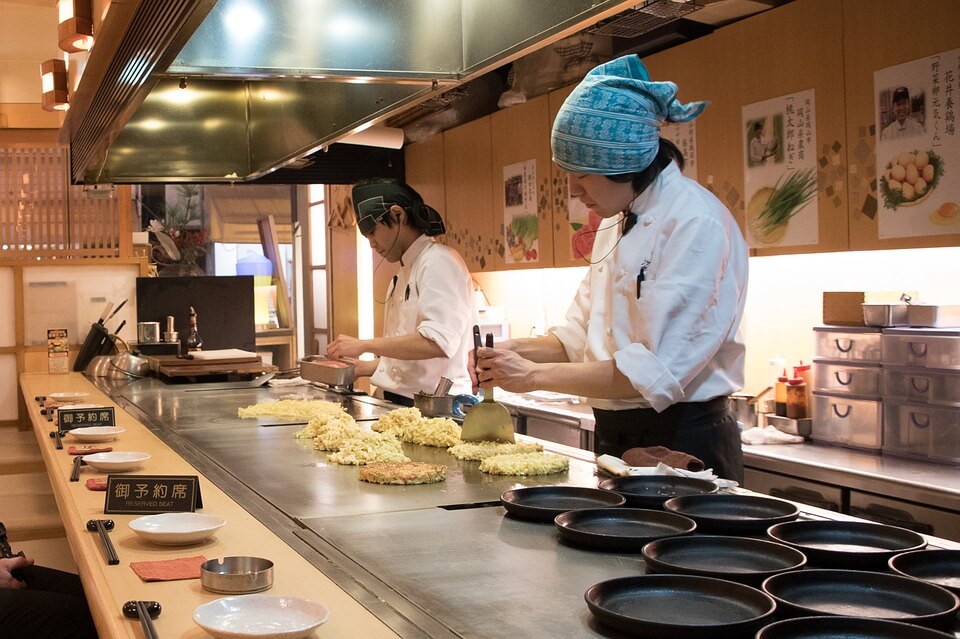 3. taiyaki: sweet fish waffles with filling
Did someone just say waffles? Even if the term "fish waffle" may seem a bit strange at first, I can assure you that Taiyaki is just really delicious waffles in the shape of fish and no fish had to suffer for it. Taiyaki can be found on almost every corner in Japan. Whether classically filled with anko (red bean paste) or with pumpkin filling, the waffles taste especially good when warm.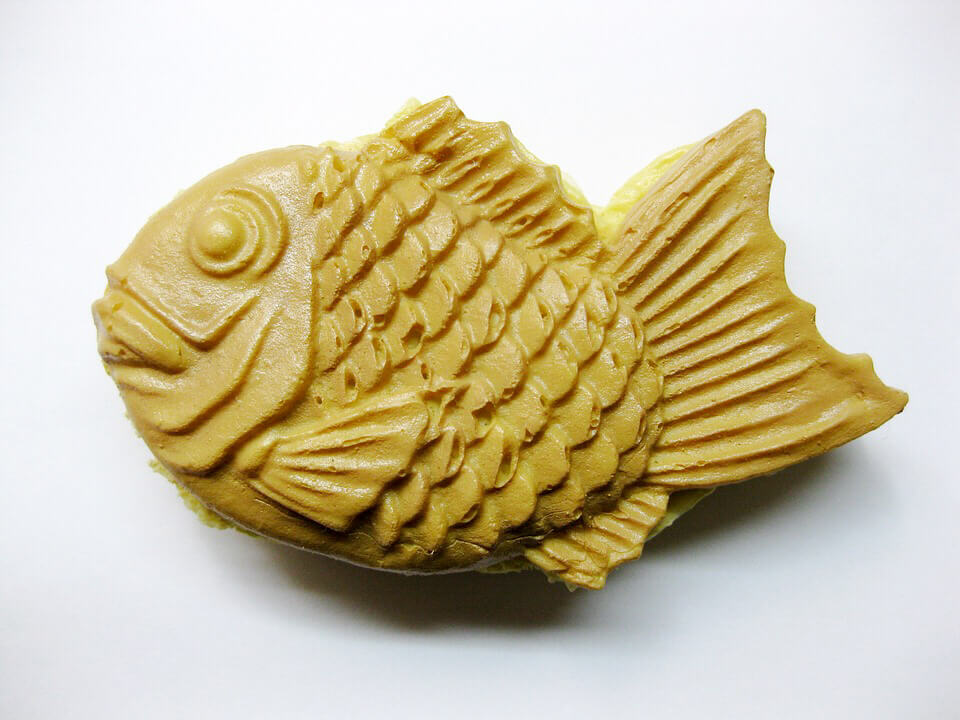 4. soba: buckwheat noodles
Soba noodles are a real culinary must-have. Buckwheat noodles are usually served in a hot broth or cooled in a zaru (a bamboo basket). In Japan, there are many restaurants that even offer only soba dishes. Soba noodles have a firm place in Japanese everyday life. They enjoy great popularity due to their particularly characteristic taste and the many vitamins, such as vitamin B1 and B2. Soba noodles are gluten-free, healthy and very easy to prepare. It is said that buckwheat noodles can even clean vital organs from the inside. Whether in a hot soup in winter or with a refreshing sauce in summer: Soba noodles always go!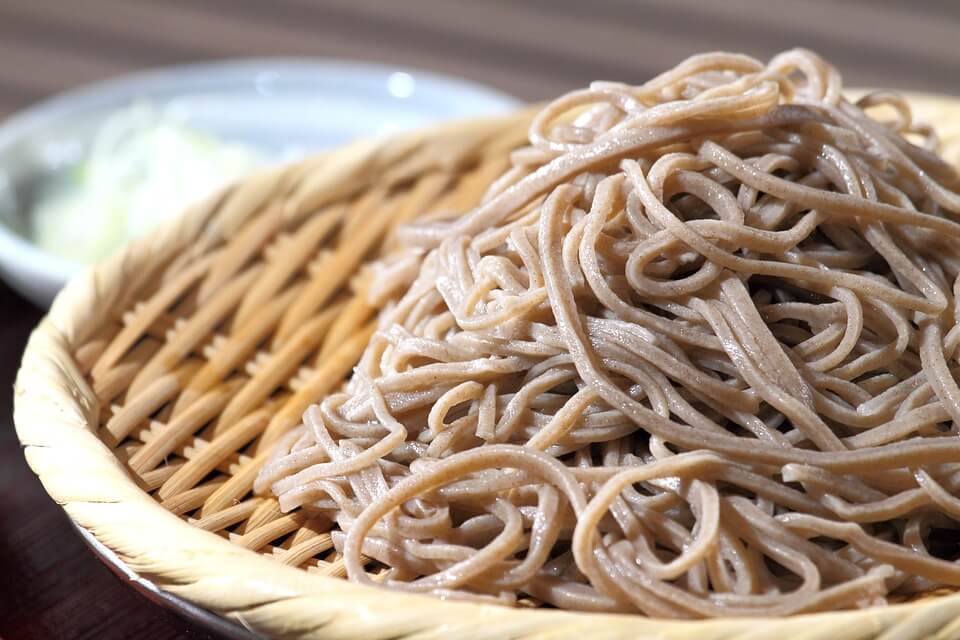 5. tempura dishes
Fortunately, there is no way around tempura! I have tried tempura before in Germany and quickly realized that the correct preparation as well as the use of fresh ingredients is crucial for the taste. Since in Japan above all gladly and very much importance is attached to fresh and untreated ingredients, I can only recommend to everyone to taste Tempura absolutely times in Japan. There are even restaurants there that exclusively offer tempura in all possible variations.
Basically, tempura is an airy pastry shell made of eggs, flour and water.
Tempura ready mixes are also offered. With tempura, there are usually no limits to creativity. Whether it's fish, seafood, seaweed leaves or vegetables wrapped in batter, you'll find your personal favorite pretty quickly depending on your taste. I like especially the vegetarian version very much but feel free to try through 🙂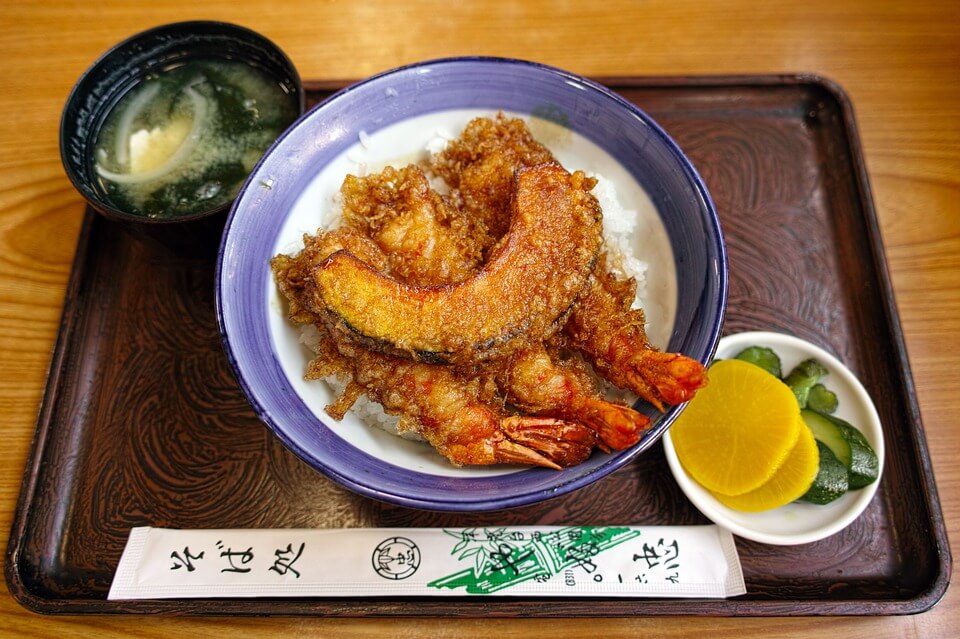 6. kaiseki: a light meal with high quality, exquisite ingredients.
If you like culinary works of art, you'll love Kaiseki. Kaiseki is a light meal consisting of a small menu usually served with a Japanese tea ceremony. Particularly high-quality and exquisite ingredients are used, which are arranged artistically. Kaiseki is definitely a beautiful eye-catcher. Since I love a large selection of food now and then, but prefer small, creative and lovingly prepared portions, my heart immediately beats faster at Kaiseki, especially when I found out while writing this article that we actually have a Kaiseki restaurant in Karlsruhe, which I will probably like to visit soon.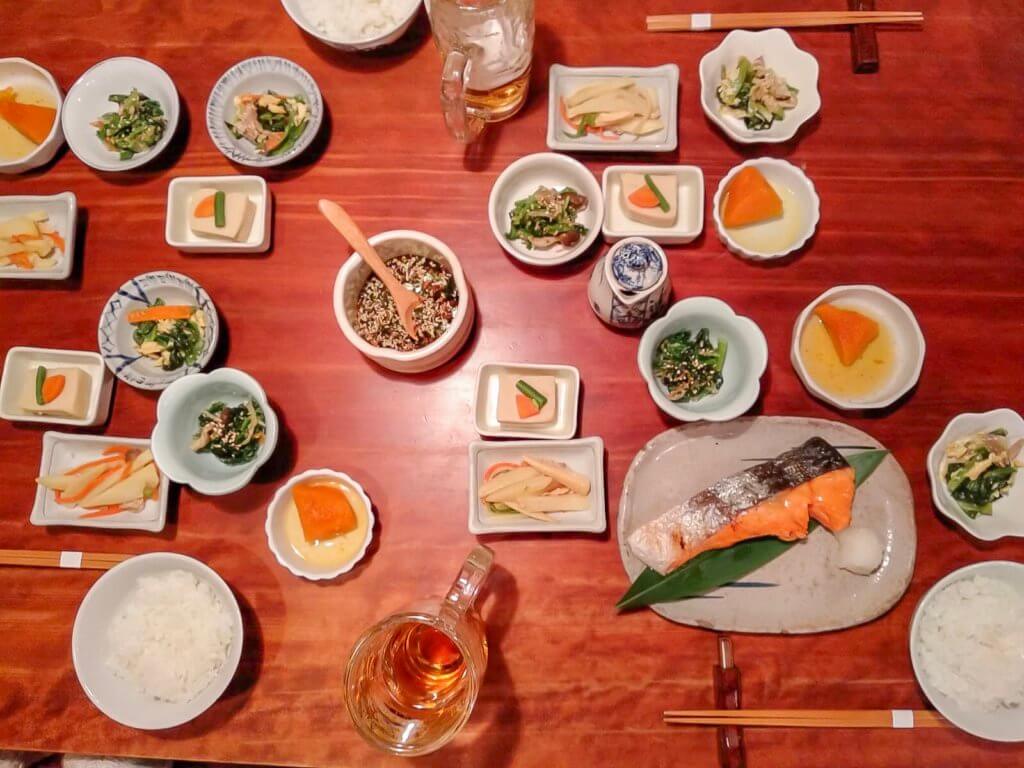 7. curry rice: the secret national dish
"Don't worry, eat curry!" as Bunny from Sailor Moon once said. You really can't get around curry in Japan. It is even unofficially called "the secret national dish". That's how popular curry rice is in the land of the setting sun. And you can really find curry restaurants every few meters. However, if you expect classic curry with rice, as you know it from an Indian or Thai restaurant, you will be surprised, at least in terms of appearance. In Japan, it is customary to arrange half rice and half curry preparation on the plate. This looks quite funny if you are not used to it yet. It's best just to try it, because even in terms of flavor, there seems to be no limit to curry rice. But beware: overindulgence in curry rice can lead to a kind of addictive behavior. Just kidding, but try it for yourself when you get a chance.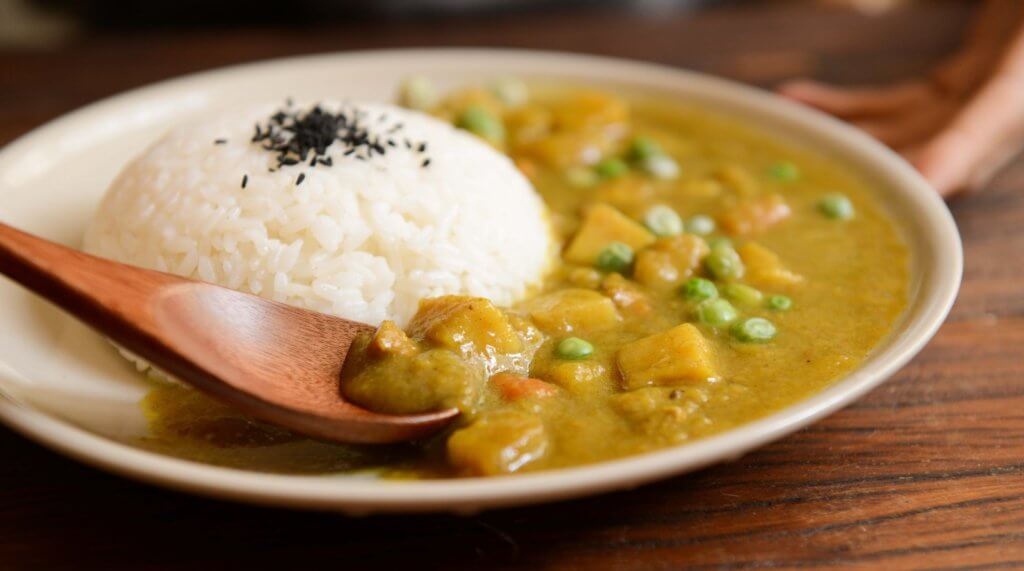 As you can see, Japan has, in addition to the already fascinating culture, also still culinary really a lot to offer and this is of course only a small section of it. I hope I could provide you with some gastronomic inspiration and would love to hear your thoughts and opinions. But maybe you have one or two absolute must-have dishes that I somehow overlooked on my trip.
I deliberately avoided meat dishes, for example. If you still want to know where and how to eat vegetarian and vegan in Japan, I can recommend the wonderful articles of Wanderweib . Check her out, she has in my opinion one of the most comprehensive and detailed German language Japan blogs I know.
So and now Itadakimasu, Arigatou Gozaimasu and see you soon!
Related posts
Digitale Flaschenpost
Trage dich jetzt in unseren Newsletter ein und verpasse keinen Artikel mehr. Zusätzlich bekommst du exklusive Reisetipps, Ankündigungen und aktuelle News rund um die Themen der Persönlichkeitsentfaltung, Spiritualität und Mindset.